On Palm Sunday, hundreds responded to Robert "Evel" Knievel's testimony by asking to be baptized on the spot at Crystal Cathedral. Speaking alongside the Rev. Robert H. Schuller, Knievel told the congregation in Orange County, California, how he had refused for 68 years to accept Jesus Christ as Lord. He believed in God, but he couldn't walk away from the gold and the gambling and the booze and the women.
"I don't know why I fought it so hard," he said. "I just did."
But Knievel knew people were praying for him, including his daughter's church, his ex-wife's church, and the hundreds of people who wrote letters urging him to believe. And then something indescribable happened during Daytona Bike Week this March.
"I don't know what in the world happened. I don't know if it was the power of the prayer or God himself, but it just reached out, either while I was driving or walking down the sidewalk or sleeping, and it just—the power of God in Jesus just grabbed me. … All of a sudden, I just believed in Jesus Christ. I did, I believed in him! … I rose up in bed and, I was by myself, and I said, 'Devil, Devil, you bastard you, get away from me. I cast you out of my life.' … I just got on my knees and prayed that God would put his arms around me and never, ever, ever let me go."
Pastor Robert A. Schuller, who took over for his father last year, looked out on the church and noticed most people were sobbing. He couldn't simply continue with the service's script and proceed to the offering.
"I went up front, and I said, 'I believe there is somebody who needs to be baptized here. Maybe up on that balcony or by that door or by that wall. So come forward,'" Schuller told CT. "We started singing 'Amazing Grace,' and I started baptizing people, baptizing them as fast as I could. I had a little candy dish of water. 'What's your name? Okay, I baptize you in the name of the Father, Son, and Holy Spirit'—crying the whole time and going to the next one."
Schuller continued this for 30 minutes, not realizing that four other pastors were baptizing the convicted just as quickly. During the second service, the response repeated itself. Together, Schuller estimates, between 500 and 800 people committed or rededicated their lives to God.
"I don't want to make grandiose claims; I'm not a prophet," said Richard Mouw, president of Fuller Theological Seminary in Pasadena, California, who spoke with Schuller the next morning. "But I think it is a sign that in God's own sovereign goodness, he sends these moments to remind us that we are all sinners and reaches out to us in surprising ways. This is something the Christian community in general, and particularly the evangelical community, needs to take very seriously."
Revival trade
Mouw also met with couples from Crystal Cathedral who described the spontaneous response as one of the most spiritually significant events they had ever experienced. Historically, religious awakenings have played a significant role in Christianity, particularly evangelicalism. Charles Finney, a leader of the Second Great Awakening, revolutionized revivalism by arguing that churches could incite revivals through faithfulness and diligence.
"Since that point forward at least, it has become a trade; it has become a profession; it has become a series of techniques," said Joel Carpenter, director of the Nagel Institute for the Study of World Christianity at Calvin College. "It is fair for any discerning Christian, when he hears a revival is happening, to be a little skeptical, not to be cynical, but to ask questions that are meant to help discern what is going on there spiritually."
At historic moments when God seems to be moving mountains, the emotional and physical strain of a revival can be exhausting, said Edith Blumhofer, director of the Institute for the Study of American Evangelicals, noting the reaction of missionaries in Korea at the start of the 20th century.
"After it was over, the people said they never wanted to go through a revival again," she said. "It was so agonizing, there was such depth, such conviction for sin, and the things people felt they needed to confess publicly was so difficult."
Blumhofer said that though revivals sometimes are considered evangelistic tools, their real role—whether planned or spontaneous—is to reinvigorate church regulars. "It is a deepening conviction of one's sinfulness, one's need of grace, one's need of God that transforms—and then evangelism flows from that."
Powerful Hour
A Reformed Church in America congregation with no walls and 10,000 windows, Crystal Cathedral was founded in 1955 by Robert H. Schuller. Shaped like a star with its points aimed north, south, east, and west, the church reaches people in more than 100 countries via the Hour of Power, the largest component of Crystal Cathedral Ministries. The video from the Palm Sunday service will be broadcast on April 22.
The ministry, though, has been struggling recently. A week before Christmas 2004, the congregation's longtime orchestra conductor killed himself in a church bathroom. And last year, revenues for Hour of Power, which has a $40 million operating budget, were $3 million short, Schuller said. But he said he and his leaders hadn't been praying for a revival. They simply had been praying—for the congregation and the community, for tragedies and triumphs. Now Schuller is trying to discern God's response.
"It may be too early to call it a revival," Schuller said. "But it was clearly a moving of the Holy Spirit, and everybody has been talking about it. Our congregation and church keeps saying, 'Okay, where do we go from here?' I'm not exactly sure. But I think the Holy Spirit will assist me in the doing the right thing."
Related Elsewhere:
The Crystal Cathedral website now has a transcript of the event.
This January, USA Today did a profile of Evel Knievel.
Hour of Power will broadcast the service where Knievel gave his testimony at Crystal Cathedral next Sunday.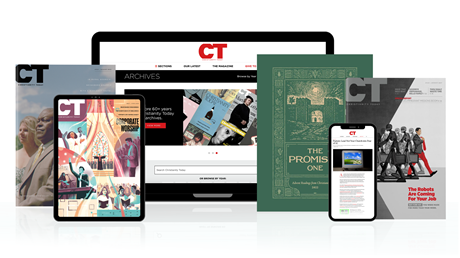 Subscribe to Christianity Today and get access to this article plus 65+ years of archives.
Home delivery of CT magazine
Complete access to articles on ChristianityToday.com
Over 120 years of magazine archives plus full access to all of CT's online archives
Subscribe Now
Evel Overcome With Good
Evel Overcome With Good