Five Fatah police officers remain stationed on Gaza Baptist Church's sixth floor as a tense truce has brought at least momentary peace to the tiny strip of coast teetering on the brink of civil war.
Tuesday afternoon, fights between the secular Fatah party and its rival, the militant Islamic party Hamas, flared on Gaza's side of the Egyptian border as Palestinian Authority (PA) Prime Minister Ismail Haniyeh passed through Rafah Crossing en route to reconciliation talks.
The 10-minute gun battle not only threatened to shatter the latest cease-fire but also trapped Hani Fazah, a Christian Gazan doctor and fiancé of prominent Gazan evangelical Rana Khoury (see "Love in the Land of Enmity," July 2005) in a bus at Rafah as he tried for a second day to enter Gaza for their imminent wedding.
These are the latest of many violent events since January 2006, when Hamas won a majority of seats in the Palestinian parliamentary elections. Hanna Massad, pastor of Gaza Baptist Church, told Christianity Today that each round of Hamas-Fatah fighting ratchets up the bloodshed and lasts longer than the previous round. On January 28, Gaza Baptist's Awana club bus driver, Wasfi Khardish, 20, was walking down a street when a stray bullet pierced his heart, killing him instantly.
Late on February 2, Palestinian Authority (PA) police officers of Fatah demanded Gaza Baptist's building key from the church's lone guard. The guard, who had no key, informed church leaders, who refused to hand it over. Police then broke into the building, taking up positions on the sixth floor. The pastor was powerless to remove the police, who were using the rooftop as a watch post and sniper nest for fighting Hamas.
Police told Massad that taking over the church, which is directly across the street from the central police station, is vital for police security. Police also feared that, should they abandon the church, Hamas would take it over and launch attacks. Thus, despite a Sunday night cease-fire, police remain on the sixth floor, though they are permitting church members access to the building.
Massad acknowledged that police safety concerns are legitimate, but noted that Fatah has taken over the building once before and tried unsuccessfully other times since it was dedicated in November 2006. Last year, bullets destroyed at least a dozen windows. The facility includes the church's sanctuary, Gaza's only Christian library, a guest hostel, and one of two mammogram clinics in Gaza (population 1.4 million).
A Sunday cease-fire ended four days of violence in which at least 30 were killed and 200 injured. Massad's wife, Suhad, said that she heard gunfire Monday morning but that Tuesday was quiet—so far. Gazans are venturing outdoors for the first time in days.
While Gazans try to return to normalcy, "they're still watching, not sure if things will go back like it was or if things will improve," Massad said. "Many, many, many people are paying the price in Gaza." Elderly Gazans have told him that Gaza's present situation is worse than what civilians endured in the 1948 Arab-Israeli War.
Massad said that differing political visions between secular Fatah and Islamist Hamas are the root of ongoing turmoil after the election that ended almost four decades of Fatah's political dominance in Palestine. Much of the international community is putting external pressure on Hamas to renounce terrorism.
All this translates into suffering for ordinary Gazans who support neither faction, Massad said. "In the end, the people are the ones who are really stuck in the middle," he said. "The people pay the price."
Gaza's greatest need is safety, said Massad. "When we see people killed—children—regardless of whether they're Muslim or Christian, we grieve," Massad said. He asked Christianity Today readers to pray that both parties' leaders would have wisdom to end the fighting, "to learn to accept one another and work together for the benefit of the citizens. We want there to be stability so there will be (openings) to share God's love with the people."
The tension may help with such openings, Massad said. "When you start talking about Jesus' teaching, loving your enemies, blessing those who curse you, these words sometimes become more meaningful when the situation is very difficult."
Deann Alford is a senior writer for Christianity Today.
Related Elsewhere:
Christianity Today's articles on Israel include several on Gaza:
The Middle East's Death Wish—and Ours | We say "everyone wants peace," but we also want to see our enemies destroyed. (David P. Gushee, July 14, 2006)
Christian Zionists Split Over Gaza Pullout | Some remain politically neutral. (Deann Alford, July 2005)
Love in the Land of Enmity | The local joke is that Gaza is hell. But that doesn't seem to deter ministry there. (Deann Alford, July 2005)
Outreach to Despair | Christians minister to the hopeless in Gaza. (Deann Alford, August 1, 2004)
Article continues below
"Was Israel a Mistake?" from Books & Culture considers three views (including former President Carter's) on Israel.
Recent news on the situation in Gaza includes:
Palestinian rivals land in Saudi for unity talks | Palestinian President Mahmoud Abbas and his Hamas rivals arrived in Saudi Arabia on Tuesday for talks to end faction fighting which an envoy said had created a "catastrophic" situation. (Reuters)
Palestinians Try to Stave Off Civil War | Palestinian factions on the brink of civil war gathered Tuesday in Mecca, Islam's holiest city, in a last-ditch effort to end their bloody conflict. The Saudi-led push is key to any future peace talks with Israel - and to Arab efforts to blunt Iran's growing power. (Associated Press)
Awana bus driver killed in Palestinian fighting in Gaza | A cease fire was called over the weekend in Gaza between Fatah and Hamas militant factions. But, not before 15 people were killed in Palestinian violence. One of those killed was the bus driver for Gaza's Awana Club program.
Gaza Gunmen Ignore Truce, Mediation Bid | Ignoring a truce and Arab mediation offers, Hamas and Fatah fighters exchanged gunfire in upscale beachfront neighborhoods Saturday, and Hamas gunmen threatened to attack high-rise buildings unless residents force rival snipers off their rooftops. (The Associated Press)
Gaza Baptist Church Seized | Palestinian Authority (PA) police of the Fatah party have seized the six-story Gaza Baptist Church building as a watch point against militants supporting the governing Hamas movement. (Journal Chrétien)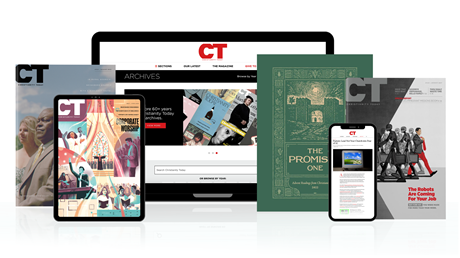 Annual & Monthly subscriptions available.
Print & Digital Issues of CT magazine
Complete access to every article on ChristianityToday.com
Unlimited access to 65+ years of CT's online archives
Member-only special issues
Subscribe
Fatah Police Seize Gaza Baptist Church
Fatah Police Seize Gaza Baptist Church