The Mass intended to celebrate Stanislaw Wielgus' appointment as archbishop of Warsaw couldn't have been more awkward. Outside the cathedral, supporters and detractors grappled in the rain. Wielgus, instead of celebrating his appointment, resigned from the front of the church. The congregation began shouting. Polish President Lech Kazynski stood to applaud the announcement, but faltered when he realized that most within the cathedral were against it.
As a priest, Wielgus had collaborated with the Communist Sluzba Bezpieczenstwa secret police. His role in the secret police came to light recently as his promotion approached. After Gazeta Polska published its exposé, dug out of old KGB records, he issued a series of denials, each denying less than the one before it, and finally a last-minute resignation.
Tomasz Terlikowski of Newsweek Polska told Polskie Radio, "This question about the past has a very real impact on Poland's present. Today we are facing this issue: Can a person who collaborated with the regime be the moral and theological authority for a whole diocese? From what we learned about Archbishop Wielgus, his collaboration might have meant as many as 20 years of informing the Communist regime about what was happening in the church. And the main aim of the Communists was the destruction of the church."
Some estimates say that 15 percent of the church leaders in Poland — seen as a cornerstone of resistance against communism — cooperated with the secret police. One memo from 1978, for example, counted 12 Polish bishops among the security service's collaborators.
The scandal, which has caused another Polish prelate to step down, is not the first of its kind to pop up in Eastern Bloc nations. But it gives new urgency to an ancient dilemma: What is to be done when persecution eases? How should the church deal with those who worked with enemies and even betrayed other believers? Is past collaboration a bar to present church leadership?
Trying times
In May 2003, Gabriel Roric Jur was deposed as a bishop in the Episcopal Church of the Sudan amid allegations that he was assisting the Khartoum government's persecution of Christians. In 2002, while Roric was also serving as Sudan's deputy foreign minister, church leaders had implemented a new rule requiring bishops to live in their dioceses, and Roric had reportedly not been to his diocese, Rumbek, for a decade, preferring to stay in Khartoum.
Once deposed, Roric set up a rival church, the Reformed Episcopal Church of Sudan, which he has cast as a purer, more moral church than the Episcopal Church. At the same time, he seems to have sold the headquarters of the Episcopal Church while pretending to be the archbishop. Armed police raided the headquarters, and the Episcopal Church is in a long court battle to try to regain its property. It wrote a protest letter to the government of Sudan in 2004 asking the regime "to cease using Mr. Gabriel Roric Jur to attempt to destroy the Episcopal Church of the Sudan."
The Bulgarian Orthodox Church, meanwhile, has long been at odds over its leader, Patriarch Maxim, who was appointed by the country's Communist regime in 1971. When allegations of direct Communist collaboration surfaced against Maxim in 2004, one of the priests who had been jailed during the Soviet era formed an alternative synod and tried to oust him. The church split until the Bulgarian government took Maxim's side, expelled members of the alternative synod, and charged them high fines in court. The situation is still not resolved.
Similar allegations have also surfaced against Patriarch Ilia of Georgia, who was reportedly a KGB agent with the code name Iverieli, and Russia's Patriarch Alexei II, who reportedly served as a KGB agent code-named Drozdov. The Russian Orthodox Church denies the claim.
Laszlo Paskai, leader of Hungary's Catholics until his retirement in 2002, was unrepentant about his actions as an agent for the secret police in the 1960s and '70s. "It was all to the good that we spoke with the powers of the state," he explained. "One had to do that."
It was harder for the Communists to infiltrate smaller evangelical house churches than larger, institutional bodies, says Viktor Kostov of the Balkan Center for Law and Freedom. But, he says, they did have successes. When Kostov began his ministry work in Bulgaria, he says, he was surprised that "the spies for the government were still in control of the evangelical church, still had a spiritual influence, and were controlling people. It's quite shocking."
After apostasy
The conflict over what to do with Christian leaders who cooperated with anti-church governments began in the 300s. Roman governors of North Africa, acting on Emperor Diocletian's 303 edict against the Christians, burned Scriptures, destroyed churches, and massacred believers. Some Christians held firm and were killed; some gave up false copies of Scripture; some surrendered completely. When the surviving bishops gathered at a synod in Cirta in the year 305, accusations began to fly against nearly everyone in attendance. As in post-Communist Eastern Europe, those who had betrayed others, those who had endured persecution, those who had been marginally affected, those who had secrets, and those who had none all had to rethink what it meant to be the body of Christ. No one was exempt from such introspection: neither the repentant nor the unrepentant, the broken nor the unbroken.
In both eras, the stakes for believers were high. "[The Soviet period] was really a very hard time for the church, and people took different ways to try to get through that," explained Faith McDonnell, Religious Liberties Director of the Institute of Religion and Democracy. She knew of a Catholic priest in Czechoslovakia who went completely underground. He was a computer specialist by day and wore a leather jacket and jeans. Another priest in seminary decided to be defiant; he openly wore old-fashioned clerical clothes. Others took the path of least resistance, cooperating in order to preserve what they had.
"Your whole life is at stake when they come to you and say, 'You either cooperate with us or else,'" says Kostov. Wielgus says his own "moment of weakness" came when it seemed he would be denied the opportunity to study in Munich unless he cooperated.
Those who yielded to the pressure under such circumstances often see their actions as justified. Wielgus insists that his actions did not harm anyone (although in his apology, he admitted to harming the church). Similarly, in an account of the events at Cirta, Secundus of Tigisis accused almost all the bishops of betrayal—and in turn was accused himself and told to leave to God the judgment of others' deeds under persecution.
One group which emerged from the Cirta synod believed that those who sinned after baptism were not a part of the pure church. To them, there was no restoration for Christians who fell ("traditores"), even for those who were repentant. Works by traditor bishops were invalid, this group argued, and the church needed to purify itself of its betrayers. (The group became known as Donatists, because they supported a bishop named Donatus instead of a bishop consecrated by a reported traditor.)
Augustine fought long and hard against the Donatists, whom he called "enemies of Christian unity." The church's holiness, he said, was assured by Jesus and not dependent upon imposed purity. "The time will not come for the church as a whole when it will be utterly without spot or wrinkle," he said. But while it's impossible to exclude sinners from the church, Augustine argued, repentance and almsgiving are necessary for restoration. He wrote treatises, letters, even a popular hymn to oppose the Donatist view of fallen Christians. Eventually, he succeeded, with the Donatists themselves being condemned as schismatics and heretics—and once again persecuted by the (then Christian) Roman empire.
Collaborative filters
Most churches today, with Augustine, affirm that there is restoration—to an extent. Persecution in Eastern Europe happened to a much larger, more established church than the persecution under Diocletian. The effects, says Kostov, are both political and spiritual. Differences in the nature of the collaboration, whether it was ongoing, the current attitudes of former collaborators, and the way information about the collaboration is discovered can make for a complicated decision process. Perhaps this is why the church has backed away from dismissal and exclusion in so many instances.
There are a few clear cases of betrayal, says Bradley Nassif , associate professor of biblical and theological studies at North Park University. "If a leader is collaborating with the Communists as a traitor, then that leader should be excommunicated immediately," Nassif said in an e-mail interview. "If, however, a leader is walking a delicate line between obedience to the state and fostering the welfare of his flock (without an egregious sin being committed), then each case must be evaluated on its own terms."
Eastern Orthodox churches are not uniform in their positions on collaboration, says Nassif. "The Russian Church has been more tolerant than has the Romanian Church. Still, if one were to make a general statement that could be relied on as universally applicable, it would be that church leaders who formerly collaborated with Communist governments can be restored to the church so long as they were not involved in assisting in the murder or persecution of other Christians."
Even those who were involved in egregious acts of betrayal might be restored to office after a period of penance and evident repentance, Nassif says. "But whether they should be barred from being a bishop or priest depends entirely upon the ones making the decision, and how that decision is received by the laity. In the end, there is no official policy except the faith itself, and the reception by the people."
Positive reception by the people is not a great indicator of true restoration, says Viktor Kostov. After all, he notes, only 60 percent of Poles opposed Wielgus's ascension after learning about his Communist ties.
There is in many countries, he says, a widespread forgetfulness about the effects of communism. "In the Bulgarian situation, a leader of a Protestant denomination was exposed as being an outright agent," Kostov says. "He was working for the church as much as he was working for the KGB. There was no significant outcry, even within the Christian community." Forgetfulness isn't the only reason, Kostov says. Many Christians do not want to be seen as judgmental. Others do not want to go through the paperwork to discover the truth of a church leader's past.
Richard John Neuhaus, editor in chief of First Things, draws a parallel between bishops' rigorless examinations of priests accused of collaboration in Poland and of those accused of sexual abuse in the United States. "Bishops said they were establishing a commission to address this issue, and as far as most people can see, it has done nothing," he says. "Mendacity in the church and the corrosive effect leads to a major block to the gospel."
A matter of trust
Viktor Kostov says the church needs modern-day Donatists. "I would describe myself as belonging to that group," he says. "I have chosen to not cooperate with a lot of institutional church leaders because it might affect the standards and dignity of my work … with the understanding that there is always forgiveness for those who repent. In order to be strong, to be a light in a dark society like Eastern Europe, you have to be willing to deal with the truth."
As someone who became a Christian after the fall of the USSR, he says, "It's difficult for me to be too harsh on people who have cooperated with the Communists, [but] as a Christian, I want a clean slate for the church. I don't want church leaders to be people who are deceptive."
It's not just a matter of purity, says McDonnell. It's also a matter of evangelism. "If someone was seen as a collaborator, even in the least, people didn't trust them," she says. "It's part of the plan of the Enemy: If the persecutors don't get people, the seeds of suspicion spring up in people. It depends on how much people are in prayer together. If there are ways people can gather to pray, that builds a bond, whereas if people are separated, they can become suspicious of each other."
There's also an important difference between restoring church members and restoring church leaders, says Jim Tonkowich, president of the Institute on Religion and Democracy. "While there is certainly forgiveness, leadership depends on a certain amount of moral authority. That cannot be replaced," he says.
Nevertheless, Augustine was right, says Neuhaus: "The church is composed of sinners; if we excluded all sinners, no one would be in ministry."
Susan Wunderink is assistant online editor for Christianity Today.
Related Elsewhere:
For more on Augustine and the Donatists, see Christian History & Biographys issue on Augustine.
Viktor Kostov's article on the church in Bulgaria, "Haunted by Totalitarianism", is available on our site. Weblog has kept up with the news on the scandal over Wielgus.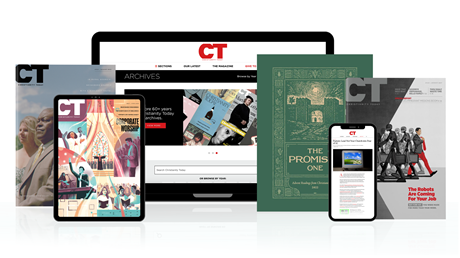 Subscribe to Christianity Today and get access to this article plus 65+ years of archives.
Home delivery of CT magazine
Complete access to articles on ChristianityToday.com
Over 120 years of magazine archives plus full access to all of CT's online archives
Subscribe Now
What to Do with a Former Communist Informant
What to Do with a Former Communist Informant