true
The contrast is striking. Hillsong United—the youth arm of the worship pioneers at Hillsong Australia, and one of today's hottest worship groups—is about to play a gig at an olden Victorian church near historic Asbury Park in New Jersey. The cavernous venue is Ocean Grove's Great Auditorium: a majestic, spacious wooden structure built in the 19th century by a group of Methodist ministers. Fans seem unmoved by the sense of awe the place evokes. They swarm the aisles and crowd the pit area, roaring every so often as they wait for the Aussie band to hit the stage. As soon as they do, pandemonium breaks out. Bodies jump, arms go up, and a cacophony of voices fills the sanctuary. The concert has all the makings of a big rock show, and yet United knows it's not about them, but about God. By evening's end, they've got everyone and their mother literally singing his praises, and not the band's. Before and after this intense time of worship, Christian Music Today caught up with band principal Joel Houston to talk about the group's growing ministry.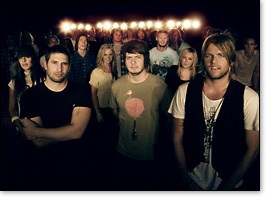 Considering how overcrowded the American modern worship "scene" has become, your group has managed to grow in popularity. How did you get to this point?
Joel Houston Consistency. Just doing it. We don't even see ourselves as a band as much as part of a movement—I guess maybe even a mouthpiece for that. All of that starts at home, with our church, a local community. Now that we've come to [the States] and united with the people here and all over the Earth, [we're all discovering] that we share the same faith, the same passion, the same heart. What we're doing is fluid. I don't think it's something that we do for five years, and then United becomes dismissed. Ideally, it's something that goes on, something that we build over time.
Your impact continues to gain momentum as we speak. Do you think it will one day become so big you won't be able to manage it?
Houston I think for sure there are certain things we need to think about. But our hope is to keep the main thing being the main thing. And if the main thing is creating music that people can sing in church and that young people can connect to God through, I think it's fine. As long as we're always committed to our call to serve the church and keep that the basis for why we do what we do. We could tour 365 days a year, but we don't, because that's not our call. Record labels will tell us to do it 'cause it will help sell more albums. But at the end of the day, it's not what we do.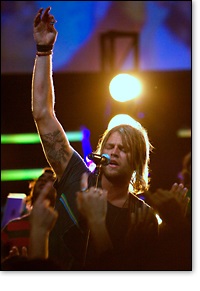 So being at the top of the charts isn't your thing.
Houston The desire is to reach as many people as we can, so that's probably demonstrated when more people buy the albums. But that's not the business of what we're doing. What we're doing is reaching as many people as we can with the message that we have.
You mentioned your strong ties to your local church. Who places the limitations on how much autonomy you have in terms of touring and outside commitments?
Houston It's all very amiable in that we don't want to be away—we don't want to miss too much. There's never any conflict. That's a real blessing from our leadership and senior pastors, who have the ultimate say. If there's something we feel would be a good thing to do, we'll say, "We're going to be away for these days. Is this going to work with our church calendar?" Before we even check, before we even ask, we look at what's going on in the church: who's away, who's home. So everybody works together to pull this off.
So as soon as tonight's set is done, it's back to church for United. How do you deal with jetlag?
Houston You just deal with it!
United has struck a chord with young people, in part because of its euphoric live shows and powerful moments of praise. How do you make sure the rock show aspect doesn't overshadow the worshipful context?
Houston For us, it's being true yourself. The idea is that the Holy Spirit does his job, and as long as we are in the right place, people see that. A lot of people have come to our shows with criticisms, but walk away with a different perspective—through the journey of the night they notice the difference. Occasionally, you'll find an audience where you feel like their attention is on everything that's happening on stage. Especially in South America—it's a pretty wild culture, more so than in the States. But by the fourth or fifth songs, we tell them, "Alright guys, this is why we're here."
A lot of times the Holy Spirit does that job for us. But [the key] is just getting in that place yourself. Sometimes people try to put layers on—like they're trying to appear to be spiritual or whatever. But for us it's like, "Take the layers off. Let people see us truly worshiping." Because by being transparent, people can see God in us. That's the whole mentality.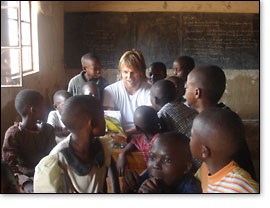 With so many adoring fans of United's work, is there ever a temptation for you to become the focus of worship?
Houston There's always that temptation, for sure. Human nature is self-centered. You see it all the time in the Christian music industry—people get caught up in themselves. It's a big tool of the enemy. But we have an incredible support network. We're all really honest with our guys and we do a lot with each other. I think what's really great for us is that the momentum for how big this has become, is so much bigger than any one of us individually. As long as people bring what they have—the sum of their parts multiplied by the grace of God—then it's a really humbling opportunity.
Your calling is to write songs that the church can sing. But your new album All of the Above is more mission focused than congregational in writing style. Why?
Houston My revelation of worship is outwards. If we're truly a worship band, I feel that we need to communicate both: we need to write songs that glorify God lyrically, but also write songs that glorify God in the way we live our lives. People talk about this worship revolution that's occurred over the last ten years focusing only on worshiping God in song. Coming out of that season, I think the testimony is that we'll be judged by how the church lived as far as becoming the hands and feet of Jesus and helping those in need. That's a revelation that's been real strong for our church. What we do in song is a reflection of where experiencing at home.
Tell me about the "I Heart Revolution."
Houston It's about creating a global snapshot of culture and people living real lives—different circumstances, different backgrounds, yet living for the same God, the same cause. The whole idea is to motivate the local church at getting good at what I was just talking about: loving God in song and with our lives, but also living it out by reaching our community. The whole concept is, if young people in Australia get fired up about worship and reaching their community, and if young people in South America do the same, if that happens all over the place, then the worldwide church together can pursue bigger initiatives.
What sort of bigger initiatives?
Houston The whole message is really about turning our back on individualism and not living self-focused lives. We're looking at how that's relevant to every context and every culture. How worship and justice relate to kids in South America, or how worship and justice relate to kids here in the United States. The movement aspect of it is putting together resources for local churches and young people to do things that are really simple, yet really big. In a nutshell, it's helping people that need to be helped—local focus, global impact.
Teen culture in general is very materialistic and self-centered. How do you get the iPod generation to worship through acts of service?
Houston I think it's the greatest challenge for our generation. My revelation of worship is "Love God, love people." That's giving of yourself, being obedient, sacrifice. That is the very opposite of individualism, the opposite of getting caught up in yourself. The number one tool of the enemy is to create a church of Christians that is happy, complacent, and content. "Great service, I had a great time, I enjoyed the music." That's Christianity to a lot of people.
Everything in our culture is about the individual. Everything points to you. Let's say, hypothetically, that I wanted to go solo with music. That would go in direct opposition to what I think God really wants me to do. Don't get me wrong. [I'm not saying some aren't called to be solo] and everybody wrestles between their calling and their dreams. I deal with it every single day myself, and I fight it. But if young people were to understand that our faith walk is a daily decision to make those sacrifices—if we understand it and we can live it, then the church would be what it was truly called to be.
Click here to read our review of Hillsong United's latest album, All of the Above. You can purchase their music and listen to song clips at Christianbook.com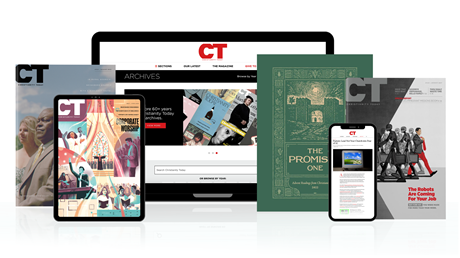 Subscribe to Christianity Today and get access to this article plus 65+ years of archives.
Home delivery of CT magazine
Complete access to articles on ChristianityToday.com
Over 120 years of magazine archives plus full access to all of CT's online archives
Subscribe Now
United Front
United Front