Jesus' story of the Prodigal Son is both symbol and reality: It's been played out in countless families, sung about, preached on, and illustrated. To showcase the parable's impact on art, the Museum of Biblical Art (MOBIA) in New York City has collected about 70 prints, sculptures, and paintings from the Renaissance to the present day for its upcoming exhibition, The Art of Forgiveness.
In the Gospel of Luke, Jesus responds to religious leaders who object to his association with "notorious sinners" by telling three parables about loss and restoration. The first two—the parables of the lost sheep and lost coin—evoked the distress and joy from an owner's perspective. Then, Jesus told the parable of the Prodigal Son, which fleshed out those themes and introduced a new character, whom the religious leaders must have recognized: the older brother.
And he said, "There was a man who had two sons. And the younger of them said to his father, 'Father, give me the share of property that is coming to me.' And he divided his property between them. Not many days later, the younger son gathered all he had and took a journey into a far country, and there he squandered his property in reckless living. And when he had spent everything, a severe famine arose in that country, and he began to be in need. So he went and hired himself out to one of the citizens of that country, who sent him into his fields to feed pigs. And he was longing to be fed with the pods that the pigs ate, and no one gave him anything.
"But when he came to himself, he said, 'How many of my father's hired servants have more than enough bread, but I perish here with hunger! I will arise and go to my father, and I will say to him, "Father, I have sinned against heaven and before you. I am no longer worthy to be called your son. Treat me as one of your hired servants."' And he arose and came to his father. But while he was still a long way off, his father saw him and felt compassion, and ran and embraced him and kissed him. And the son said to him, 'Father, I have sinned against heaven and before you. I am no longer worthy to be called your son.' But the father said to his servants, 'Bring quickly the best robe, and put it on him, and put a ring on his hand, and shoes on his feet. And bring the fattened calf and kill it, and let us eat and celebrate. For this my son was dead, and is alive again; he was lost, and is found.' And they began to celebrate.
"Now his older son was in the field, and as he came and drew near to the house, he heard music and dancing. And he called one of the servants and asked what these things meant. And he said to him, 'Your brother has come, and your father has killed the fattened calf, because he has received him back safe and sound.' But he was angry and refused to go in. His father came out and entreated him, but he answered his father, 'Look, these many years I have served you, and I never disobeyed your command, yet you never gave me a young goat, that I might celebrate with my friends. But when this son of yours came, who has devoured your property with prostitutes, you killed the fattened calf for him!' And he said to him, 'Son, you are always with me, and all that is mine is yours. It was fitting to celebrate and be glad, for this your brother was dead, and is alive; he was lost, and is found.'" (Luke 15:11-32, ESV)
The images in this slideshow are part of MOBIA's upcoming exhibition, The Art of Forgiveness. Used with permission.
Click here to view the slideshow.
Related Elsewhere:
More images from MOBIA's exhibition (which opens tomorrow, October 4) are available on their site.
Other articles that look at the parable of the prodigal son include:
Rejecting the Prodigal | The early church debated whether apostate Christians could be forgiven again. (October 26, 1998)
The Clumsy Embrace | Croatian Miroslav Volf wanted to love his Serbian enemies; the Prodigal's father is showing him how. (October 26, 1998)
What's So Amazing About Grace? Part 2 | We are accustomed to finding a catch in every promise, but in Jesus' stories of extravagant grace there is no catch. (Philip Yancey, October 6, 1997)
The Missing Mother | When my prodigal son left our world, it sent me on a sojourn as well. (October 26, 1998)
Previous slideshows include:
Scripture Illuminated | Excerpts from the St. John's Bible. (September 19, 2007)
The Transfiguration | Artists depict Jesus' meeting with Moses and Elijah. (August 2, 2007)
Early Light | On pilgrimage to Ireland's first Christian sites. (July 18, 2007)
Psalms, Hymns, and Spiritual Songs | Worship music engages the eyes, not just the ears and tongues. (May 30, 2007)
Images of Calvary | Contemporary Christian artists reflect on Good Friday. (April 3, 2007)
Photo Essay: Russia | With "The God Who Lives and Works and Plays in Russia." Christians in Utica, New York, are resettling the world one displaced soul at a time. (November 22, 2006)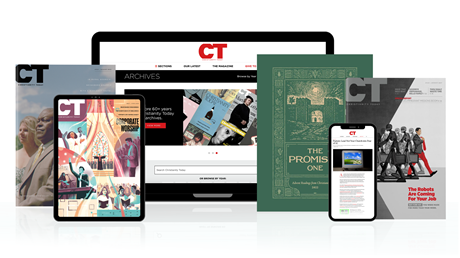 Subscribe to Christianity Today and get access to this article plus 65+ years of archives.
Home delivery of CT magazine
Complete access to articles on ChristianityToday.com
Over 120 years of magazine archives plus full access to all of CT's online archives
Subscribe Now
The Art of Forgiveness
The Art of Forgiveness