Did you receive an e-mail that claimed Sen. Barack Obama was a closet Muslim? I did. And I deleted it without a second thought. Obama has publicly proclaimed his Christian faith on many occasions. Yet it appears that the viral e-mail campaign has achieved its desired effect. So this week Obama made himself available to Christianity Today and other religious media to denounce the e-mails and profess his faith in Jesus Christ.
Sarah Pulliam and Ted Olsen, who conducted the brief interview for CT, took the opportunity to ask Obama about his views on abortion. The 35th anniversary of Roe v. Wade on January 22 has triggered a spate of media critiques of abortion in America. Movies take up the topic. A recent report shared the good news about an ongoing drop in the abortion rate, now at its lowest point since the year after Roe.
Obama did not back off his pro-choice views in the CT interview. "I think [abortions] need to be made in consultation with doctors, they have to be prayed upon, or people have to be consulting their conscience on it," he said. "I think we have to keep that decision-making with the person themselves." He did, however, say that he supports restricting third-trimester abortions. But it's hard to know if he's serious, since he requires an exception for the health of the mother, a notorious loophole that would effectively negate the type of ban signed by President Bush in 2003.
More insightful was a statement his campaign released on the Roe anniversary. Obama boasted about being the only candidate who raised money to defeat South Dakota's ban on abortion. He recalled speaking out against pro-life protesters in the Chicago suburbs. And he echoed an important foundational assumption with theological implications.
"But we also know that Roe v. Wade is about more than a woman's right to choose; it's about equality," Obama said. "It's about whether our daughters are going to have the same opportunities as our sons. And so to truly honor that decision, we need to update the social contract so that women can free themselves, and their children, from violent relationships; so that a mom can stay home with a sick child without getting a pink slip; so that she can go to work knowing that there's affordable, quality childcare for her children; and so that the American dream is within reach for every family in this country."
There's a lot here to digest. But the emphasis on freedom and equality stands out. The concepts pepper every politician's speech, given their central roles in the American story. If freedom was the goal of the Revolution, then the Civil War and civil rights movement sought equality, an unfilled promise from the Declaration of Independence. Like anything else, freedom and equality can become pawns in modern-day political chess. If Obama can trace his pro-choice views back to the American statement of faith, so can pro-life professor Robert George.
"Ours is a nation, as Lincoln said, 'conceived in liberty and dedicated to the proposition that all men are created equal,'" the Princeton University professor told blogger Justin Taylor. "Our country has never perfectly lived up to its high ideals, but our ideals are the right ideals and they are worth struggling to live up to. Our history shows that we are a people who can live with grave injustices for only so long. Just as we abolished slavery and eventually overthrew segregation and Jim Crow in order to honor the dignity and rights of our brothers and sisters of African descent, we will eventually restore to our tiniest and most vulnerable brothers and sisters the protection they, as members of the human family, deserve."
Freedom and equality sound beautiful to the Christian's ears. After all, Christ proclaimed freedom for the captives (Luke 4:18, quoted from Isa. 61:1). The apostle Paul tells us, "For freedom Christ has set you free" (Gal. 5:1). Jesus elevated the downtrodden in his parables and actions. Paul taught the good news that in Christ, all — slave and free, Greek and Jew, male and female — may be justified before God, if they believe (Gal. 3:28).
Yet it seems America's national creed, as understood by many today, stops here. The gospel goes much further. More than equality, the gospel means self-sacrifice. Consistent with Jesus' message, Paul warns believers not to, "use your freedom as an opportunity for the flesh, but through love serve one another. For the whole law is fulfilled in one word: 'You shall love your neighbor as yourself'" (Gal. 5:13-14).
This Christian gospel is implicit in the very social contract that Obama references. In return for order and protection, citizens cede some liberties, especially if exercising these liberties will infringe on fellow citizens.
Abortion reveals the failure of the social contract when we abandon desperate people to tragic choices — as Obama states — but also when we tolerate the destruction of innocent children
Verse for the Fortnight
"The Spirit of the Sovereign LORD is on me,
because the LORD has anointed me
to preach good news to the poor.
He has sent me to bind up the brokenhearted,
to proclaim freedom for the captives
and release from darkness for the prisoners."
Isaiah 61:1
Collin Hansen is a CT editor-at-large. He is the author of Young, Restless, Reformed: A Journalist's Journey with the New Calvinists (Crossway, 2008).
Related Elsewhere:
Previous Theology in the News columns are available on our site.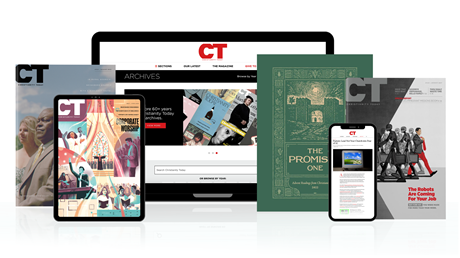 Annual & Monthly subscriptions available.
Print & Digital Issues of CT magazine
Complete access to every article on ChristianityToday.com
Unlimited access to 65+ years of CT's online archives
Member-only special issues
Subscribe
Obama's Social Contract
Obama's Social Contract