Rusty Leonard may be the only evangelical figure loved by the secular press and scorned by his Christian peers. When MinistryWatch, the nonprofit he started, reported on financial problems at Joyce Meyer Ministries, The Wall Street Journal and the St. Louis Post Dispatch used Leonard's findings in their articles on the Bible teacher. The pressure eventually compelled Meyer to adjust her financial arrangements, though she has claimed that MinistryWatch had nothing to do with it.
When Senator Charles Grassley investigated six churches for possibly misspending donor money, the national press repeatedly quoted Leonard, who was elated that someone, finally, was standing up for donors' interests.
When he founded MinistryWatch, Leonard says, he expected the flak from leaders of the ministries his organization rates for financial accountability. "But I thought the donors would love it. Particularly I thought the larger donors would say, 'Where have you been all my life?'
"I did not get that reaction," Leonard says. "I got a stiff arm." A few groups of large donors were upset, Leonard says, because he didn't get permission to launch his ministry. "But it was good data, and therefore it was dangerous data." These large donors were also upset because MinistryWatch gave negative ratings to ministries that were popular among larger donors. They were embarrassed. "This data could make them look dumb," Leonard says. "It shows that something they've been giving money to doesn't look all that good."
But Leonard doesn't just want to change how evangelicals give. He also wants to change how evangelicals—including their ministries and organizations—invest. He started Stewardship Partners, a money management firm that now has more than $300 million invested in companies that do not profit from tobacco, gambling, alcohol, abortion, or other issues traditionally opposed by conservative evangelicals. In addition, he owns the Biblically Responsible Investing Institute, which rates companies on more than a dozen issues.
Leonard has found that major Christian organizations don't like to be bothered by his entreaties to invest morally. Many Christian investment companies, Leonard says, "don't put money where their mouths are." They don't screen for homosexual issues or life-ethics issues, Leonard says, even though they often say they do. "All too often, the Christian-managed funds seem more interested in not screening thoroughly and instead holding up a veneer of screening so that their clients will be convinced that all is well."
Without screening for these things, Leonard believes, evangelicals are funding organizations that are out of sync with their interests. He declines to say which ministries have refused his efforts to help change the way they invest, because he still hopes to change their minds. Yet so far, he says, no one has listened.
Still, Leonard has a popular appeal, and his financial ideas strike a chord with an increasing number of people.
A Ton of Money
In the late 1990s, Rusty Leonard was managing $3.5 billion at Franklin Templeton Investments. He was one of the company's best performing managers. And as the "Christian guy" at Templeton, Leonard was often assigned the accounts held by Christians. One account in particular, owned by the DeMoss Foundation, profoundly shaped his future career.
DeMoss required that Leonard screen the companies he invested in. The account was to make no profit from alcohol, tobacco, gambling, pornography, or abortion. Still, Leonard says, "It was the second-best-performing account during the time I managed it of any Templeton account."
The profits Leonard generated for the foundation went toward the transformation of millions of lives. DeMoss gave grants to crisis pregnancy centers and funded evangelism efforts. "This is the Lord using my skills that he's given me to do good things for the kingdom," Leonard says. "This is great."
But through his own giving, Leonard discovered a major "dysfunction" in what he calls the ministry marketplace. As an investment manager, he says, "You're paid a ridiculous amount of money. As a result, we were giving away a lot of money."
It occurred to Leonard that he should be paying as much attention to the balance sheets of the organizations he supported as to the companies he invested in. Leonard's wife, an accountant, encouraged him to give due diligence to the ministries he gave to—to make sure the money he gave was being used for what the ministry claimed.
"We thought we'd do a little checking," Leonard says. "It was shocking. On the business side, you ask for information, you get it. On the ministry side, you're told, 'What do you want this for? I'm not giving it to you.'
"It became apparent to us," Leonard says, "that in the ministry marketplace, donors were disenfranchised. Whereas in the stock market, there was complete representation."
In 2000, Leonard founded MinistryWatch.com, which has a searchable database of the finances of more than 500 Christian ministries, and financial efficiency ratings on about 430. Ministries receive ratings based on their financial transparency. Two-thirds of its budget comes from Leonard himself.
Leonard says it's not just the major TV ministries or prosperity-gospel teachers who have shady financial practices; many ministries either aren't financially transparent or inappropriately use their donations. Leonard gives the example of a radio ministry that he financially supported. The preacher owned the building that the ministry was housed in, so he personally received money in rent that was paid for by listener donations. The preacher's son-in-law, the CEO of the ministry, owned a for-profit tape duplication company, which the ministry used exclusively for its tape duplication. Neither transaction was necessarily illegal. But both were suspicious.
"Why not go to a regular vendor instead of the CEO who's profiting?" Leonard asks. "There's a private company that's now associated with the ministry. It's got a flow of business from the ministry, and it's an easy way to transfer money to make the ministry look good. But you're sucking money out of the ministry."
Leonard's concern is not only that these kinds of financial practices tend to divert money from ministry use, but that they destroy the confidence of donors as well. "The cost of this dysfunctional ministry marketplace is very high in terms of lower giving or poor giving," Leonard says.
Leonard hopes MinistryWatch will divert 10 percent of donations that would have otherwise gone to unworthy organizations. Of the $14 billion given to the 430 ministries that MinistryWatch has financial information on, Leonard believes that $1 billion goes to financially unaccountable ministries. "If we could move 10 percent of $1 billion from suboptimal ministries to worthy ministries, that's $100 million annually we're transferring to good works. And that's without even increasing the level of giving."
Faith-Based Investing
But increasing the level of giving is also part of Leonard's goal. He wants evangelicals to give more by making them wealthier, according to his "biblically responsible investing" model (BRI). Leonard's investment management company, Stewardship Partners, manages about $323 million for 874 clients. And, even if major Christian organizations don't like Leonard's investment principles, many individuals do.
Mary King is a financial adviser at Merrill Lynch in Beverly Hills. Her clients are exclusive. They all have at least $1 million in investable assets. And they all want their investments to reflect their values.
King says this investing approach is growing rapidly. "I don't have to finish a sentence," King says of her speaking engagements, "and these people want to know more."
King is bullish on the growth prospects of this currently small investment niche. "The expression of Christian dollars could hit $2 trillion. That includes portfolio screening, investor activism, and microenterprise types of investments," King says. Right now, financial stewardship for many Christians has emphasized giving or staying out of debt. "There will be a tipping point," King says, when evangelicals want to put more than 10 percent of their finances into kingdom use.
Though the market is still developing, King is able to use Merrill Lynch's network to access mutual funds and money managers (like Leonard) who reflect the values of almost any investor.
About $17 billion is currently invested in "faith-based" funds, including denominational pensions, foundations, college endowments, and explicitly evangelical mutual funds like the Timothy Plan. It's just a small slice of the $2 trillion in screened investments, most of which is dedicated to "socially responsible investing" (SRI), which typically supports social causes like the environment.
The dominant player in the faith-based investing market is the Southern Baptist-run Guidestone, with more than $8 billion. The Timothy Plan's largest fund has about $100 million in assets. But Leonard estimates the potential market could be $100 billion, if a large number of individual Christians and institutions get on board.
Leonard's vision for evangelicals' investments is this: "If you were to have started with $1 and given 10 cents away, we are hoping that you start with $1 and we help you end up with $2. Then you give 30 cents away. And that 30 cents is given to worthier ministries than what you've given to before."
It's a simple idea, and one generally supported by evangelical financial advisers. As Leonard says, "If you could, why wouldn't you?"
Why Wouldn't You?
It turns out there are a lot of reasons why Leonard's efforts to transform evangelicals' investment behavior have made less progress than MinistryWatch.
Moral investing isn't always accessible. Leonard requires a $100,000 minimum investment in order to keep fees low. And not all funds like the Timothy Plan are available through 401(k) plans.
Values-based investing, no matter which values, are perceived as more risky. When the tech bubble burst in 2000, many socially responsible funds were badly hit. They had heavily invested in technology stocks, which were seen as environmentally safe. Later, as oil prices skyrocketed, they missed out on the boom because energy companies were seen as environmentally harmful.
In addition, questionable profits (those that violate the investors' moral values) from typical mutual funds are insignificant. The individual portion of a mutual fund invested in a morally questionable company is often miniscule.
The gray area between a biblically responsible investment and an irresponsible one is enormous. For example, Leonard has always refused to own News Corp. stock because he thinks the programming on its Fox subsidiary is morally offensive and destructive to the family. (News Corp. is now fighting the FCC's broadcast decency standards.) Yet another News Corp. subsidiary, Zondervan, publishes the most popular translation of the Bible. So avoiding support for Fox's anti-family programming could mean refusing to buy the NIV.
And there are biblical arguments against BRI. Jerry Bowyer is president of a media consulting group dealing mostly with economic issues. He's a former Salem radio host, a financial columnist for National Review Online, and a frequent guest on CNBC's Kudlow & Company. Bowyer argues that screening investments for morally objectionable corporate activities is pharisaical. The Pharisees tried to separate from the world, Bowyer says, but Jesus' model is engagement.
In the parable of the talents, Bowyer says, Jesus implicitly supported investing in worldly activities. Because the Jews forbade lending at interest, the only place to invest would have been with Gentiles, Bowyer argues. He likens investing in companies that profit from morally objectionable business activity to eating meat sacrificed to idols. It means nothing.
Whatever the arguments against it, most evangelical financial consultants support BRI. After all, who would be opposed to something labeled biblically responsible? As Ron Blue, president of Kingdom Advisors, a trade group of evangelical financial consultants, diplomatically says, "Christians should make sure their investments are in line with their values."
The Unclean Thing
Evangelicals' attempts to influence companies by avoiding them have notoriously failed. The Southern Baptists' boycott of Disney and the American Family Association's boycott of Ford did almost nothing to change those companies' behavior.
Instead of avoiding companies, we should be engaging them, Bowyer says—investing our money in their stock and encouraging ethical behavior and moral profits.
On that, Bowyer and Leonard agree. Perhaps displaying the bias of an investment manager, Leonard says that American evangelicals' attempts to halt the country's moral decline have failed because they have ignored the power of the business world.
"Despite tremendous success politically," he says, "and having a large percentage of the population on our side, we are still losing. Why is that?" Leonard says corporations are supporting social agendas that evangelicals oppose. And they are using evangelicals' money to do it.
"We've got to wake up to the fact that this corporate sector of the economy is extraordinarily important and cannot be ignored if you hope to achieve your goals," Leonard says to culture warriors. "If you actually want to win, you're going to have to take account of this factor."
This is the final aspect of Leonard's comprehensive vision to change the way evangelicals handle their money: Use the trillions of dollars held by individual evangelicals and Christian organizations to invest in public companies. Lobby those companies to support good work and stop supporting or profiting from industries evangelicals have traditionally opposed. Leonard doesn't like being called an activist. But he can't help trying to change the way things are done, prodding ministries to open up their books as legally required, poking donors to think before they give, and pushing investors to pay attention to the stocks they own.
Leonard gave up his professional prospects to start a confrontational ministry and an investment firm managing 1/14 the size of his former accounts. "From a professional perspective," he says, "I went from the very peak to the pit. I don't think I realized how far down I was going."
Leonard loves what he does. "I like managing accounts for people who want to give," though he's ambivalent about the role he feels he's been called to. "I don't want to be known as the lone sentry on the wall," as one magazine called him.
He now has more accounts that give away their profits. "I'm running the race to make sure we can keep this account large enough so that they can pull the money out that they need to fund their ministry," says Leonard. "I love running money for that purpose."
Rob Moll is a CT editor at large.
Related Elsewhere:
MinistryWatch, Stewardship Partners, and Biblically Responsible Investing Institute have more about their missions on their websites.
Our recent articles on money and business include:
Philanthro-Pinch | Economic downturn sparks worries over giving. (July 11, 2008)
Cornerstone Falters | Real estate investments bankrupt Presbyterian-affiliated group. (July 10, 2008)
Blessed Insurance | Many pastors lack access to adequate health benefits. (July 7, 2008)
Have something to add about this? See something we missed? Share your feedback here.
Our digital archives are a work in progress. Let us know if corrections need to be made.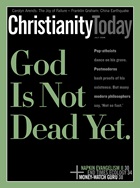 This article is from the July 2008 issue.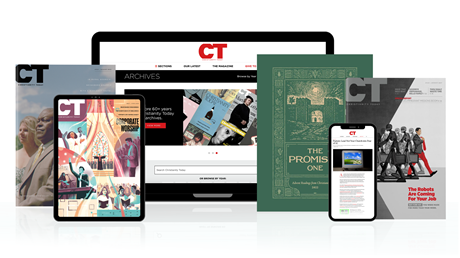 Annual & Monthly subscriptions available.
Print & Digital Issues of CT magazine
Complete access to every article on ChristianityToday.com
Unlimited access to 65+ years of CT's online archives
Member-only special issues
Subscribe
Overturning the Money Tables
Overturning the Money Tables