Southern Baptists on Tuesday, June 10, elected a Georgia pastor, the Rev. Johnny Hunt of First Baptist Church of Woodstock, as president after the most wide-open leadership race in three decades.
Hunt, 55, a megachurch pastor known for his encouragement of young pastors, won 53 percent of the votes of more than 5,800 delegates, known as messengers, who are meeting in Indianapolis.
"One of my plans is to work diligently to bring … the younger generation into more involvement in our denomination," Hunt said in an interview shortly after his election. "It's my goal and hope that we'll be able to inspire and instill hope within that generation to come and join us."
Hunt said he'd also encourage all Southern Baptists to be more energized about evangelism, after the denomination reported that baptisms — an indicator of successful evangelism — hit their lowest point in a decade in 2007.
"We may just be dealing with a whole spirit of lethargy and apathy that just needs to be challenged," said Hunt, whose church has been a leader in baptisms. "That just needs to be challenged. That's going to be my passion, my heart."
The nation's largest Protestant body also essentially killed a proposed database that would track Baptist clergy who have been convicted or accused of sexual abuse, in part because of the autonomy of local churches.
Morris Chapman, president of the Southern Baptist Convention's Executive Committee, told delegates that the denomination's role "is to encourage, empower, and educate local churches as to how to best do their local work to protect our precious children."
After spending the last year investigating whether to create a database, the Executive Committee instead offered new resources to local churches — including an online link to the Department of Justice's national database — and urged them to contact authorities about any sex abuse accusations.
"Where delay is caused by a desire to protect the reputation of the church, we believe such delay to be completely unjustified," the Executive Committee's report reads.
Delegates at last year's annual meeting expressed their "moral outrage" about child sexual abuse in a non-binding resolution and asked church leaders to investigate the feasibility of a tracking system.
The committee said it would be "impossible" to ensure that all convicted sexual predators could be discovered to include on a database, and a "Baptist only" list might leave out predators who had identified previously with other faith groups.
Christa Brown, who coordinates Baptist activism for the Survivors Network of those Abused by Priests (SNAP), said the denomination's initial steps — such as offering discount-priced background checks — are not sufficient.
"It's such a minuscule part of what's needed," she said. "I believe that unless and until there is a safe place to which the victims themselves can report abuse with some reasonable expectation of being objectively heard … everything else will be window dressing."
Because the vast majority of child molesters are never convicted, Brown said Southern Baptists should follow the examples of other faith groups that have developed systems "for at least accessing credible accusations."
Wade Burleson, a pastor from Enid, Oklahoma, who sought the feasibility study last year, said the committee has taken the issue of abuse "very seriously," giving it more attention than other convention issues.
"I'm respecting them enough to not say I don't think it's an adequate response," he said. "There will be some who will say it's not adequate. I'm not there."
Chapman cited Prestonwood Baptist Church, a prominent Dallas-area Southern Baptist megachurch, for the way it responded upon learning that a minister on its staff had been charged with soliciting a minor online in May. The church, which is pastored by former Southern Baptist Convention president Jack Graham, immediately asked the minister to resign.
"Let it be said of every pastor, every staff member, and of every layman in the Southern Baptist Convention, we shall not tolerate the sex offenders," Chapman said.
In other business, several proposals suggested by Southern Baptists were referred to the Executive Committee for a response at next year's convention, including:
— To consider churches with women senior pastors to not be "in friendly cooperation" with the denomination.
— To reconsider the denomination's decision in 2004 to break ties with the Baptist World Alliance because of a perceived "leftward drift" in the global body.
— To prevent presidents of Southern Baptist entities or of the Executive Committee from serving as president of the denomination.
Related Elsewhere:
Ted Olsen posted an analysis of the SBC presidential election yesterday.
Baptist Press, the official press arm of the SBC, and Associated Baptist Press also reported on the election.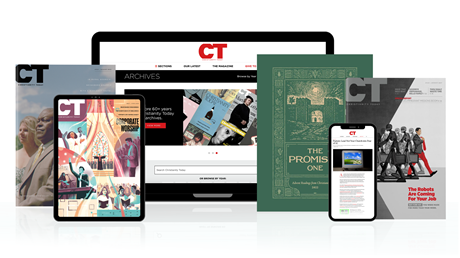 Annual & Monthly subscriptions available.
Print & Digital Issues of CT magazine
Complete access to every article on ChristianityToday.com
Unlimited access to 65+ years of CT's online archives
Member-only special issues
Subscribe
Southern Baptists Elect President, Dismiss Abuse Database
Southern Baptists Elect President, Dismiss Abuse Database