When Evan Almighty hit theaters last summer, some evangelicals worried that elements of the movie were sacrilegious. One of their particular objections got me thinking.
In the film, God (played by Morgan Freeman) claims that people miss the point of the story of Noah's Ark because they think it's about God's anger, when really it's a "love story." Some Christians saw that statement as an offensive distortion of the Genesis account of God's wrath. Their protest left me pondering what I suspect is a fundamentally important question: Is there any story about God that isn't a love story?
Growing up, I had two images of God. The first was a painting on my bedroom wall, Bernhard Plockhorst's Jesus Blessing the Children. After bedtime prayers, I would drift off imagining I was one of those children in Jesus' embrace. Everything about that picture reinforced the first thing I was taught in Sunday school: God Is Love.
My other image was a mental one I'll call "the Vengeful God," a peeved Father Time crossed with an accusing Uncle Sam. That picture helped me remember that God hates sin, and reinforced the second thing I learned in Sunday school: God Is Holy.
We sang about grace at my church, and we meant it. But we suspected that an exclusive emphasis on God's love would lessen our desire to live holy lives. So periodically, our preacher would thunder about God's wrath and judgment, ensuring we were never "soft on sin."
God is love, BUT God hates sin. How does one hold those two realities in tension? I unconsciously developed a theology that intermittently had God the Son and God the Father in a good cop, bad cop routine, with the Holy Spirit stepping in as a sympathetic parole officer.
I professed that God was love all the way through, but deep down I couldn't help assuming he was a bit like me. Even his love had to have limits. It stopped at sin and turned into wrath. Naturally.
My understanding began to change when I read Baxter Kruger's depiction of God's wrath as his love in action—his emphatic "No!" to anything that leads to our destruction. That perspective flipped a switch for my husband and me. If our daughter stepped into oncoming traffic, she might perceive our reaction (screaming "No!" and yanking her out of harm's way) to be harsh and unloving. But in reality it would be an expression of our fiercest and purest love. Is that how it is with God?
What if God's wrath is not a caveat, qualification, or even a counterpoint to his love, but an expression of it? What if God grieves sin less because it offends his sensibilities, and more because he hates the way it distorts our perceptions and separates us from him?
Recently, my friend Liliane told me the story of her conversion. Years ago, someone handed her a pamphlet with Jesus on the cover asking, "Do you love me?" Honestly, I can't say I do, Liliane whispered to Jesus. I really like you, though. I want to get to know you.
For a year, Liliane attended church and spent time with people who knew Jesus. One day, with a start, she realized she did love him. He'd captured her heart.
"That whole first year, I didn't read the Bible, and I'm really glad I waited," she told me, laughing at my raised eyebrow. "You know how, when you're with someone you really trust, you can say the hard things if you need to? Now that I know God, I see his love all through the Bible, even in the hard bits."
There are some pretty hard bits in Scripture. It is difficult to frame, say, the saga of Sodom and Gomorrah as a love story. But if we truly believe that God not only loves, but is love, we must believe there is no action he can take that is not animated by love.
My church was right to be concerned that an inadequate understanding of God's righteousness would lead to sin. After all, one of Satan's strategies with Eve was to undermine the reality of God's judgment: "You will not surely die" (Gen. 3:4).
But his more sinister tactic was first to get Eve to doubt God's love and character: "Did God really say, 'You must not eat from any tree in the garden'?" (Gen. 3:1). His strategy worked then, and it works now. Our sin is rooted not only in a lack of reverence for God's holiness, but also in a profoundly insufficient understanding of his love.
God is love, SO God hates sin. We are loved with a holy love that cries "No!" again and again to the things that destroy us. We are part of an epic love story, and what we all need desperately is to know the Author better.
Carolyn Arends is an award-winning singer-songwriter, author, and film critic (for ChristianityTodayMovies.com) who lives in Vancouver with her husband and two children. More at CarolynArends.com.
Related Elsewhere:
Arends's first Christianity Today column was "Carbonated Holiness."
Have something to add about this? See something we missed? Share your feedback here.
Wrestling with Angels
Singer/songwriter and author Carolyn Arends has written and released 9 albums and penned 2 books, including
Wrestling With Angels
(Harvest House/
Conversantlife.com
). A list of her blogs can be found at
CarolynArends.com
. Her bimonthly "Wrestling With Angels" column has appeared in
Christianity Today
since 2008.
Previous Wrestling with Angels Columns:
Our digital archives are a work in progress. Let us know if corrections need to be made.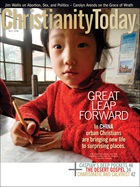 This article is from the May 2008 issue.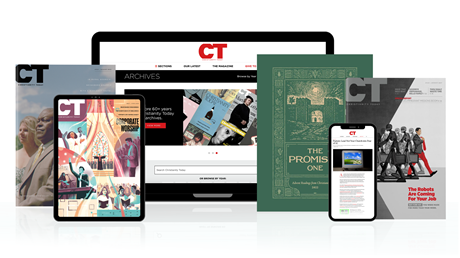 Subscribe to Christianity Today and get access to this article plus 65+ years of archives.
Home delivery of CT magazine
Complete access to articles on ChristianityToday.com
Over 120 years of magazine archives plus full access to all of CT's online archives
Subscribe Now
The Grace of Wrath
The Grace of Wrath