true
The Fire Spreads: Holiness and Pentecostalism in the American South
By Randall J. Stephens
Harvard University Press (January 31, 2008)
416 pp., $27.95
Pentecostal music for both black and white listeners broke many boundaries. In the early 20th century, Sister Arizona Dranes, Eddie Head, and other black sanctified performers employed the instruments and musical styles of the secular scene, broadening sacred music as a result. Sister Rosetta Tharpe, a native of Arkansas, became so well known in the late 1930s for her guitar-accompanied gospel singing that she performed at New York's storied Cotton Club and landed a record deal with Decca. Tharpe and other black artists helped commercialize the new genre. In the 1920s and 1930s Okeh Records issued a flurry of releases by energetic black Pentecostal musicians and shouting preachers. Jazz trumpeters, boogie-woogie pianists, and jug bands led worship in Church of God in Christ churches across the South, while flat-picking white guitarists, washboard players, and fiddlers did the same in Church of God (Cleveland) congregations.
The influence of such mavericks extended well beyond the confines of churches. A host of first-generation rock 'n' rollers who grew up in Pentecostal denominations later gave much credit to church music. They would also claim that the unrestrained style of the sanctified, tongues-speaking faith had a lasting impact on them.
As a boy in the 1930s Johnny Cash attended Church of God (Cleveland) services in Dyess, Arkansas, where local initiates held unfettered meetings in an old schoolhouse. Years later the Man in Black recalled scenes of religious mayhem. The "writhing on the floor, the moaning, the trembling, and the jerks" left a deep impression, and the fire and brimstone sermons and surrounding frenzy terrorized Cash. "My knuckles would be white as I held onto the seat in front of me," he remembered. Still, Cash loved the uninhibited music, the improvisation, and the variety of instruments played. It was a powerful experience.
So it was, too, for Tammy Wynette, a future country music celebrity, who as a youth frequented the Oak Grove Church of God in northeastern Mississippi. She attended a Baptist church as well, but it could not compete with exciting Pentecostal services. She would bang away on the piano, playing hymns and spirituals. Unlike the stodgy Baptist ministers, Wynette wrote in her autobiography, the Church of God preacher "would let you bring in guitars and play rockin' gospel more like black gospel music," as worshipers shouted in the Spirit and hollered in unknown tongues. Other Southern-born rockers recalled similar experiences. Little Richard and B. B. King, who attended black Pentecostal services, and Jerry Lee Lewis, a one-time member of the Assemblies of God, loved the lively preaching, the fast-paced music, and the antics of ecstatic worshipers. Little Richard summed it up best: "Of all the churches, I used to like going to the Pentecostal church because of the music."
Certainly the most famous performer to be attached to a tongues-speaking fellowship was Elvis Presley. Born in Tupelo, Mississippi, he moved with his family to Memphis in 1948. His mother, a devout Christian, looked for a local church the family might attend. The burgeoning First Assembly of God originally met in a tent, then moved to a storefront, and finally settled in a permanent structure. Membership climbed to 2,000. One Sunday shortly after the Presleys arrived in town, a First Assembly bus swung through their rundown neighborhood. They climbed aboard and became regulars of Pastor James Hamill's congregation. As a teenager Elvis was quiet, shy, and awkward. The country boy's hair was too long and his trousers were too short, Hamill remembered, but he was a courteous, respectful youth. He attended Sunday school and witnessed the gospel stylings of the Blackwood Brothers and the Stamps Quartet, two groups that pioneered white Southern gospel music. Members of each attended First Assembly. Elvis was exposed there to the best in Pentecostal music, Hamill recalled. In a series of 1956 interviews, after he achieved international acclaim, Elvis always mentioned to reporters that he and his family belonged to Memphis's First Assembly of God. Speaking to an Associated Press reporter about Pentecostal music, Presley said: "We used to go to these religious sing-ins all the time. There were these singers, perfectly fine singers, but nobody responded to 'em. Then there were these other singers—the leader wuz a preacher—and they cut up all over the place, jumpin' on the piano, movin' every which way. The audience liked 'em. I guess I learned from them singers." Uninhibited Pentecostalism gave young Elvis ideas about music and performance. He was sometimes called the "evangelist" by his inner circle of friends.
Electronically reproduced by permission of the publisher from THE FIRE SPREADS by Randall J. Stephens, Cambridge, Mass.: Harvard University Press, Copyright © 2008 by Harvard University Press.
Randall J. Stephens is assistant professor of history at Eastern Nazarene College.
Related elsewhere:
The Fire Spreads: Holiness and Pentecostalism in the American South is available from Amazon.com and other retailers.
A review of Johnny Cash and the Great American Contradiction, and an excerpt from the book are also posted on our site today.
More articles about faith and musicians, including Eric Clapton, John Lennon, and Salt-N-Pepa, are in our full-coverage music section.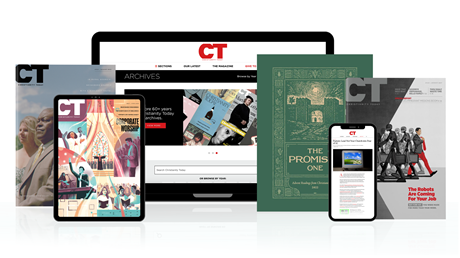 Subscribe to Christianity Today and get access to this article plus 65+ years of archives.
Home delivery of CT magazine
Complete access to articles on ChristianityToday.com
Over 120 years of magazine archives plus full access to all of CT's online archives
Subscribe Now
All Shook Up
All Shook Up