What struck me most as my Arab driver artfully maneuvered the roundabouts and winding streets of Amman, Jordan, was the sense of timelessness in a city made of stone. One of the oldest continuously inhabited cities in the world, Amman boasts a 5,000-seat amphitheater built in the 2nd century that is still in use today, and a Christian church built in 326 A.D. On the modern, western side of the city, the gleaming white stone repeats the ancient theme in stately homes, five-star hotels, and a massive, blue-domed mosque in which nearly 3,000 worshipers gather in prayer.
But it was Arab Christians, not architecture, that had brought me to Amman. I spent the next five days in a secluded retreat center listening to lectures and talking with men and women whose stories shook my understanding of what it means to be a Christian in the Middle East. Evangelicals for Middle East Understanding sponsored the gathering and billed it as an opportunity for American and European Christians to "listen to the church in the Middle East." The conference brochure should have come with a warning: "You will leave this place feeling sick at heart, and your tears will continue to fall long after you return home."
I learned, for example, that in the Armenian Orthodox community in Baghdad, 35 Christian leaders have been killed and another 40 have been kidnapped by Iraqi insurgents since the beginning of the war in Iraq. It often surprises Westerners to learn that Christianity is indigenous to Iraq and that prior to the war, Christians lived in peace with their Muslim neighbors. Unfortunately, the increasingly negative view of "Christian America" and the equating of Arab Christians with American imperialism, the Crusades, and Christian Zionism poses an ever-increasing threat to the security of Arab Christians throughout the Middle East. In 1977, there were over two million Christians in Iraq. Before the invasion of 2003, there were 700,000. Today, there are just 350,000. Of the 1.2 million Iraqi refugees currently living outside Iraq, 400,000 are Christians.
I did not arrive in Amman completely ignorant of the plight of Christians in the Middle East. Since our mid-20s, my husband and I have been mentored by Gilbert Bilezikian, an Armenian born in France to refugee parents who fled the Armenian genocide of 1915. "Dr. B" served for several years as president of Haigazian University in Beirut, Lebanon, before becoming a professor of New Testament at Wheaton College. It was Dr. B's vision of the Acts 2 church that inspired my husband to start a church in 1975. For years, Dr. B was an elder at our church and often led members on trips to the Holy Land. Although he focused his Holy Land teaching on "Jesus, the Servant Leader," he never failed to note the desperate plight of both Christians and Muslims in the occupied Palestinian territories.
So I was not fully unprepared for the words I heard in Amman. However, nothing could have prepared me for the gut-wrenching emotional impact of looking into the eyes of these Christian brothers and sisters and hearing their history of pain, their sense of being abandoned by Western Christians, and yes, their righteous anger. Try to put yourself in my place as I listened to these heartbreaking stories.
An Iraqi doctor spoke of his father, a pastor, who was recently killed by insurgents because he refused to close the doors of his church. "It's God's church," the pastor said. "I can't close it." So they shot him and threatened to do the same to his son if he did not leave the country. The doctor began his presentation with actual video footage of Iraqi citizens being lined up against a wall and executed. He finished by quietly reminding us that Americans rarely hear of what goes on in his country: "Do you realize that in Iraq, 30 percent of the women under 30 are widows?"
A Palestinian educator, who was just nine years old when the 1948 Israeli-Palestinian war began, described how his father was killed by a sniper during the conflict. Raised by a devout Christian mother who taught her seven children never to avenge their father's death, he went to the U.S. to study and returned to his homeland to train pastors, educators, and community leaders. One of his sons currently leads a Palestinian organization devoted to nonviolent resistance and works closely with members of the Israeli peace movement.
A female activist born to a Lebanese father and a Palestinian mother spoke of how 30 of her Palestinian relatives lost everything in the 1948 war and fled to Lebanon to live in her family's three-bedroom home. Her up-close view of the traumas of displaced people inspired her to become a psychologist. Today, she works in a shelter for abused women and children. "As always," she reminded us, "where there is ongoing violence, poverty, and a sense of powerlessness, women and children pay the heaviest price."
A Christian educator with a doctorate in Islamic studies explained that one thing that unites all Muslims is their outrage at the injustices faced by Palestinian people who have lost their freedom, their land, and their way of life.
A Lebanese psychologist outlined the psychological impact of ongoing violence on children, as well as the emotional and social forces that push moderate believers — of any religion or ideology — toward radicalism and violence.
An international aid worker described the extreme poverty and desperation in the Gaza Strip, where many Muslims have joined the global masses that live on less than a dollar per day. Although Christians cannot talk about religion in the Gaza Strip, she made it clear that "our help is welcome."
A young Lebanese student recalled a childhood marked by "hiding in the bathroom, listening to soldiers firing guns outside, and never knowing if someone was going to open the door and kill me." He claimed that many of his friends who grew up with a similar history have "lost their minds." He told his story with a smile, which I did not understand until an older gentleman informed me that Arabs often hide their pain behind a smile.
On the last day of the conference, I sat at a desk in the middle of a classroom and wept. After the session, an Egyptian pastor embraced me and whispered, "Thank you for being here. Thank you for listening. Thank you for your tears."
The next day, as I rode to the airport for my flight home, a 67-year-old Jordanian grandfather described his decades of work with young people and his current work with destitute Iraqi refugees. When I tried to press a small bundle of cash into his hands, he said, "No, no, your visit here is more important than your money." In the end he accepted the money "for the refugees," but he genuinely seemed more appreciative of my commitment to pray for him. "Pray for safety and health," he said, "but mostly for continued vision. It's easy to get discouraged after working hard for so many years."
As I've spoken with friends and family since my trip, many have asked, "What can I do?" I find myself repeating the answers I received when I asked the same question in Amman.
Educate yourself. Do not accept simple answers to complex questions.


Visit the Middle East, and listen and learn.


Support the churches in the Middle East financially, politically, and vocally.


Pray for Palestinians, Israelis, and Iraqi citizens who are so weary of war, and for American leaders to move with wisdom in the Middle East.


Care for refugees. Detroit has the largest Arab population outside of the Middle East, and many refugees are now settling in the Chicago area as well. "Please welcome them," was a refrain repeated again and again.


I returned home from Amman with a simple prayer: "God, what is mine to do?" Yes, I feel overwhelmed with a sadness that borders on despair. But I have learned that the antidote to despair is action.
Lynne Hybels is author of Nice Girls Don't Change the World and wife of Bill Hybels, who is senior pastor of Willow Creek.
Related Elsewhere:
Previous Christianity Today articles on Jordan include:
Jordan's Eviction Notice | Country hailed for tolerance deports at least 27 Christians. (April 8, 2008)
Hardship for Evangelicals in Jordan: Lessons for All Christians | The president of Jordan Evangelical Theological Seminary on maintaining fruitful relationships with our neighbors. (April 8, 2008)
Looking Back | Claims to new Sodom locations are salted with controversy. (March 12, 2008)
The Peacebuilding Prince | One Jordanian leader shares his deep desire to preserve the Arab Christian world. (February 13, 2008)
Jordan: Evangelical Seminary Remains in Limbo | Jordanian school was closed two years ago with orders to re-register. (September 3, 2001)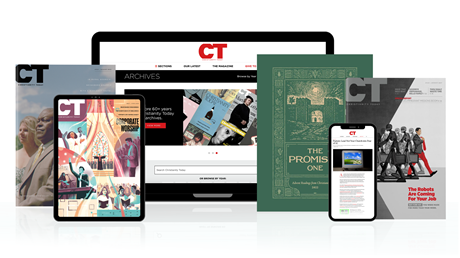 Annual & Monthly subscriptions available.
Print & Digital Issues of CT magazine
Complete access to every article on ChristianityToday.com
Unlimited access to 65+ years of CT's online archives
Member-only special issues
Subscribe
Listening and Learning in the Middle East
Listening and Learning in the Middle East