Imagine Charles Wesley attending a Christmas morning service today and hearing that his great hymn, "Hark! The Herald Angels Sing," would be sung. As the congregation started singing, he would be momentarily confused, because his original began, "Hark how all the welkin rings / Glory to the King of kings," and was not sung to the Felix Mendelssohn tune we use today.
By verse three, Wesley might get his bearings. But when "Born to raise the sons of earth / Born to give them second birth" proved to be the last verse, he would be confused again.
He'd likely exclaim, "But that's not the end. I went on to write this:
Adam's likeness, Lord, efface,
Stamp thy image in its place;
Second Adam from above,
Reinstate us in thy love.
Let us thee, though lost, regain,
Thee, the life, the inner man;
O, to all thyself impart,
Formed in each believing heart."
Then he might ask, "Why don't you sing that verse?"
A Good start
As evangelicals, we know how to answer the question, "Are you saved?": If we have believed in Jesus Christ, we are saved—right there, right then.
Sometimes, though, the way we talk about salvation makes it sound like little more than a get-out-of-hell-free card. With our emphasis on what sinners like ourselves are saved from, do we know what we are saved for? Is salvation solely about us and our need to be forgiven and born again, or is there a deeper, God-ward purpose?
The leaders of the ancient church thought so, speaking regularly of salvation in a way that may sound strange to many evangelicals, but which Wesley alluded to in some of his hymns. In particular, they envisioned salvation as theosis, an ongoing process by which God's people become increasingly "partakers of the divine nature" (2 Pet. 1:4), formed more and more in God's likeness. As the 2nd-century theologian Irenaeus urged in Against Heresies, "Through his transcendent love, our Lord Jesus Christ became what we are, that he might make us to be what he is." The great 4th-century defender of Jesus' divinity, Athanasius, put it even more forcefully: "[God] became man, that man might become god."
Though unfamiliar to most of us, this way of thinking strongly influenced John Wesley's own view of sanctification and was embraced by C. S. Lewis, who in Mere Christianity wrote, "God said that we were 'gods' and he is going to make good his words." This continues to be the basic understanding of salvation within Eastern Christianity. Also called "divinization" or "deification," it plays off of Jesus' words in John 10:34 ("Is it not written in your Law, 'I have said you are gods'?" as quoted by Lewis above) and several other key biblical passages.
Before considering some of those passages, however, let me provide a point of contact with our evangelical understanding, and highlight one difference. In evangelicalism's polished doctrinal teaching on salvation, we distinguish phases in the reception of salvation: conversion, justification, sanctification, and glorification. In the last step, we are completely conformed to the image of Christ (Rom. 8:29) and made like him (1 John 3:2). We are resurrected as glorified human beings, fully in communion with God, though remaining distinct from him.
However, the way we typically speak about salvation emphasizes only the beginning of the process: conversion, justification, and to some degree, sanctification.
Eastern Orthodoxy emphasizes the final result, the glorification by which we are made entirely like Christ: holy, righteous, perfect in godliness, and enjoying the fullness of eternal life. And in this, I believe Orthodox believers have something that can help better balance how we preach and teach about salvation, just as we have something for them.
From Image to Likeness
To make sense of deification, we must start with God's words at Creation: "Let us make man in our image, in our likeness" (Gen. 1:26).
In Orthodox teaching, "image" and "likeness" are not the same: the first is gift, the second, goal. With these words, God distinguished what human beings were from what they were to become. Adam and Eve bore the image of God, but they were to grow into the divine likeness. They were to live in communion with God, walk in his ways, serve him, tend his creation, and love him and each other and the children they were to produce. If they did, they would grow in holiness, righteousness, and love—becoming ever more like God, who would bless them with the eternal life that belongs only to him.
From an Orthodox perspective, then, the serpent's temptation was especially insidious because it offered an illicit shortcut to God's good intention. The serpent assured Adam and Eve that they would become "like God" by eating the forbidden fruit (Gen. 3:5). The question is not whether Adam and Eve were to become like God, but how they would do that. By disobeying God's command, they fell into death, as God had warned. In his mercy, God promised salvation through a deliverer, but for Eastern Orthodoxy, salvation is less about rescue (though it is about that) and more about return. Christ rescues us from our enemies and redeems us to God, so that we get back on the right track to becoming like him.
In the ancient Hellenistic world in which the church was born, divinization in some form or another was a common way of describing humanity's ultimate goal. The leaders of the ancient church in the East seized on this familiar concept but filled it with new content. Whereas the usual notion entailed being absorbed into God like a drop in an ocean—losing consciousness and individuality forever—Eastern church leaders insisted that in deification we are made like God yet remain distinct from him. The way they put it is that we experience his "energies" but do not share his "essence." This distinction is crucial, because it clarifies that for the Orthodox, becoming like God is not the same as becoming identical with God. We can never become the same as our Creator (the Uncreated), though we can take on crucial aspects of his character and being.
The story of Jesus' transfiguration is a key text for Eastern Orthodoxy. All three synoptic Gospels tell the story. Significantly, in the verses immediately preceding it, Jesus tells the disciples that some of them will not die before they see the kingdom of God "coming in power"—one of the common ways the Gospels speak of the fullness of salvation in Christ. In a scene thoroughly focused on God's promised salvation, Jesus is transfigured with a blinding light. As the Last Adam, he lived up to God's original purpose for humanity and became like God, for "God is light" (1 John 1:5). What the three disciples saw, Orthodoxy says, was a manifestation of what will one day be true for all who are in Christ—a holy people characterized by pure light and love.
As one Orthodox leader put it: "We become by grace what God is by nature."
The Wesleys, as noted earlier, appreciated the Greek patristic writers, and Charles Wesley's hymns overflow with vivid language pointing to this final glory:
Heavenly Adam, life divine,
Change my nature into thine;
Move and spread throughout my soul,
Actuate and fill the whole;
Be it I no longer now
Living in the flesh, but thou.
This is the reality with which the deification language of Orthodoxy is dealing, and I believe there is much there that can help us fill out our own understanding of salvation.
Reordering Salvation
While evangelicals can learn from the Orthodox, it is fair to note that Orthodox believers can learn from us, too. The Eastern presentation of salvation can smudge the distinct steps of salvation. Justification and sanctification often get folded into the broader concept of theosis, and they become so blurred that Orthodox believers often don't know what to make of the terms. They would be well served by an explanation of how the steps of salvation as presented in apostolic teaching fit into the larger package of divinization.
For evangelicals, a new focus that begins with the ultimate goal of salvation could fill out our understanding and presentation of the gospel. Revivalist altar calls have given too many people the impression that anything beyond initial conversion is optional. The doctrine of theosis reminds us that in the altar call, the journey of salvation has but begun. We are indeed assured at that moment of our promised hope, but it also then becomes an ongoing call to renewed, abundant life—a return to the path God put us on to become like him.
Further, salvation viewed in terms of deification impels us to struggle against temptation and sin. After declaring that on the final day we shall see Christ and be like him, the apostle John says, "Everyone who has this hope in [Christ] purifies himself, just as he is pure" (1 John 3:3). Our destiny calls us to give ourselves fully and faithfully to God and his service, and to seek conformity to Christ at every point. It calls us to grow in godliness, striving to become more and more like our Savior.
Most important, the Orthodox understanding of theosis reminds us that salvation is less about what we get than about what God gets. It is about his purposes being accomplished in us. As the Reformed credo states: It is by his grace, for our good, to his glory.
James R. Payton Jr. is professor of history at Redeemer University College in Ancaster, Ontario, and author of Light from the Christian East: An Introduction to the Orthodox Tradition (IVP Academic, 2007).
Related Elsewhere:
Previous Christianity Today articles on theology can be found here.
Have something to add about this? See something we missed? Share your feedback here.
Our digital archives are a work in progress. Let us know if corrections need to be made.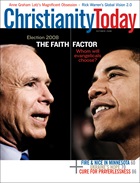 This article is from the October 2008 issue.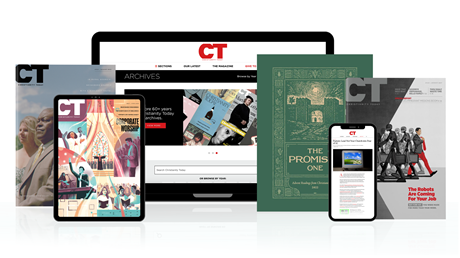 Annual & Monthly subscriptions available.
Print & Digital Issues of CT magazine
Complete access to every article on ChristianityToday.com
Unlimited access to 65+ years of CT's online archives
Member-only special issues
Subscribe
Keeping the End in View
Keeping the End in View