Christmas baking has begun, and I do a lot of the traditional cookie baking for my family. Peanut butter star cookies, sugar cookies, and Ritz cracker cookies are on my list (as usual) this year, but I keep an eye out for new things to try, which is why I noticed Nigella Lawson's Nigella Christmas: Food Family Friends Festivities containing both recipes and guest-entertaining advice.
In her introduction to the book, Lawson refers to the pagan holidays that took place around Christmastime, writing that Christianity cleverly centered our celebration of Jesus' birth during this time of year "to reassure [pagans] that their fun is not going to be taken away." That's not a new thought, but Lawson also writes, "the Christmas we celebrate in our kitchens is not the Christmas that is celebrated in church."
Whoa. It kind of sounds like Lawson is drawing a line between "home Christmas" and "Christian Christmas," and the latter is not coming across very … fun. In an interview with the Minnesota Star-Tribune, Lawson explained that although she adheres "to the Judeo-Christian morality," she feels that "the Christmas rituals of the home are, even if not based around faith, essentially an act of good faith." So I guess faith can be fun, just not the church-y kind.
Keeping to the theme of good faith, I stopped to think about my own "Christmas rituals of the home." For me, baking cookies is nothing like the soft, musical TV ads where the young, dressy mom shares her mixing spoon with children whose eyes glisten from the reflection of Christmas lights. In fact, there are ingredients involved that could end up being not fun.
Funny how modern culture sets us up to miss an imaginary ideal, because this is how it goes for me in reality: I might be alone in the kitchen, trying to wash all the dishes as I use them, eating too much cookie dough, or hurrying to finish in time for dinner. I get tired of rolling out balls or cutting out shapes and just settle for bar cookies and then unfortunately they don't bake the same way as the regular recipe. My four-year-old niece likes to help, but being entertaining means everything takes longer. Sometimes I'm out of a key ingredient—usually one of the basic ones—and then I need to track down my mother to ask advice on substitutions. By the time the cookies are cool and put away, I need a back massage.
I look forward to it every year.
And why wouldn't Jesus be in that kitchen right alongside me? See, there's a truth, or a larger purpose for the celebration, behind Christmas—and, yes, behind my cookie-baking tradition—that was there before it became a hyper-commercialized, fattening, money-making proposition.
On TV, a Christian Christmas might be a hazy shot of everybody holding up candles in church. In reality, Christmas can mean shopping, baking, wrapping, singing, decorating, partying, and volunteering. Perhaps Christians should not be known for compartmentalizing Christmas but for celebrating harder than anybody else. I like the idea behind the Advent Conspiracy—both a book and a movement by the same name—that promotes, among other things, more seasonal giving. The idea is a reminder that Christmas, literally, celebration of Christ, has meaning to Christians. That makes it our holiday, but in the same way that my holiday baking looks different from what I see on TV—because it's real—a "Christian Christmas" should be closer to reality.
Baking cookies and sending out cards are opportunities (not obligations) to bless people by allowing God's love to spill out of my heart (Romans 5:5). This should be the modern product of Jesus' birth and sacrifice. These "rituals of the home" tend to be the opportunities that most arise in my life, but whatever rituals we do to celebrate Christmas, they don't need to be divided from the celebrating we do in church. Someone else might get up early in order to afford a thoughtful gift on sale. Peace might accompany wisdom by keeping a budget (whether money or calories). Someone might demonstrate love signing up for one less event for the sake of family, or by going to one more party for the sake of a friend. It's not about the activities themselves, because they are just a byproduct of where our heart is at (Matthew 12:35).
Here's the challenge I give myself, especially at Christmas: Don't limit the celebration of "Christian Christmas" to just one part of life; more importantly, don't allow our culture (or the ads on TV) to do it for you.
Alicia Cohn, who took the top photo, previously interned at Christianity Today magazine. She has written for Her.meneutics about Sarah Palin's Going Rogue, Anne Graham Lotz, parental rights, journalists in North Korea, Juanita Bynum, the Breast Cancer Bible, and The Stoning of Soraya M.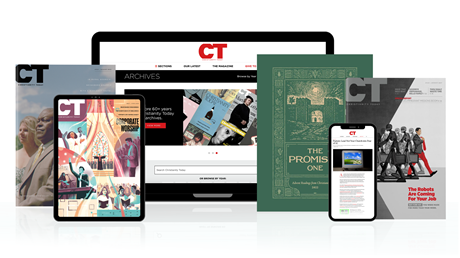 Subscribe to Christianity Today and get access to this article plus 65+ years of archives.
Home delivery of CT magazine
Complete access to articles on ChristianityToday.com
Over 120 years of magazine archives plus full access to all of CT's online archives
Subscribe Now
Christmas Cooking with Nigella (or Jesus)
Christmas Cooking with Nigella (or Jesus)