true
It matters not how strait the gate,
How charged with punishments the scroll.
I am the master of my fate:
I am the captain of my soul.
This is the final stanza of "Invictus," written by Victorian poet William Ernest Henley after having his tubercular foot amputated. The word invictus is Latin for "unconquered," and in this poem Henley defies the difficult circumstances of his life to conquer him.
A century later, inside a South African prison, Nelson Mandela would take consolation from this poem. And so, from director Clint Eastwood, we get the film Invictus, which tells the story of how Mandela (Morgan Freeman) used the 1995 Rugby World Cup to unite and inspire a post-apartheid South Africa. Mandela was coming off 27 years of imprisonment for his activism against apartheid, having been released in 1990 and then, in 1994, through South Africa's first-ever multi-racial democratic elections, elected as president. It was the end, at last, of apartheid.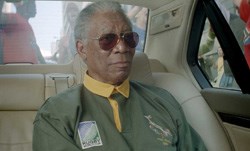 But the nation remained deeply divided. Many whites resented and feared this loss of power, and many blacks couldn't just shrug off those decades of disenfranchisement. As Invictus shows, one emblem for this division is the South African national rugby team, known as the Springboks. The team had been all-white for many years, and in the run-up to the 1995 World Cup had only one non-white player. Consequently, many black South Africans—an imprisoned Mandela included—would cheer for opposing teams during international matches.
Once Mandela becomes president, however, his top priority is reconciliation. For this he sees an opportunity in the Springboks. The 1995 World Cup was going to be hosted by South Africa, and Mandela wants his country—all of it—to get behind their national team.
The casting of Freeman as Mandela seems fated. Freeman would say it was. At a press conference for his 1994 autobiography Long Walk to Freedom, Mandela was asked who should portray him in a film adaptation. The answer: Freeman. "From then on, it's like okay, so Morgan Freeman is going to be Mandela somewhere down the line," Freeman tells MoviesOnline; he has been preparing for the role ever since. "Whenever we were in proximity," he says, "like a city away, for instance, I would know about it and I would go to him and have lunch, have dinner, or sit with him . . . and during that time, I would sit and hold Madiba's [Mandela's clan name] hand." This was Freeman's way of learning how to become Mandela. Freeman is also the one, in fact, who acquired the film rights for Invictus—it's based on the non-fiction account Playing the Enemy by John Carlin—and Freeman was the first actor cast.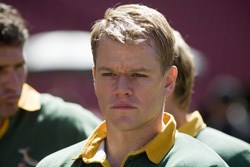 And yes, Mandela had it right.
Now, you never completely forget you are watching Morgan Freeman. The physical resemblance is striking, and Freeman is fantastic in assuming Mandela's posture and walk and accent (to my American ear). Yet—like most established actors—we know Freeman too well, and the match between actor and character feels so right that it almost draws more attention to itself. Still, hey, it's Freeman: he carries with him all the sophistication, patience, sly wit, and dignity that we expect to see in Mandela.
There is also, however, Mandela's loneliness: this is a man separated from his wife. And then the fatigue: this is a newly elected president in his seventies, with 27 years of hard jail time behind him. Both of these are captured in a simple shot early in the film, when Mandela stoops his way out of bed first thing in the morning, turns, and softly flips the covers up back over the empty sheets. In that quiet moment, how strange it is to know this man is steering a nation.
When Mandela begins to take an interest in the Springboks, he invites team captain Francois Pienaar (Matt Damon) to join him for tea. (Incidentally, can you think of a more likeable acting tandem than Morgan Freeman and Matt Damon?) To prepare for this role, Damon met with the real Pienaar to get to know him and the intricacies of rugby; he also worked out like mad, shedding the flabbiness he built up for his recent turn in The Informant! He is physically convincing as a rugby player, but his character doesn't have enough depth to make him much more than an agreeable rugby star.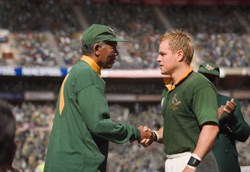 During his tea with Pienaar, Mandela approaches him as a fellow leader. "In order to build our nation, we must all exceed our own expectations," he says. In other words, Pienaar, go win that World Cup. It's a task far beyond anyone's expectations, but the team—backed with escalating fervor by South Africans black and white—surprises the experts and fights its way to the final round, where they oppose a dominant New Zealand squad.
The evolving mood of a whole country is hard to portray, but Invictus shows it in microcosm through Mandela's bodyguards. At the beginning of the film, Mandela—in a symbolic move—adds four white men to his team of four black men. The bodyguards hate each other and resent being thrust together. Over the course of the film, though, the walls between them slowly fall away, just as the entire country gradually unites around the Springboks. It's an effective narrative device.
The rugby action is exciting, even for the uninitiated, and in the final match—a very extended sequence— Eastwood pulls out all the stops. One highlight is a slow-motion scrum—bodies knotted together in agony, with stomps and groans scraping the bottom of the range of human hearing. The exertion is palpable and exhilarating.
Still, this sports-politics story that Invictus chooses to re-tell, as remarkable as it is, creates a strange tension. Although the film is a tribute to Mandela, its dramatic climax rests not in a moment of crisis or decision for Mandela but on the result of a rugby match. Mandela is a spectator. Of course, we know he helped inspire the team (through Pienaar). And we also know, as the camera cuts away from the action to show blacks and whites watching from all around the country, what the stakes are for South Africa. But for me, at least, the emotional investment in the film's climax had as much or more to do with the cinematic thrill of a sports match—two sides, one wins and one loses, and bodies flying across the screen.
 
But Invictus is inspiring, outside the rugby, first of all in Mandela's readiness to forgive. Many of the other blacks don't understand his support for the Springboks. "Forgiveness liberates the soul," he tells them. "It removes fear." This from a man who spent almost three decades behind bars because of apartheid. It's too bad that the emotional gravity behind this reconciliation is at times cheapened by sentimental soundtrack choices—at one point, a song about being "color blind."
Then there is the "Invictus" poem, which in the film is treated as Mandela's life motto, the courageous outlook that makes him who he is. It is a motto both true and untrue. Any Christian should be troubled, of course, by the claim "I am the captain of my soul." We know, instead, that we are always subject: either slaves to sin or slaves to Christ.
But at the same time, Mandela's resilience reminds us that we are responsible, regardless of what happens to us. Like Mandela, we cannot control our circumstances, but we can control how we respond to them. Circumstances only draw out what is already in our hearts: "For out of the overflow of his heart his mouth speaks" (Luke 6:45). And so this is our paradox: while we remain subjects either to sin or to Christ, for our "overflow" we are held as responsible as a captain is for his ship.
Talk About It
Discussion starters
Which main characters grow in their respect for people of the "opposing" race in South Africa? What brings that about?


What are Mandela's greatest qualities? His flaws?


What other Scriptures address the fact that our hearts are found out by the way we live?


If you were in Mandela's shoes, do you think you could have reached out to Afrikaners in the way that he did? Is there someone in your life you can't forgive? What steps might you take toward forgiveness?
The Family Corner
For parents to consider
Invictus is rated PG-13 for instances of strong language (including the f-word once), but these are very few and far between. Everything else in the film—dramatic tension, sports violence, and suggestive dialogue—is a mild PG at worst.
Copyright © 2009 Christianity Today. Click for reprint information.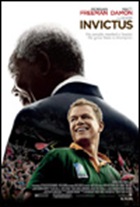 Browse All Movie Reviews By: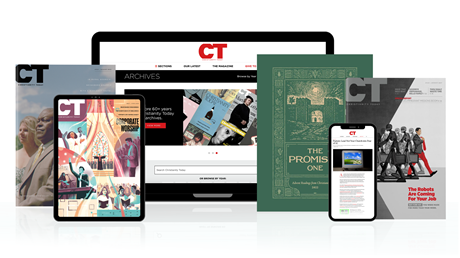 Annual & Monthly subscriptions available.
Print & Digital Issues of CT magazine
Complete access to every article on ChristianityToday.com
Unlimited access to 65+ years of CT's online archives
Member-only special issues
Subscribe
Invictus
Invictus