true
Will anyone ever make a Christian version of Spinal Tap? For fans of the Christopher Guest-style mockumentary (Spinal Tap, Waiting for Guffman) who have grown up in the easily parodied evangelical subculture, we now have an answer. And its name is Jesus People: The Movie.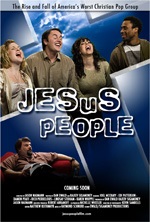 Jesus People, a Christian-made parody of evangelicals, was created by professional comedy writers and actors in Hollywood. The film is a feature-length version of a six-episode online series that debuted early in 2008 on Independent Comedy Network (ICN), sort of a "minor league" for shows hoping to make the jump to the bigs—traditional TV or, in this case, film. It's currently on the 2009 festival circuit; it will screen at the Gospel Music Association's annual celebration week in April, and will likely be released on DVD in the late summer or fall.
The Jesus People online series—a web hit, with more than 500,000 views—tells the satirical story of Cross My Heart, a Christian dance-pop band-in-the-making. The four-person, coed group—an homage to Christian dance-pop classics like Jump 5—includes an aging CCM pop star trying to resuscitate her career after a sex scandal (played by Edi Patterson), a newbie Christian party girl with a wild streak (Lindsay Stidham), a goody-goody fundamentalist with a fondness for God's wrath (Damon Pfaff), and a token minority member who plays the sympathetic everyman (Rich Pierrelouis). The cast also includes the group's pastor/manager/entrepreneurial handler Pastor Jerry (Joel McCrary), and an impressive array of guest stars from across the comedy spectrum, including SNL's Victoria Jackson, The Office's Kate Flannery, Will & Grace's Tim Bagley, and Waiting for Guffman's Deborah Theaker.
Most of the cast from the web series returned for the feature film version, as did director Jason Naumann and writers Dan Ewald and Rajeev Sigamony. For the most part the story is the same as the online version, just expanded a bit, giving a more embellished, Behind the Music background to Cross My Heart's rise from a fledgling music group to a superstar CCM success story. Where the web series concludes with the band shooting its first music video, the film shows Cross My Heart further along in their career, with a hit environmentalism/apocalypse-themed song—"Jesus Save the World"—catapulting them to the big time.
Self-deprecating fun
The film skewers the evangelical subculture in subtle and not-so-subtle ways, poking fun at everything from Left Behind eschatology to the familiar "prayer as gossip" trope. Its closest cousin might be 2004's Saved!, though that film did not contain the underlying empathy for Christian culture that Jesus People contains, even with all of its biting and often hilarious cynicism. The Christians involved in Jesus People are adamant that the underlying goal is not to tear the church apart, but to make it stronger, while also having a little self-deprecating fun.
 "The whole point is to show that Christians can understand and laugh about our stereotypes," says Pfaff, who grew up in the church, went to a Christian college (Northwestern College), and identifies with his hardcore-Christian character, Zak. "The worst thing we can do is take ourselves too seriously. We don't want to make a parody out of any of these characters. They need to be relatable, because there are two sides to everyone. Zak is judgmental, yes, but he is also just someone who wants to do what is right."
This even-handed, tough-love insider's approach is what Sigamony believe sets Jesus People apart from your average Christian-bashing film.
"The fact that Dan [Ewald], Jason [Naumann], and I are Christians gives us the legitimacy to make fun of Christianity," says Sigamony, who grew up conservative Seventh Day Adventist and went to the same Christian high school in Maryland (Arlington Baptist) as Saved! director Brian Dannelly. "We believe that what we are doing is necessary. We hope to start a conversation with Christians."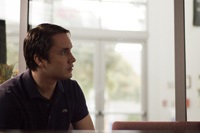 Sigamony hopes that Jesus People breaks down evangelical stereotypes in a way that invites outsiders to look at Christians and Christianity in a new light.
"I want Jesus People to be the Christian Monsoon Wedding—something that explores a community's faults, but also what is beautiful about them," he says. "It's a very self-reflexive film. Each character is about a different fault that needs to be examined."
Strengthening and lampooning
Director Naumann, who previously worked with Ewald and Sigamony on the short film Happy Wednesday, was drawn to the Jesus People project because he felt like it would strengthen his faith to critically and humorously lampoon it.
 "I love these people; I grew up with these people; I'm being true to my background," says Naumann, who was raised in an Evangelical Free church.
Sigamony's path from a Christian high school to creating Jesus People is appropriately unconventional. He spent five years working as an engineer in Maryland after getting his master's degree at Johns Hopkins, and then dropped everything to move to LA to work in film. "The world had enough Indian engineers," he says. "They needed more Indian comedy writers."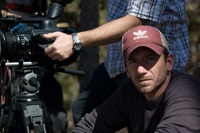 In his church growing up, Sigamony wrote and produced short dramas, often parodies of pop culture—like "The True-Man Show." Even then, he loved to push the congregation to look at themselves and their faith in new and critical ways—like producing a play at his conservative church that subtly pushed the idea of female pastors.
Sigamony believes comedy can be an effective way to change the world, but also believes it's just good to make people laugh. Laughter, he believes, is one way to worship God—and he's sure there will be laughter in heaven, too.
Christians can be funny!
For Sigamony and Ewald, Jesus People is an important project that brings together their faith and filmmaking talents in an exciting, challenging way.
Both graduates of LA's Act One screenwriting program, Sigamony and Ewald have been writing partners since 2003, creating and pitching several sitcoms, reality shows, and films, including one that went to pilot in 2004 called "The Room," featuring Tony Hale (Arrested Development), Debra Jo Rupp (That 70s Show), and Victoria Jackson (Saturday Night Live).
They hope Jesus People will be a turning point in their careers, but also a chance to show Hollywood that Christians can make funny, entertaining, edgy material that is neither too kind nor too cynical. The audience should be both annoyed and endeared by the characters in Jesus People, said Rajeev. But that is how Christianity is, after all: imperfect.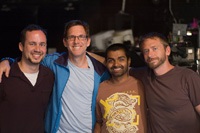 If nothing else, Jesus People sets out to demystify the notion of "Christian film." This is not your typical Christian movie, but is thoroughly Christian, even with its irreverence. It's brutally honest about where evangelical Christianity has gone wrong, but it's also ardently hopeful that maybe—if we can look ourselves in the mirror and let comedy expose our ridiculousness—we can work through our faults to advance the cause of Christ in bold, new, creative ways.
Writer Ewald, who got his start as an entertainment journalist, says he's not trying to be a part of any "movement" to change or Christianize Hollywood.
"I'm just a guy who writes comedy with a guy named Rajeev," said Ewald. "We tell stories that amuse us, excite us, challenge us, move us in some way."
The film, he says, is not about the audience's religious or non-religious beliefs, but rather what they find funny. If audiences like Christopher Guest, Larry David, Garry Shandling, and Ricky Gervais, Ewald is confident that they'll also like Jesus People.
It's a film meant primarily to entertain, not preach, say Ewald and Sigamony. But if audiences come away feeling fascinated by or more sympathetic to Christianity, that's icing on the cake.  
Watch the trailer and keep track of the film's updates here.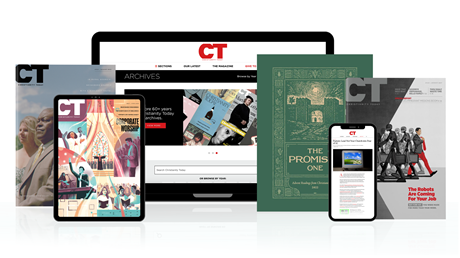 Annual & Monthly subscriptions available.
Print & Digital Issues of CT magazine
Complete access to every article on ChristianityToday.com
Unlimited access to 65+ years of CT's online archives
Member-only special issues
Subscribe
The Christian Spinal Tap
The Christian Spinal Tap