Popular blogger Anne Jackson witnessed hurting church leaders at an early age, when vitriolic attitudes invaded the churches her parents were pastoring. Years later, while working 70-hour weeks at a Midwest megachurch, she re-encountered that hurt—expressed in addictions, adultery, and depression—and knew she was called to remind leaders of the primary antidote for burnout: union with Christ. Her first book, Mad Church Disease: Overcoming the Burnout Epidemic (Zondervan, 2009), aims to do just that. CT assistant editor Katelyn Beaty interviewed Anne yesterday.
You grew up a pastor's daughter in Texas. What was your family's experience with burnout?
After my dad finished seminary, my younger brother and I were born, my mom had her tubes tied, and our family jumped into the world of ministry. We mainly pastored at smaller, rural churches in West Texas and at first, everything seemed perfect. [But] at my dad's third church, the politics started invading. I was only 9 at the time, but I could tell my normally involved, optimistic father was withdrawing. My mom wore her concern on her sleeve. I spied on a deacon's meeting and discovered the truth: Our church was full of a lot of mean and bitter people.
Three years later, the same ugly politics resurfaced. I was 16, and at a brutal business meeting, my dad was forced to resign. I stood up, confident in my teenage angst, and confronted the church [members] for their lack of unity. Storming out, I climbed a fire escape and wrote a letter to God, begging him to give me a way to help restore unity to the church …
We moved to Dallas a few months later, and I'd like to say everything has been great since. But almost 13 years later, my parents are still deeply hurt from the last experience. They have only recently started attending a church …. Their faith in the local church has yet to be rekindled. That kind of brokenness breaks my heart every day. It also propels me forward with a passion I can't begin to explain.
How do men and women experience church burnout differently?
As I've extensively researched and interviewed thousands of church leaders and their families over the last two years, [I've found] there isn't much difference. Burnout doesn't play favorites.
Sometimes the force behind our burnout may differ, though. Genesis 3 mentions how, after the Fall, men will be slaves to the earth (work) and women will be ruled over by men. I see how many times men chase ministry like it's their work—and find their purpose in what they do. Ultimately, that leads to burnout. And generally speaking, many women fall to the approval of man. We are people pleasers by nature, finding our worth and affirmation of our calling by being a slave to man—not God.
Did you pick up on a burnout "epidemic" at the recent National Pastors Convention in San Diego? Is there truly an epidemic, as the book's subtitle suggests?
Traveling and speaking on burnout since my book released has been an intriguing experience. I've found three kinds of people. The first is open to discussing burnout and is actively creating environments that are healthy. The second group is hesitant, but curious. They may not want to admit they are burned out, but something inside compels them to listen. The third group consists of the people who are in denial about burnout. They don't think it's possible for them or for their staff. It seems like everyone loves their jobs and everyone is passionately committed and running 110 percent.
Burnout, for the most part, is a silent disease. For my first couple of years in ministry, I loved my job. Yet I wasn't taking care of myself. I went from healthy to in the hospital for a week, extremely sick, almost overnight. Everything came crashing down. If only I had … had some way of measuring my health, I doubt I would have crashed that hard.
In February you announced on your blog that you were giving up blogging, Facebook, and Twitter for Lent. Was your decision related to a technology burnout of sorts?
I wouldn't say I was burned out, but I was certainly not in a healthy place. My self-worth and emotional being were becoming wrapped up in a giant list of statistics. If my stats tanked, my esteem plummeted down with them. I was finding my value in how people would respond to my thoughts, my questions, my activities. I became passively self-absorbed.
It's been a little over a month and quite honestly, it's been refreshing. My heart has had time to properly withdraw and rediscover where my hope and confidence come from. And how having a platform doesn't mean talking about yourself all the time.
Don't Christians in service need to risk burnout in their love for Christ and his church?
Yes. Yes. Yes. If you look at Romans 12:1, I think we can find what should consume our hearts: "I plead with you to give your bodies to God because of all he has done for you. Let them be a living and holy sacrifice—the kind he will find acceptable. This is truly the way to worship him."
We are only to offer ourselves as a living and holy sacrifice to God. Out of that obedience will the overflow of Christ be present in us. And that presence is required for our ministry (John 15:5).
What spiritual disciplines help to prevent and heal burnout?
Unapologetically being in constant communion with Christ. Through meditating on Scripture, prayer, and simply resting in him, he promises us we'll bear much fruit, more than we could ever ask or imagine. If something is standing in the way of that communion, even if it's your ministry, something has to change. Nothing is worth losing that connection with your Savior.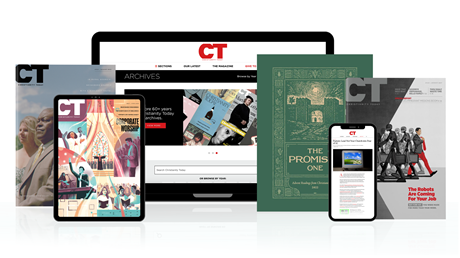 Subscribe to Christianity Today and get access to this article plus 65+ years of archives.
Home delivery of CT magazine
Complete access to articles on ChristianityToday.com
Over 120 years of magazine archives plus full access to all of CT's online archives
Subscribe Now
When Serving Makes You Sick
When Serving Makes You Sick