In four weeks, top Anglican bishops and archbishops will gather in Alexandria, Egypt, to determine the next steps for the worldwide Anglican Communion, deeply divided over gays in the church, women's ordination, and the authority of Scripture.
Presbyterian, Methodist, and other mainline Protestant pastors have been closely watching the Anglican struggles, since many Protestant groups are under many of the same theological pressures.
Among Anglican conservatives, the spectrum of response is widening. Many pastors and churches are joining the new Anglican Church of North America. But not every conservative pastor or church is jumping ship.
Recently, Russell Levenson Jr. contacted Christianity Today on behalf of his church, St. Martin's Houston. The congregation of more than 8,200 members is the largest single parish church within the Episcopal Church (TEC). It's not surprising that it is in Houston, the land of megachurches; it is also no surprise that this church is conservative, evangelical, and healthy. The surprise is that its rector (senior pastor) is staying within the Episcopal Church. He has joined with other conservatives in the Communion Partners Plan.
Members of the plan support the moratoria on additional gay bishops and same-sex blessings, and also views the draft Anglican Covenant as one way to facilitate renewal. Levenson agreed to an exclusive e-mail interview to detail why he and his church are not leaving. (The following transcript has been edited for length.)
What is the role of the Communion Partners in the Episcopal Church?
The Communion Partners is a fellowship that will work closely together not only to provide a means of mutual support among its primates, bishops, and rectors, but also [to] provide a witness to the importance of evangelical faith. I am keenly aware that some feel that their only choice is to leave a very sick, in some places dying, in other places errant, Episcopal Church.
But I do not think leaving is the answer. That is where the Communion Partners rest. Daniel had to stay in Babylon, but did not abandon his faith. Jeremiah was not given another Israel. Ezekiel had to preach to the dry bones. When Jesus and his message were completely rejected, he did not leave. He wept. He stayed. He did not move on to Egypt. He stayed and faithfully preached when they believed and when they did not believe.
There appears, for now, to be tremendous hope in the other forms of Anglicanism that have been springing up around the country. But they are very much in their embryonic stages. In my previous diocese, there were six different expressions of Anglican identity in one small area of the state. None of them were growing significantly. There are already some divisions within these breakaway movements over liturgy, women's ordination, and prayer book language. I wish them well, but I would have rather seen them stay.
I have asked every person I personally know that has [left] or was pondering to leave the Episcopal Church if they were prevented in some way by their parish or bishop from preaching the gospel. Each one has said, "No."
They have been criticized. They have been mocked at clergy conferences, but they have not been prevented from preaching the gospel, and thus I wonder why they leave. But I do honor their decision to do so.
In Jesus' last prayer before his arrest, he prayed that his followers would "be made one" (John 17:11). How can anyone hear that prayer, knowing it was prayed with Christ's blood-stained sweat, and say that division is the way forward? How can we read Paul's plea, "Make every effort to keep the unity of the Spirit" (Eph. 4:3), and strive for further schism?
Do you think TEC will move in 2009 to allow more gay bishops and same-sex unions/gay marriage? If so, what will you do?
Every effort will be made by those who support the revisionist agenda to seek approval for the ordination of persons sexually active outside of heterosexual marriage, and who seek approval of same-sex blessings — every effort will be made to further that agenda.
If we see a further step to the Left, at this time it will be disastrous. There are many who believe the Episcopal Church can withstand another body blow like it did in 2003, and it may. But the furthering disunity between the polar opposites will grow even further; another similar step will make the hemorrhage after the General Convention in 2003 look like a paper cut.
Some will argue that the Episcopal Church has put on the brakes on issues related to human sexuality since 2003, but that is simply not true. There has been a consistent and pervasive move to further the agenda. I have pleaded with the presiding bishop, [Katharine Jefferts Schori], to hit the pause button — to honor the moratoria — to not pole vault over the obvious divisions and try and land in a place that the church cannot land without further division.
We will stay and continue to preach faithfully; we will build strong relationships with other bishops, clergy, parishes, and dioceses who share that desire; and we will work with all due diligence to embrace whatever requests the greater Anglican Communion makes of its constituent members.
Church fathers said the two great enemies of the body of Christ were heresy and schism. They did not say one was better than the other — only that both were tools of the Devil to divide the body of Christ. I think we are seeing both actively at work in virtually every mainline denomination today. We have an obligation to stand against both and work instead for a faithful, orthodox witness and a body of believers bound by their common love of the Lord Jesus and one another.
What exactly are you seeking? The resignation of Bishop Gene Robinson? A new affirmation of the creeds, councils, and canons of the church? Or something else?
The Communion Partners Plan seeks to be a fellowship of like-minded and like-hearted primates, bishops, and rectors. After our spring meeting, we will be looking [for] ways to expand participation by associate and assistant clergy, lay persons, and institutions as well. We are committed to the Windsor Process and unfolding Covenant Process [reform initiatives from conservatives], and we share a common commitment to biblical, orthodox, and evangelical faith. While we are Episcopal, we are not defined primarily by our denomination, but by our participation in the body of Christ. The General Convention that approved Bishop Robinson's consecration and those who support that decision (as well as a decision to bless same-sex unions) are promoting a revisionist agenda not consistent with the teaching of Holy Scripture or the tradition of the church.
It would be an honorable thing if Bishop Robinson resigned. I do not think he will do so, but clearly his election and subsequent consecration was one of the most divisive events in the body of Christ. The press has not done an adequate job of reporting on the success stories in the Episcopal Church, and it has also — too often — presumed that the vast majority of Episcopalians agree with the revisionist agenda. I would argue that the vast majority in the pews do not. Many bishops do not, and many clergy do not.
Episcopal leaders say that the Anglican way has always been tolerant of a wide range of beliefs. What are the limits?
We have been traditionally been called "the Church of the Middle Way." While we profess allegiance to the Holy Scriptures and the Creeds, we are not a confessional church. You will find in TEC those who stand in a wide variety of places on issues [such as] morality, politics, even worship style (from high to low, traditional to charismatic, etc.). You will also find us now struggling with how to reach out to the gay community without an endorsement of a lifestyle inconsistent with Holy Scripture. That said, we have not done a very good job of upholding even basic principles [of] human sexuality — a gift to be lived out within the context of heterosexual, monogamous marriage.
The vast majority of sexual indiscretion and sin with which I deal in my pastoral work is not connected to homosexual misconduct, but heterosexual (infidelity, serial monogamy, promiscuity). We spend a lot of time wagging the finger (perhaps too much time) on one expression of human sexuality, when in reality, everyone's sexuality is tainted with original sin — all are in need of redemption, conversion, and sanctification.
As to limits, those who would deny the basic creedal elements (the Virgin Birth, the divinity of Christ, the Atonement, the Resurrection) would then be stepping outside not only historic Episcopal faith, but Christian faith as well.
Do you regard the current TEC presiding bishop as a leader faithful to historic orthodoxy? If not, what should be done?
I have met with the presiding bishop on a few occasions. At least in my experience, she [Presiding Bishop Schori] has spent more time actively listening to those who disagree with her or the current direction of TEC than [did] either of her two predecessors. I have heard her say things with which I completely disagree, and some things with which I agree. On those points of disagreement, I have — both in personal meetings and in correspondence — stated my disagreement and even challenged her on those points. I do not find her to be defensive. As to whether or not she is a leader faithful to historic orthodoxy, I cannot speak to her personal theology; that really is her story to tell. I do believe her position on these divisive issues around human sexuality to be inconsistent with the history and tradition of the church and the teaching of Scripture.
I sincerely hope she will not allow the revisionist agenda to take another step forward. I think she can begin next summer's convention by stifling any resolution, canonical shift, [or] liturgical revision that could be perceived as a step further to the Left on the divisive issues around human sexuality.
Do any conservative evangelicals support your decision to stay (for the time being) within TEC?
I had the opportunity to visit with John Stott in late November. We talked and prayed about many things, including the ongoing challenges in the Anglican Communion and Episcopal Church. As I asked him which path he thought it best for me to take, he said, clearly, "If I were you, I would stay … you have the truth on your side … and I think you are called to stay and faithfully preach the gospel. Remember what Max Warren said, 'the church is evidence of God's patience.' And we just don't know what fruit or reform will be born as a result of a long period of faithful preaching and witness to the evangelical faith we share."
Related Elsewhere:
Christianity Today has a special section on the Anglican division.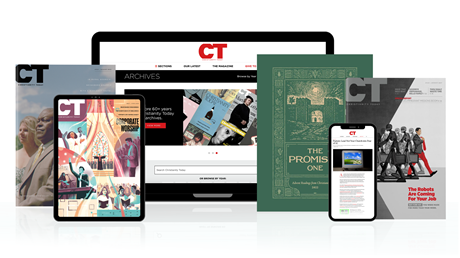 Annual & Monthly subscriptions available.
Print & Digital Issues of CT magazine
Complete access to every article on ChristianityToday.com
Unlimited access to 65+ years of CT's online archives
Member-only special issues
Subscribe
'Leaving Isn't the Answer'
'Leaving Isn't the Answer'