Were evangelical supporters of President Obama naïve to think that he would seriously try to limit abortions? Or were they displaying Christian charity by giving him the benefit of the doubt?
When a Christian father trusts that God will take care of his family without recourse to an American luxury like life insurance, is he displaying godly simplicity, or immaturity?
When someone prays for a parking space at the mall, is it childlike faith, or childishness?
These are some of the ways the tensions between naïveté and Christian virtues arise today. To accuse someone of naïveté can be a handy way of dismissing someone else's effort to practice faith concretely. On the other hand, Christians can also hide behind "simplicity" to evade serious responsibilities or thinking through serious matters. Depending on what we mean by the word, naïveté can be helpful or dangerous to the authentic Christian life.
Natural ambiguity
In the mid-17th century, English speakers began adopting the French words naïve and naïveté, terms that were coined as reactions to the opulent reign of Louis XIV; these words derive from the Latin adjective naturus, or "natural."
Those who know their Bible will understand why the word natural is ambiguous! For it evokes Adam and Eve, and both the beauty and vulnerability of human nature. The whole concept is complicated by the diminution of human nature since the Fall (so that we now say, "to err is human"), and by the intricacies of this fallen world.
Yet there remain passages in Scripture that exalt the simple, the unretouched: "unless you change and become like little children …"; "only one thing is needed. Mary has chosen what is better . …" In my late adolescence, the secularized version of this concept was commended to us by the call to a "second naïveté" in reading and in living. And in the tradition of English literature (transmitted through film), there is the famous interchange in Sense and Sensibility between Colonel Brandon and Elinor Dashwood concerning her spontaneous sister:
Colonel Brandon: Your sister seems very happy.
Elinor: Yes. Marianne does not approve of hiding her emotions. In fact, her romantic prejudices have the unfortunate tendency to set propriety at naught.
Colonel Brandon: She is wholly unspoilt.
Elinor: Rather too unspoilt, in my view. The sooner she becomes acquainted with the ways of the world, the better.
Colonel Brandon: I knew a lady very like your sister—the same impulsive sweetness of temper—who was forced into, as you put it, a better acquaintance with the world. The result was only ruination and despair. Do not desire it.
What should Christians desire? Is naïveté to be celebrated, or is it immature and therefore ungodly?
A careful consideration of this topic sends us to passages in Scripture that feature the words simple and simplicity, ignorant, childish and like a child, knowing and craft/iness, and nature and natural. The entire purpose of Proverbs is "to give prudence to the simple" (Prov. 1:4, ESV) and to challenge the uninformed: "How long, O simple ones, will you love being simple?" (Prov. 1:22, ESV, emphasis mine; the Hebrew word pethiy may also be translated "naïveté.")
We must therefore consider the dynamic of the Christian story rather than merely static principles. God alone, who lives from eternity to eternity, has the wherewithal to be absolutely simple and omnisciently wise at the same time; human beings, on the other hand, must take things in stages, for they are indeed players in the drama of God.
The original naïveté
In the first scene of this drama, our parents were created in both a state of innocence (lack of guilt) and comparative, though not total, naïveté. They had not tasted the fruit of the knowledge of good and evil, yet God had warned them of the threat of death and corruptibility.
I think it a mistake to assume that humankind was designed by God to remain naïve. God calls Adam to name the animals, introduces Adam to his helpmate, Eve, whom he is to "know," gives them tasks that will better acquaint them with the natural world, and walks with them in the Garden.
A whole stream of Christian theology considers that the Incarnation was always part of God's intent (rather than an unthinkable response to human sin), and that the maturity of the human race, its growing in wisdom and into "the divine nature," was always in God's mind. (Consider the child Jesus, who as perfect man "grew in wisdom and stature" [Luke 2:52].) So, then, the "original naïveté" was a natural state, the plowed ground ready to receive God's energizing work, and it was morally neutral. The first couple sinned because they wanted to know in a time and manner that God had forbidden; C. S. Lewis, in his novel Perelandra, also illustrates how humanity sins because we reject what we have been taught, in a perverse naïveté.
So much for origins. Now we inhabit a complex world, beholding it with eyes that do not always see. Jesus, who "knew what was in a man" (John 2:25), warns: "I am sending you out like sheep among wolves. Therefore be as shrewd as snakes and as innocent as doves" (Matt. 10:16).
God, who in the past overlooked sins of ignorance (Acts 17:30), has now shone the divine flashlight of Truth into the world, and given to his church the "mind of Christ" through the Holy Spirit.
So the Epistles are full of admonitions like, "I do not want you to be ignorant," and, "Put away childish things." Still, there is a balance to which we are called, for the Holy Spirit is given so that we may discern the difference between so-called wisdom and the Wisdom that comes from God. Paul assigns "deceit and trickery" to the Enemy (Acts 13:10); he calls on us to have "open hearts" to one another and "open faces" toward the Lord, even while we are not to be unaware of Satan's schemes (2 Cor. 2:11).
To be Christian is to allow the Holy Spirit to foster those elements of our nature that are unshakable and that are meant to grow: awe, wonder, dependence on God and, in appropriate measure, on each other, and thankfulness! It is to read the Bible, even those passages that we have heard before, with hungry hearts, open minds, and lively imaginations.
It is also to be attuned to the subtle interconnections in the Scriptures, and to care about how brothers and sisters of the past have read these passages—for family members should not be ignorant of the ways of God's family. It is to "read" the world and the writings of others with both welcome and care, aware of our own frailty and that of others.
The examples with which I began suggest that in some respects—especially politics—we will continue to argue about whether a stance or action is naïve or a sign of maturity. Still, if naïveté means to trust in God who will defend us, to live without affectation and without hidden agendas or dishonest motives, then it is a godly thing. If it means to ignore God's warnings, to miss the signs of the times, to neglect the weapons of the Spirit against the "many works" of the Enemy, to think that we do not need training or discipline in handling the Word and the world, to remain blind to the weakness of fallen humanity, and to think that things will take care of themselves—then it is time to grow up.
Edith M. Humphrey is William F. Orr Professor of New Testament at Pittsburgh Theological Seminary and author most recently of And I Turned to See the Voice: The Rhetoric of Vision in the New Testament (Baker, 2007).
Related Elsewhere:
Edith M. Humphrey is the author of And I Turned to See the Voice: The Rhetoric of Vision in the New Testament and Ecstasy and Intimacy: When the Holy Spirit Meets the Human Spirit.
Christianity Today also previously editorialized on naïveté.
More Christianity Today articles by Edith M. Humphrey include:
What God Hath Not Joined | Why marriage was designed for male and female. (September 1, 2004)
It's Not About Us | Modern spirituality begins and ends with the self; Christian spirituality, with the Alpha and Omega. (April 2, 2001)
Have something to add about this? See something we missed? Share your feedback here.
Our digital archives are a work in progress. Let us know if corrections need to be made.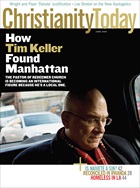 This article is from the June 2009 issue.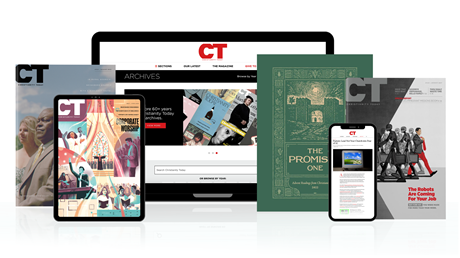 Annual & Monthly subscriptions available.
Print & Digital Issues of CT magazine
Complete access to every article on ChristianityToday.com
Unlimited access to 65+ years of CT's online archives
Member-only special issues
Subscribe
When to Be Naïve
When to Be Naïve