The charismatic movement in the U.S. marks its golden anniversary this year, having begun with Episcopal priest Dennis Bennett in 1960. For more than a hundred years, its parent movement, Pentecostalism, has popularized practices such as speaking in tongues and prophesying. The younger charismatic movement surfaced when many North American Christians in mainline denominations began adopting similar practices.
Vinson Synan, a professor of church history at Regent University in Virginia Beach, documents the movement's development in An Eyewitness Remembers the Century of the Holy Spirit (Chosen/Baker). CT online editor Sarah Pulliam Bailey spoke with Synan about Pentecostalism's past and future.
What to you has been one of the most unexpected changes of the past century?
The biggest surprise was the Catholic-charismatic renewal that started in 1967. That came as an utter shock to me, to most of my friends, and probably to the Catholic Church. It gave legitimacy to the movement, that the largest and one of the oldest churches in the world was seeing a Pentecostal movement.
What has been the high point of the movement?
The movement reached a climax in America around 1977 during the Kansas City Conference, because all the different streams came together. The 50,000 people in the stadium showed the vigor and force that was sweeping the world. National television and magazine outlets wrote about the conference, and Regent University was formed the year after that.
How about the low point?
The televangelist scandals of the late 1980s involving Jimmy Swaggart and Jim Bakker. That put a black mark on the movement. It didn't stop the movement from growing, but it was so publicized; the whole world watched. A lot of the independent ministries are not accountable to anybody. When you have such a free-flowing movement, it's hard to control everybody.
On the other hand, one of the most surprising, positive changes was the rise of televangelist ministries. These people were household names even before the scandals. In spite of some of the problems, they still helped spread the movement worldwide.
What do non-charismatic Christians need to understand most about Pentecostals?
Pentecostals are the most successful at converting people in competition with Islam. Televangelists like Benny Hinn, who divides some people, are very popular in places like India. Reinhard Bonnke is very successful in Africa. Pentecostalism has become the religion of choice outside Europe and the United States.
Is there something about places like Africa or India that makes their inhabitants more receptive to Pentecostalism?
Pentecostalism fits into some cultures more easily than do other forms of Western Christianity. Missionaries in past centuries tried to change the culture of people and force them to dress differently or have a different worship style. Pentecostals try to adapt to a culture and don't try to make little Englishmen or little Americans out of people. Pentecostals have been very successful in transmitting their religion in a way that cultures can understand and accept.
Pentecostals offer ideas like healing, miracles, signs and wonders, so many people don't have to become Western intellectuals. Many of them believe in miracles and spirits anyway, so to become a Pentecostal doesn't mean you have to change your culture or paradigm.
Who are some up-and-coming Pentecostals whom the rest of the church should pay attention to?
It's hard to put your finger on them. T.D. Jakes is a very important leader. I don't see denominations like Baptists or Presbyterians producing transformational leaders like Oral Roberts. None of them have risen to that point yet. I think they will come from independent Pentecostal churches.
What is the greatest challenge facing Pentecostalism in the next decade?
To keep the Pentecostal fire burning. All of its big revivals have cooled off after a generation or so. Pentecostalism is into its second century, but it's still vigorous because it tends to renew itself every 30 or 40 years. If [its leaders] keep the excitement and the fire going intellectually and culturally, the [movement will] continue to grow.
Related Elsewhere:
An Eyewitness Remembers the Century of the Holy Spirit is available at ChristianBook.com and other book retailers.
Other articles related to Pentecostalism include:
Q+A: Mark Rutland on Oral Roberts's Legacy | The Oral Roberts University president reflects on a man who had a big vision. (December 16, 2009)
'A Voice for Sanity' | J. Lee Grady doesn't want your gold. The journalist wants a 'Holy Ghost housecleaning' of the charismatic movement. (November 23, 2009)
Teaching a Calvinist to Dance | In Pentecostal worship, my Reformed theology finds its groove. (May 16, 2008)
Recent Christianity Today book interviews include:
Preach. The. Word. | Still, says Charles Swindoll, the best sermons are wrapped in stories. (April 7, 2010)
'Hunger Can Be Conquered' | And, says former Wall Street Journal reporter Roger Thurow, churches have a crucial role to play. (February 24, 2010)
Why Gayle Haggard Stayed | She tells CT why she remained married to Ted Haggard—even after he suggested that she divorce him. (January 27, 2010)
Have something to add about this? See something we missed? Share your feedback here.
Eyewitness Remembers the Century of the Holy Spirit, An
Chosen
2010-04-01
224 pp., 8.58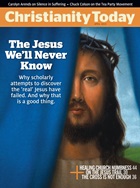 This article is from the April 2010 issue.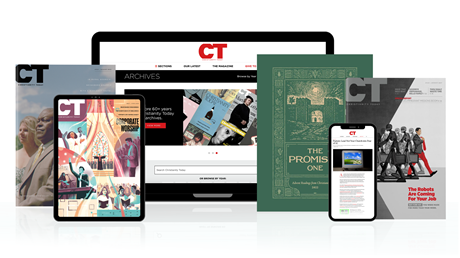 Annual & Monthly subscriptions available.
Print & Digital Issues of CT magazine
Complete access to every article on ChristianityToday.com
Unlimited access to 65+ years of CT's online archives
Member-only special issues
Subscribe
Yes, We Have a Witness
Yes, We Have a Witness