The land around Cana, where Jesus turned water into wine, was remarkably beautiful one October morning last fall. Green vineyards and silvery olive groves added patches of color to the brown hills. But my blistered feet were aching for a rest, so I was glad when I saw a man picking dates from a tree in front of his spacious house. Marwan, a 41-year-old lawyer, invited us to join him and his wife and brother for coffee.
Before his family arrived, Marwan told us that when he was very sick as a boy, his Muslim mother promised God that she would make him a Christian if he would heal her son. Marwan got better, and his mother regularly took him to church. "I now believe," he told me, "that Jesus will return one day and save everyone. But I am not a Christian."
When his wife and brother joined us, they explained that another man had been crucified in Jesus' place, and that Jesus was taken without dying to heaven. Marwan quietly disagreed: "Jesus was crucified and then rose from the dead."
As my photographer son, Ross, and I discovered on the new Jesus Trail—a 40-mile path from Nazareth (Jesus' boyhood home) to Capernaum (Jesus' ministry headquarters) that winds through Jewish and Arab villages—Nazareth's most famous citizen still attracts disciples and divides families in the land of his birth. We wanted to ask Jews, Muslims, and Arab Christians what they thought about the man from Galilee.
What we found surprised us. In this ancient place dominated by Jews and Muslims, Jesus exerts extraordinary power. Just as he did 2,000 years ago, he continues to fascinate the masses, inspire persecuted disciples, and split families and communities.
Maoz Inon, the secular Israeli who co-founded the Jesus Trail, is a good example of those who are moved by Jesus even if they are unsure he still exists. Like many young Israelis, Inon backpacked around the world after leaving the army, and saw how tourism brought together people from different cultures. When he walked the 580-mile Israel National Trail, he had a vision.
In the Valley of Elah, where David fought Goliath, the now-34-year-old entrepreneur could see in his mind's eye David charging Goliath, with both men's armies behind them.
"I am not religious or even romantic. But this vision showed me that there is a special power to this land," Inon told us. He then realized that a trail retracing Jesus' steps in Galilee, where Arabs compose the majority, could not only revive tourism in Israel but also help Israelis and Palestinians understand each other better. Now, two years since starting the trail with David Landis, an American Mennonite, Inon says, "I believe in the power of Jesus. In our day, he can still change the world and make it a better place for us and our children."
The Jesus Trail is starting to bring new life to the once-abandoned old city of Nazareth. New businesses have sprung up around the Fauzi Azar Inn, a mansion owned by a local Arab Catholic family, who has loaned it to Inon in exchange for his refurbishing it as a guesthouse. International hikers searching for Jesus and his path now spend money at local restaurants and grocery stores. Arab families are moving back to the old city and renovating its homes. Meanwhile, Arab Christians and Muslims work together amicably at the guesthouse run by Inon. "It's a miracle," he smiles. "People of different religions and cultures in this land show respect for each other."
Muslims and the Virgin Birth
In Jesus' day, Galilee was famous for its religious and ethnic diversity, which helps explain Jesus' popularity among Gentiles. This is still true: Galilee has a majority of Arabs (640,000 vs. 530,000 Jews), and Gentiles (Arab Christians) far outnumber Jews who follow Jesus.
But even Arabs who don't accept Jesus as God—Arab Muslims, in other words—nevertheless have greater regard for Jesus than some liberal Christians. They believe Jesus walked on water, raised Lazarus from the dead, and multiplied loaves and fishes.
Marweh, 23, is a college-educated mother of two and a housekeeper at Fauzi Azar Inn. An Arab Muslim, she affirms the Virgin Birth without hesitation: "God breathed life into Miriam (Mary) so that she could be a mother of Isa (Jesus)." We met Saleh, 34, at the restaurant he manages some miles up the trail from Cana, where he lives. He told us that he is proud to live in the village where Jesus performed his first miracle.
But Marweh, Saleh, and other Muslims we met made it clear to us that while they respect Jesus, he is not for them. Samir, a 19-year-old Muslim in Cana, told us, "God sent Moses for Jews, Jesus for Christians, and Muhammad for Muslims."
Yet Samir said the religions these leaders produced are not equal. "The Qur'an is 100 percent true, and the Gospels are not. They say Jesus is God, but he was only a prophet. That's why God had to send Muhammad—to correct the errors Jews and Christians had fallen into."
Anonymous Arab Christians
The biggest surprise of our hike through Galilee was the number of Arab Christians we encountered. Each had a compelling story. Rani Espanioly, for example, is a newly married 32-year-old working as a guide in Nazareth. He was raised Catholic but says that faith never seemed real to him. But in January 2000, when he felt he had reached a dead end in life, an Arab Christian preacher prayed for him. That night, when he was in bed, he saw a figure of light approaching him.
He got out of bed to ask his mother if someone was in the living room. "No," she replied, telling him to get some sleep. The figure moved closer and closer, finally clothing him in light. Then Rani heard a voice: "Do not fear; I will use you." He wept and wept but felt "relief and joy. The next day my parents saw a huge difference in me."
Now Rani attends a Nazareth seminary to train for ministry in media, saying he wants to overcome the widespread fear of Muslim persecution, which silences many fellow Arab Christians. "We Arab Christians can be ambassadors for reconciliation and peace in this country."
Unlike Rani, most Arab Christians we met told us not to use their names. An Arab Catholic woman in a once-majority-Christian village dominated by Muslims assured us that "[Christians] have good relations with the Muslims here," but asked us not to identify her.
A burly Palestinian Christian in his mid-40s told us privately, "In another one hundred years, there will be no Christians in Galilee because of our cousins [Muslims]." He told us that Muslim teenagers in his village recently cursed and threatened his teenage son for wearing a cross; now his son does not dare wear any sign of his Christian faith. He said that a Christian was murdered in a nearby village, falsely accused of ripping a Qur'an. The murderers were convicted and jailed, but after Muslims rioted, they were released.
Others told us that most Arab Christian men don't dare respond to Muslims who jeer at their wives for not wearing veils, because they fear attacks on their families. Arab Christians in Galilee sometimes feel like dhimmis—Arabic for "protected ones" but actually second-class citizens in Muslim countries ruled by Shari'ah. "We cannot express ourselves," complained another Arab Christian. "We always have to suck up to the Muslims."
"This is the real reason Arab Christians are leaving Israel," he later told us. A young Arab man who is a leader in his Greek Orthodox community conceded, "The Orthodox Church in this land is a sinking ship."
Yet some Arab Christians we met insisted they had no problem with Muslims. Gaby is an active Nazareth Catholic who says he has Muslim friends and is not persecuted for his faith. Sureida, a mother of two, said the same but added that she doesn't bring her children to church, because "I don't know if he was the Son of God." She told us that "the Islamic stories seem more real."
Evangelicals, on the other hand, were less sanguine. A 40-year-old man who asked to remain anonymous confided, "Evangelicals are more vulnerable, because we express our faith sometimes outside church and are willing to talk to Muslims. That's when it can be dangerous."
Jews and the 'Capable Jew'
The religious Jews we met showed little interest in Jesus. Richard, our delightful host at Kibbutz Lavi, one of the few kibbutzim (Israeli collective villages) that are religious, is a 67-year-old who immigrated to Israel from New York with his wife in 1966. He told us that he believed Jesus was a "capable Jew but not Messiah."
Why not? "Because I was educated that way. Besides, Maimonides [the greatest Jewish philosopher] made it a cardinal principle of faith that the Messiah has not yet come."
Gutman Locks, a Hasidic teacher from Jerusalem, was dismissive. "Your boy Jesus" cannot be Messiah, he said, because "he didn't bring peace to families as the Bible predicts the Messiah will." Jesus was a Jew, he allowed, but "he was a bastard because his father was not Joseph." His "delusions" prove he had a demon.
Goni, a nonreligious Jew, had a more positive view of Jesus. We met her where the Israel National Trail (INT) intersects with the Jesus Trail by the western shore of the Sea of Galilee. We stood among lush mango and grapefruit groves under the cliffs of Arbel that tower majestically over the water. Goni, a 22-year-old who had served her two compulsory years in the military as a journalist, said she had never read the Gospels, but from what she has heard, "Jesus was on the edge, never afraid to say what he thought. He reached out to the down and out. I admire that." Yet she didn't agree with turning the other cheek: "That doesn't always work."
Omer and Noam, two brothers in their early 20s who were also on the INT, are cheerful theists who reject religious Judaism because "we don't like rules and rabbis telling us what to do." They too admired Jesus' challenge to the Establishment, but didn't like the idea of a messiah. "It's wrong to wait for God to act instead of rolling up our sleeves and doing what we can to bring peace."
The Holocaust loomed in the background of nearly all our conversations with Jews. At the end of our third day of hiking, we lumbered wearily into Moshav Arbel, an Israeli settlement where a cheery couple runs a posh guesthouse. I soaked my sore feet in its little swimming pool. Over trout and steak in Israel and Sarah's tiny restaurant, the couple told us their story.
Sarah's mother had suffered in seven Nazi concentration camps, including Auschwitz, but miraculously survived. She told Sarah that if God didn't help her in the camps, then he must not exist. Yet on her deathbed, Sarah's mother returned to faith; Sarah is not sure why. Israel, Sarah's husband, grew up on a secular kibbutz. "We are atheists," Israel said, "but we celebrate Passover and Tabernacles, because we are part of the Jewish people." They told us they think Jesus "lived and died like a Jew" but didn't realize how important he would become.
Yet more Jews in Israel are receiving Jesus as Messiah. Yossi Ovadia, a Messianic Jewish pastor in Karmiel, told us there are now between 10,000 and 15,000 Jewish believers in Israel. He told us that he grew up the son of a synagogue cantor in Israel, but at age 16 decided that his Jewish faith was no longer relevant. "So I put my kippah (skullcap) in my back pocket." A short time later, while walking by the shore of the Sea of Galilee, he met a Christian girl from England who told him that God loves Jews and lived inside her.
Yossi was stunned that anyone loved Jews, since he thought the world hated his people. He was also surprised that God could be so real to someone. When he met this girl's friends months later and discovered that they had the same intimacy with God, he became envious. "Just as Paul predicted in Romans 11:11," Yossi laughed, "Gentile Christians would provoke Jews to envy."
Yossi's father refused to speak to him for years after he became a Christian, even hanging up on Yossi when he called from Lebanon while fighting in the first war. Thankfully, the two were reconciled three days before his father died.
A Glimmer of Hope
If the Holocaust lurked in the background of our talks with Jews, the Israeli-Arab conflict infiltrated every interview we conducted in Galilee. Samir, a 19-year-old Arab student in Cana, lamented that he had to go to Italy to study medicine because he said Israeli medical schools are so difficult for Palestinians to enter. (Americans who live in Israel told us that a roughly proportionate number of Palestinians are admitted, and that Israelis also study medicine abroad.)
Khaled, a Muslim businessman in Galilee, wanted us to know that "Jewish people have always made problems, especially today." Arab Christians whispered to us that the Israelis do not protect them from Muslim religious persecution.
Israelis complain that no matter what they do—like giving Gaza and Sinai back to Arabs, and affirming a two-state solution—militant Muslims only want to drive them into the sea.
No one we met had much hope for the future. Goni, the young Israeli we met on the trail, said she refuses to speak of Palestinians as "the other side" and wants to work toward a settlement, but said she is not hopeful. "There will always be those who hate me and want to kill me, no matter what I do."
Yet we found a glimmer of hope. Yossi told us that for some years now, Arab Christians have been meeting with Messianic Jews for a weekend of prayer and worship. The 2008 gathering drew 1,200. At the end of the weekend, the Messianic and Arab pastors joined hands at the front and repeated in both Hebrew and Arabic, "We are one in Christ. God can break the wall of partition between us."
After my son and I finished hiking the Jesus Trail and flew home, this little victory of reconciliation between Jews and Palestinians kept coming to mind. Even on the flight home, we read of yet another setback in the peace process. But we knew that while few in the strife-torn land of Jesus expect political reconciliation, some Jews and Arabs are nevertheless walking their own Jesus Trail. As one Messianic believer said to us, "We are building bridges of love above rivers of hate."
Gerald McDermott is the Jordan-Trexler Professor of Religion at Roanoke College in Salem, Virginia. He is the author of many books, including God's Rivals: Why Has God Allowed Different Religions? Insights from the Bible and the Early Church (InterVarsity, 2007).
Ross McDermott is a multimedia journalist who recently completed a year-long project on American festivals and subcultures with National Geographic.
Related Elsewhere:
Other articles on the role of Israel and inter-religious dialogue include:
Pro-Israel vs. Pro-Palestine | A rabbi hopes for a better conversation. (January 23, 2008)
What It Means to Love Israel | Beware giving the nation too much theological meaning and the Jews too little. (September 5, 2007)
Interview with a Pharisee—and a Christian | How two believers of two faiths talk to one another with conviction and civility. (October 12, 2007)
Have something to add about this? See something we missed? Share your feedback here.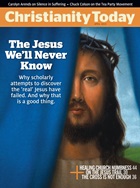 This article is from the April 2010 issue.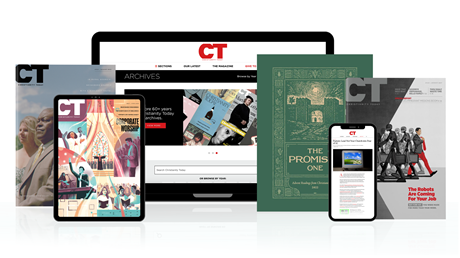 Annual & Monthly subscriptions available.
Print & Digital Issues of CT magazine
Complete access to every article on ChristianityToday.com
Unlimited access to 65+ years of CT's online archives
Member-only special issues
Subscribe
On the Jesus Trail
On the Jesus Trail