Political Advocacy Tracker is a roundup of what Christian activist organizations have been talking about the past week.
Hussein Is His Middle Name
President Obama told Christianity Today in 2008, "I am a Christian, and I am a devout Christian." According to a new Pew Forum survey, only a third of Americans believe him. This is only slightly more than the 18 percent who think he is a Muslim. Among evangelical Christians, 29 percent believe Obama is a Muslim, but only 27 percent think he is a Christian. 
Since March of last year, the percentage of Americans who think Obama is a Muslim has increased from 11 to 18 percent, while the percentage who think he is a Christian dropped from 48 to 34 percent. 
The claim that Obama practices Islam is not new. In that same 2008 CT interview, then-candidate Obama addressed rumors about his faith.
"Part of what we've been seeing during the course of this campaign is some scurrilous e-mails that have been sent out, denying my faith, talking about me being a Muslim, suggesting that I got sworn in at the U.S. Senate with a Qur'an in my hand or that I don't pledge allegiance to the flag," said Obama. "I think it's really important for your readers to know that I have been a member of the same church for almost 20 years, and I have never practiced Islam. I am respectful of the religion, but it's not my own."
The Pew survey was completed before the President made his statement last Friday supporting the right of Muslims to build an Islamic center near the World Trade Center site in Manhattan. 
"As a citizen, and as President, I believe that Muslims have the same right to practice their religion as everyone else in this country.And that includes the right to build a place of worship and a community center on private property in Lower Manhattan, in accordance with local laws and ordinances.This is America.And our commitment to religious freedom must be unshakeable," said the President at the annual White House Iftar dinner.
American Center for Law and Justice (ACLJ) senior counsel Jay Sekulow said it was "difficult to believe" that Obama would support "the disturbing plans to build an Islamic mosque at the site of Ground Zero." The ACLJ is appealing the ruling in New York City that allowed the building of the center to proceed.
Chuck Norris (yes, that Chuck Norris) responded to Obama's comments on American Family Association's blog by saying, "Obama is not just rebooting America's image in the Muslim world. He's deepening and expanding Islamic belief, practice, culture around the world, like a Muslim missionary."
David Gushee of the New Evangelical Partnership for the Common Good said politicians who were using the mosque issue for political gain "deserve neither our sympathy nor our acquiescence, but only our condemnation." His words for Christians who opposed the mosque were just as pointed.
"For those mainly conservative Christians who are responding to this and other mosque projects with open expressions of anti-Muslim hatred, and open rejections of the principles of religious liberty from which Christians themselves daily benefit, shame on you! As a fellow Christian, I say that you bring dishonor to the name of Jesus Christ, you directly disobey his command that we love our neighbors, and you drive the watching world even further away from any interest in the Gospel message!" said Gushee.
Support for the mosque has been a hot topic on Sojourners' God's Politics blog. In one of the more popular posts, Troy Jackson, senior pastor of University Christian Church in Cincinnati, wrote that it was unloving to oppose a mosque.
"Ultimately, the Christian church should focus our energies on sharing the grace and love and mercy of Jesus, not fighting the construction of buildings and worship centers of other faiths. Hate and revenge are not Christian values," said Jackson. "Fear and intolerance are not fruits of the Spirit. Instead, Jesus calls us to love our neighbors, and to even love our enemies. Love doesn't fight mosques. The love of Jesus demands that we love Muslims. Period. For in the end, love wins."
Religion on the Decline
The Pew survey also showed a growing sense among evangelicals that religion is less influential than it used to be. Eight out of ten evangelicals agreed that "religion is losing influence on American life." This is more than any other religious group. In 2006, evangelicals were the same as every other religious group in America, with just 59 percent seeing religion losing its influence. 
Evangelicals were also most likely to think that religion was losing influence in government, that churches should express views on social issues, that it is important for members of Congress to have strong religious beliefs, and that there is too little expression of faith by political leaders.
For evangelical political groups, one sign of the decline of religion is the growing support for gay rights. "The biggest threat to religious freedom comes from those who want to redefine marriage and impose a particular view of sexual morality on all of us," said BreakPoint's Chuck Colson.
CitizenLink's weekly webcast featured a discussion on how to "identify and push back against the gay agenda" as parents send their children back to school. The discussion included warnings about codewords such as "tolerance" and "bullying" that may be a red flag for parents. 
"There's a lot of talk about tolerance. We need to be accepting and embracing and tolerant. But there's not a whole lot of tolerance or embracing or acceptance of Christian values, and the families want their children raised with Christian values," said CitizenLink's Stuart Shepard.
Evangelicals for Social Action's Heidi Unruh also considered the issue of how sexuality and same-sex marriage will be addressed in schools, but she arrived at a much different conclusion. "Regardless of what becomes the law of the land, how do we hold as primary the law of Christ in our school setting—to love the Lord and to love our neighbor as we love ourselves?" asked Unruh. 
In answering this question, said Unruh, Christians should listen to students who are gay or have family members who are gay, encourage children to stand consistently for truth without demeaning others, and "learn to share our values, concerns, and faith in a way that does not close doors to dialogue and mutual respect."
Evangelicals Are Republican—Even More than Ever
Here are some other interesting findings on evangelical politics from the Pew poll:
• Only one-fifth of evangelicals think the Democratic Party is "friendly toward religion." This is the same as in 2009. Nearly half (46%) think this way about the Republican party. However, this is down from 53 percent just a year ago. 
• Evangelicals are more supportive of the "Christian Conservative Movement" than other religious groups. Almost a third (29%) agree with the movement, but 64 percent have no opinion or have not heard of this movement. 
• Two-thirds of evangelicals said they are likely to vote Republican this fall. No other religious group has a majority supporting Republicans. Evangelicals are also the only religious group in which a majority has "given a lot of thought" to the elections. Three-quarters of evangelicals say they are "absolutely certain" to vote (which is similar to other groups).
• Along with other religious groups, evangelicals are slightly more likely to identify as Republican now than in 2008. Sixty-nine percent of evangelicals say they are Republican; twenty-four percent are Democrats. This is the highest level of Republican identification in the 16 years of the Pew Poll.
Odds and Ends
• What issue unites conservative evangelicals, social justice groups, and even gay rights groups like the Human Rights Campaign? Prison reform. Groups representing the right, left, and middle of American politics joined together to call on Attorney General Eric Holder to enact reforms that would end prison abuse. Doug Carlson of the Southern Baptist Ethics and Religious Liberty Commission said, "Neither our government nor followers of Christ should shirk the responsibility to care for those imprisoned … Basic human rights—food, water, freedom of religion—are non-negotiable. Protection from sexual violence is among them. The longer the delays by the attorney general to adopt the recommended standards, the longer the list of victims of prison sexual assault. If the Justice Department idles for another year, as it expects, that would mean tens of thousands more men, women, and youth becoming victims of sexual violence while under government control. That is not acceptable."
• The Traditional Values Coalition raised a new issue this week, which it says is vital for national security. The TVC is advocating for a bill that would protect the nation's electrical grid against electromagnetic pulse (EMP) weapons, which would use a nuclear blast or other device to disrupt the electrical infrastructure. The TVC also said an EMP can happen naturally via a solar flare (the National Solar Observatory refutes such a claim). While an EMP is relatively new as a potential weapon, one was featured in Ocean's Eleven, albeit with less than accurate scientific detail.
Related Elsewhere:
Earlier Political Advocacy Trackers are available on our site.
Christianity Today also follows political developments on the politics blog.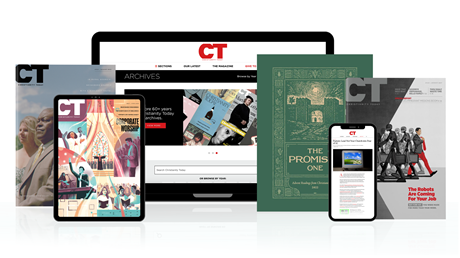 Annual & Monthly subscriptions available.
Print & Digital Issues of CT magazine
Complete access to every article on ChristianityToday.com
Unlimited access to 65+ years of CT's online archives
Member-only special issues
Subscribe
Obama Is Not a Muslim
Obama Is Not a Muslim