There is one paragraph I find in many, many books that cross my desk. Let me save writers and publishers the trouble of crafting and editing that paragraph, and offer boilerplate copy they can adapt:
When it comes to transformed lives, evangelicals are no different than the surrounding culture. [Insert stat about divorce rates or other stat here]. As [insert name here] says, "[Insert quote from well-known conservative culture critic here]." It's time we started living the faith we profess, walking the talk, [insert another cliché here]. If we aren't transformed, how will we ever transform the world? And the reason we're not transformed is because [insert theme of this book here].
Okay, I'll admit it: I've used this paragraph myself! And let's be fair: this sort of thing is said so often precisely because it is so true and so frustrating. And try as we Christians might, we still look like a bunch of sinners.
In these same books, other paragraphs tell stories of transformation. The arc of these stories usually includes six acts:
Description of the main character(s) in their non-transformed state.
Crisis point, where it all comes to a head.
Main character uses transformation principle/idea promulgated in this book.
Crisis averted, transformation begun.
Mention that there are still challenges.
End on an upbeat, optimistic note about how the church can be transformed!
Again, it's not the structure as such: There is a reason the classic "I once was lost but now am saved" narrative works. That's very often the way things unfold, praise God! The problem is not the structure of such stories. It's the way transformation becomes the subject of them.
Before I explain what I mean by that, let me be clear: A relationship with God in Christ in the power of the Holy Spirit will change us. A church grounded in God will be transformed, and it will likely transform its surrounding culture. If living in Christ makes no difference, we of all people are most to be pitied.
But my concern about transformation can be summed up in a simple question: Should our left hand know what our right hand is doing?
I think one of the most spiritually dangerous practices today is encouraging people—in small groups or in front of the church or even in print—to talk about how God has transformed them. They are told to explain how they used to have a bad temper or a problem with porn or were stingy or had one bad habit or another—and through prayer, effort, and grace, they have been changed. The formal glory all goes to God, of course, but the focus unfortunately is often on the self—on how I have been changed.
Those who share such testimonies cannot but be tempted, as was the Pharisee in Jesus' parable: "Lord, I thank thee that I am transformed, that I am not like this untransformed fellow next to me." And those who hear such testimonies find themselves praying, "Lord, why am I still struggling with this and that; why am I not like this transformed person?"
Granted, the point of the testimony is to encourage people, to remind them that God is great and that we can be transformed. In this respect, I am a great fan of testimonies—we publish them in Christianity Today whenever we find really good ones. But unless they are crafted and framed just so, they tend to have this deleterious effect: they encourage narcissism and anxiety. And they tend to prompt people to reach down to their bootstraps to pull themselves up.
What's interesting about the classic biblical testimony—Paul's conversion (Acts 9)—is that it spends little space on transformation as such and a lot of space on what happened: an encounter with the gracious and resurrected Lord. When Paul repeats his testimony (Acts 22 and 26), his speech assumes a transformation—from persecuting Christians to proclaiming the Christian gospel—but does not focus on it as such. He does not say, "Look at how I've been transformed by the grace of God!" He is simply explaining why he now preaches in the name of Christ. The narrative structure of his story is his transformation, but the real subject of his story is Jesus Christ.
What's more interesting is this: the mature Paul's most memorable lines do not highlight his transformation as much as his lack of transformation! For example, in the letter to the Romans, he writes in a classic passage,
For I do not do the good I want, but the evil I do not want is what I keep on doing. … So I find it to be a law that when I want to do right, evil lies close at hand. For I delight in the law of God, in my inner being, but I see in my members another law waging war against the law of my mind and making me captive to the law of sin that dwells in my members (Rom. 7:19-23)
And in his first letter to Timothy, he writes,
The saying is trustworthy and deserving of full acceptance, that Christ Jesus came into the world to save sinners, of whom I am the foremost. But I received mercy for this reason, that in me, as the foremost, Jesus Christ might display his perfect patience as an example to those who were to believe in him for eternal life. (1 Tim. 1:15-16)
Paul wrote both Romans and 1 Timothy in the last decade of his life—just at the time he should be reveling in how much he has been transformed. But he does not focus on the progress he has made, only on how far he has yet to go. Like he says to Timothy, the point is not how much he's been transformed but how patient Jesus has been!
There is a story of an Eastern Orthodox monk who was revered by his brothers for his extraordinarily holy life. On his deathbed, he had a vision of God, angels, heaven—the whole works! After this vision, his brothers, who had been standing around his bed, pleaded with him for a word of wisdom. All he could say was, "I have only begun to repent."
Was Paul not in fact transformed increasingly into the image of Christ during his life? Yes! Was not this monk a man of extraordinary holiness? I would think so! But those who are truly being transformed into Christ find it fascinating to look not at what they've become (changed in this way or that) but at what they have yet to become. The so-called progress they've made is so paltry and so negligible compared to the surpassing worth of the vision that lies ahead of them—a vision of Jesus Christ in glory. That's the end of the road of transformation—to look like that! So naturally, their small baby steps in this life are nothing to talk about. What's really interesting is what they will become.
Naturally, with a clear vision of the glorious Christ, what can they say about themselves but that they are the greatest of sinners, who have hardly begun to repent? This sort of thing can be said with false piety—in fact, with as much pride as is displayed by the Pharisee in Jesus' parable. But when it is said with a clear realization of who Christ is and who we (still!) are and what we will become—that is, with deep humility and unassailable hope—that's when we've met someone on the road to genuine transformation.
Our usual transformation talk—"Look at how I've been transformed by God?" or "Follow this spiritual formation principle, and you'll be transformed!"—may be helpful as far as it goes. But if we're really interested in becoming transformed, wouldn't it be better not to describe the transformation process as much as the glorified Christ, the patient and gracious one in whom we live, the one into whose very image we will someday be transformed?
Mark Galli is senior managing editor of Christianity Today. He is author of a number of books, including Jesus Mean and Wild: The Unexpected Love of an Untameable God.
Related Elsewhere:
Previous SoulWork columns include:
Long Live Organic Church! | But what do we do if the world isn't transformed? (January 7, 2010)
How to Have a Merry Christmas | And it doesn't require you doing another blessed thing. (December 23, 2009)
Waiting for Jesus to Show Up | Moving from loving the idea of loving God to loving God. (December 10, 2009)
SoulWork
In "SoulWork," Mark Galli brings news, Christian theology, and spiritual direction together to explore what it means to be formed spiritually in the image of Jesus Christ.
Mark Galli is former editor in chief of Christianity Today and author, most recently, of Karl Barth: An Introductory Biography for Evangelicals.
Previous SoulWork Columns: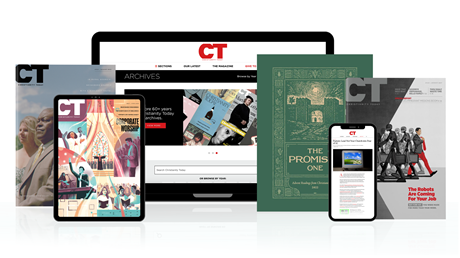 Subscribe to Christianity Today and get access to this article plus 65+ years of archives.
Home delivery of CT magazine
Complete access to articles on ChristianityToday.com
Over 120 years of magazine archives plus full access to all of CT's online archives
Subscribe Now
Are We Transformed Yet?
Are We Transformed Yet?