Five lines of ancient script on a broken piece of pottery, first spotted by a 17-year-old excavation volunteer in the summer of 2008, have been proclaimed as one of the oldest known examples of Hebrew writing. An Israeli historian believes they also testify to the formation of the kingdom of Israel and the writing of Hebrew Scriptures.
The ostracon (a piece of pottery with writing on it, the ancient equivalent of note paper) was found at Khirbet Qeiyafa, the 3,000-year-old ruins of a city on a ridge above the Valley of Elah. The ruins overlook the valley where the Bible says David slew Goliath roughly 3,000 years ago.
Professor Gershon Galil, the chair of the Department of Jewish History at Haifa University, has released a reading of the ostracon which he says confirms that the Kingdom of Israel existed in the 10th century B.C. (the time of King David), and that the biblical Scriptures were written centuries earlier than many modern scholars believe.
Whether other scholars will accept Galil's reading after it's published in a scholarly journal remains to be seen. Some already believe he has overstated his case.
"The problem is not that his readings are impossible," said Seth Sanders, a professor of Religion at Trinity College in Hartford, Connecticut, and the author of a new book called The Invention of Hebrew. "It's just that none of the most exciting parts of his readings are clearly there in the text."
The ink on the six- by-six-and-a-half-inch sherd is faded, and the text is broken in many places. Three top Israeli epigraphers have already released contrasting translations. "None of them found the full range of words and ideas that Galil did," observed Sanders.
"Whenever a text is found by archaeologists in Israel, it is big news because such finds are so scant," said James Hoffmeier, professor of Old Testament at Trinity Evangelical Divinity School. "However, scholars are typically cautious about texts that might shed light on the Bible for fear of jumping to unwarranted conclusions. Nevertheless, this ostracon, because of its dating, when combined with the fort itself in this strategic location on Judah's frontier with Philistia, is very significant."
Chris Rollston, a philologist who teaches Old Testament and Semitic Studies at Emmanuel School of Religion in Johnson City, Tennessee, believes sensational announcements like Galil's are usually reassessed once the dust has settled and scholars have a chance to study and reflect. "At this point we're actually in the middle of the dust storm and it's important to factor that in," he said.
Although Rollston calls Galil's reading speculative, he added, "This is a very important inscription, regardless of whether it ends up being Phoenician or Old Hebrew." Rollston says the text does not have enough linguistic isoglosses—distinctive words that would prove the inscription belonged to one language or another.
William Schniedewind, a professor of Biblical Studies and Semitic Languages at UCLA, also thinks that Galil is overplaying the ostracon. He suggests it's not unlike the way minimalist scholars who have questioned the role of King David in ancient Israel have previously overplayed the paucity of archaeological evidence for David's reign.
"This is an important early evidence for linear alphabetic writing, but proves little about the Davidic/Solomonic administration," he said. Schniedewind believes that the heavily fortified city being excavated at Khirbet Qeiyafa is actually a stronger testimony to the political power of the 10th century Israelite kingdom.
Aren Maier, an Israeli archaeologist who is excavating the ruins of the large Philistine city of Gath, six miles west of Khirbet Qeiyafa, is watching the neighboring dig with great interest. He sees Qeiyafa's fortifications as strong evidence for a centralized Israelite government.
"I believe that the size of Gath in the 10th-9th century reflects not only its size and importance, but also, most likely, the fact that the Gath polity existed in relationship to a competing polity in the east," he asserted. "Now the finds from Qeiyafa seem to provide strong archaeological evidence for this Israelite kingdom."
Galil's Reading:
 you shall not do [it], but worship the [Lord].
 Judge the sla[ve] and the wid[ow] / Judge the orph[an]
 [and] the stranger. [Pl]ead for the infant / plead for the po[or and]
 the widow. Rehabilitate [the poor] at the hands of the king.
 Protect the po[or and] the slave / [supp]ort the stranger.
Reading of Haggai Misgav (official Khirbet Qeiyafa epigrapher):
Do not do [ ] and servant a[ … ]
Judge … .. [ ] El(?) …
El(?) and Ba'all
Pe[rso]n will revenge, YSD king (of) G[ath(?)]
Seren(?) a[ … ] from Gederot (?)
(Rough translation of Misgav provided by archaeologist Aren Maier on his blog, The Tell es-Safi/Gath Excavations Official (and Unofficial) Weblog)
Related Elsewhere:
Other coverage of the ostracon is available from LiveScience, AFP, Haaretz, Jerusalem Post, CBN, Fox News, and other outlets.
Article continues below
Previous articles on archaeology and history include:
Finders of the Lost Ark? | Why some amateurs are stirring up dust and little else. (May 5, 2008)
Looking Back | Claims to new Sodom locations are salted with controversy. (Mar. 12, 2008)
Wall Eyed | Some archaeologists wonder how lucky a colleague can be. (Jan. 14, 2008)
A Grounded Faith | Jesus and Archaeology digs deep for biblical insights. (Oct. 22, 2007)
Tyrant's Tomb Unearthed | Herod the Great's final resting place said to be found. (June 28, 2007)
Remains of the Day | Scholars dismiss filmmakers' assertions that Jesus and his family were buried in Jerusalem. (Feb. 28, 2007)
Three Big Digs | Discoveries bolster understanding of early church, biblical account of David's kingdom. (Jan. 1, 2006)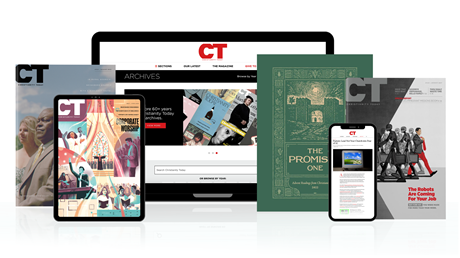 Subscribe to Christianity Today and get access to this article plus 65+ years of archives.
Home delivery of CT magazine
Complete access to articles on ChristianityToday.com
Over 120 years of magazine archives plus full access to all of CT's online archives
Subscribe Now
What an Ancient Hebrew Note Might Mean
What an Ancient Hebrew Note Might Mean