true
If two new documentary films are any indication, Christian Zionism is officially on notice. The filmmakers of Waiting for Armageddon (First Run Features) and With God on Our Side (Rooftop Productions) explore problems with believing that God has a special plan for ethnic Israel and thus politically advocating on behalf of the modern state of Israel. The first film probes the movement from the inside—the politically powerful (and potentially explosive) alliance between evangelicals and Israel. The second is more of an outsider's perspective, examining the situation from a Palestinian point of view.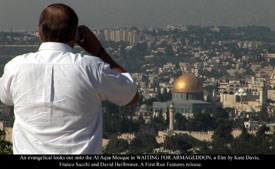 The three directors of Armageddon are non-Christians concerned about the "unlikely relationship" between Christians and Israel. To learn more, they seek out Christian Zionist professors, pastors, authors, families—even a tour group in Israel. The interviewees explain that the Jewish people must reclaim all of Israel for Jesus to return to earth.
Also interviewed are Jews in Israel who, interestingly, are ambivalent toward their Christian allies. They admit they like the money and political clout the alliance brings, but they resent being seen as pawns in a Christian endgame.
The directors' lack of familiarity with their subject matter both helps and hinders the film. On the plus side, Armageddon steps back and lets Zionists speak for themselves, giving viewers fuller pictures of them as people. Especially revealing is the manner in which the Zionists express their beliefs.
One Zionist describes the Apocalypse with the seething language of Revelation in an utterly matter-of-fact tone. Another man sounds flippant. The emotional disconnect is striking. Since the film forgoes narration, the gaze of the camera at the juxtaposition feels like an open-mouthed gape.
But while Armageddon delivers vivid close-ups, it distorts the big picture. Most glaringly, it assumes that all evangelicals hold Christian Zionist convictions. So the film's implied cry to the public—"Look out, there are 50 million people in America itching to ignite Armageddon!"—is grossly misleading.
Still, there are many evangelical Zionists, which is why Porter Speakman Jr. made With God on Our Side. A Christian pastor, Speakman asks such Zionists to reevaluate their absolute support of Israel. He presents historical context, theological perspective, and on-the-ground impressions.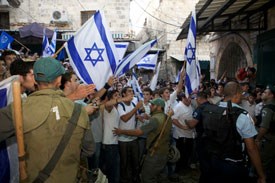 The film's history primer clearly traces the roots of Christian Zionist thinking to the 19th-century "father of dispensationalism," John Nelson Darby, and recaps key political turning points in the Holy Land. Such history suggests that Palestinians' claims to the land cannot be easily dismissed.
For people like John Hagee, founder of Christians United for Israel, these muddy political waters are cleared up by Scripture. Both documentaries are framed with clips of Hagee shouting Zionist exhortations to energized crowds. It's sensational material. But to its credit, With God on Our Side also interviews Hagee, letting him articulate his position: The Abrahamic covenant's promise of land, he argues, still applies today and trumps all else.
Hagee's dissenters then step in and distinguish between his two-covenant theology (ethnic Israel plus the church) and a one-covenant theology (believing Gentiles grafted into believing Israel). It's not difficult to figure out which camp Speakman belongs to, but he gives both sides their due. This basic theological contextualization is sorely needed for Christians who are divided by this issue.
Speakman works hardest to show how ordinary Palestinians, including fellow Christians, are being hurt by Israel's policies, particularly in the West Bank. Some might consider this segment slanted, since Israelis get little screen time, but Speakman is telling a story he thinks his intended audience has not heard. Whether one agrees with Speakman or not, his challenging glimpses remind us that people are at stake here.
Have something to add about this? See something we missed? Share your feedback here.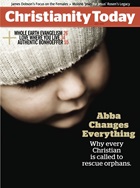 This article is from the July 2010 issue.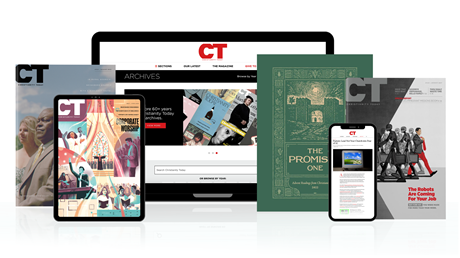 Annual & Monthly subscriptions available.
Print & Digital Issues of CT magazine
Complete access to every article on ChristianityToday.com
Unlimited access to 65+ years of CT's online archives
Member-only special issues
Subscribe
Christian Zionism in the Dock
Christian Zionism in the Dock