Political Advocacy Tracker is a roundup of what Christian activist organizations have been talking about over the last week.
Dobson Returns to Radio
James Dobson left Focus on the Family in February, bringing to an end three decades of hosting the popular radio program. This week, Dobson returned to discuss families, faith, and policy in a new show, "Family Talk with Dr. James Dobson." Dobson is joined by his son, Ryan Dobson, and former Focus on the Family producer LuAnne Crane for a 30-minute show unaffiliated with Focus.
Focus president Jim Daly said Dobson's new show is not in competition with the Focus on the Family broadcast. Indeed, Focus gave one million dollars to help Dobson start Family Talk.
"We've never been the only family-help ministry on the block," Daly said. "The needs of families worldwide are great—we will continue to dedicate ourselves to helping them, working together with like-minded groups to have the greatest impact possible."
The decision to ask Dobson to step down as host has raised speculation about the direction of Focus. Some conservatives worry that Focus is adopting a new tone that is less confrontational and less policy focused.
Ken Hutcherson, pastor of Antioch Bible Church in Redmond, Washington, had earlier questioned where Focus was going.
"I am not very happy with the new, progressive, 'loving' leadership at Focus on the Family," Hutcherson said in March. "Dr. Dobson only wants to continue to speak the truth on the radio. Apparently, that truth has limited appeal to the new leadership at Focus."
Dobson said that while it was time to hand the baton to new leadership at Focus, he wanted to continue speaking out on cultural issues.
"Please don't expect me to take a 'softer, gentler' approach to the issues that burn within my soul. I have never spoken or written without passion for values in which I believe, and I don't intend to start now. Babies are dying, the very definition of marriage is under attack, the financial underpinnings of families are being destroyed by confiscatory taxation, and children of all ages are being taught wickedness and every form of godlessness. This is no time to grow timid!" said Dobson.
National Day of Prayer Events
This year's National Day of Prayer (NDOP) has taken on more political significance as a recent court decision ruled that the federal government cannot make such a proclamation. The day took on even more significance when Franklin Graham, honorary chair of the NDOP taskforce, was uninvited from a Pentagon prayer event because of his past comments on Islam.
On Tuesday, the Family Research Council (FRC) hosted a pre-NDOP event featuring Graham and James Dobson, whose wife, Shirley, is the current chair of the National Day of Prayer Taskforce. On Thursday, Graham and FRC president Tony Perkins joined James Dobson on his new radio program.
"Prayer and dependence on God has been our history," said Dobson. "How unfortunate it is now that an unaccountable and unelected and misguided judge from Wisconsin, Judge Barbara Crabb, has declared National Days of Prayer—established by the Congress—to be unconstitutional."
Doug Carlson of the Southern Baptist Ethics & Religious Liberty Commission (ERLC) encouraged people to join in prayer events. "With hostility toward religion on display in many courts and corridors of Congress, now as ever is an altogether fitting time to direct our attention heavenward," said Carlson.
The American Family Association (AFA) president Tim Wildmon encouraged people to organize their own Meet at City Hall events, which are like See You at the Pole gatherings for grown-ups. People come together at their local city hall on the National Day of Prayer for a brief prayer meeting.
Reparative Therapy Psychiatrist Hires Gay Prostitute
In 1983, George Rekers, a psychiatrist at the University of South Carolina medical school, served on the founding board of a new organization—the FRC. He joined James Dobson and others in establishing what is now one of the most prominent family advocacy groups. Rekers's expertise was homosexuality. He has since testified in court cases on gay adoption, has written several books and chapters on child sexual identity, and is a member of the National Association for Research & Therapy of Homosexuality, which promotes reparative therapy for homosexuality.
It is little wonder, then, that when Rekers hired a gay prostitute who advertises on the website "rentboy.com" to travel with him during a recent vacation it would make headlines.
Rekers released the following statement to explain his choice of travel companion:
A recent article in an alternative newspaper cleverly gave false impressions of inappropriate behavior because of its misleading innuendo, incorrectly implying that Professor George Rekers used the Rentboy website to hire a prostitute to accompany him on a recent trip. Contrary to Internet stories based on this slanderous article, following medical advice Professor George Rekers requires an assistant to lift his luggage in his travels because of an ongoing condition following surgery. His family, local friends and even another university professor colleague have offered to accompany him on trips to assist him in his travel. Dr. Rekers found his recent travel assistant by interviewing different people who might be able to help, and did not even find out about his travel assistant's Internet advertisements offering prostitution activity until after the trip was in progress. There was nothing inappropriate with this relationship. Professor Rekers was not involved in any illegal or sexual behavior with his travel assistant.
For the FRC, the story was an unwelcome distraction from its campaigns against same-sex marriage in DC and gays in the military. FRC president Tony Perkins said that he had never heard of Rekers until the story broke. He has since confirmed that Rekers was a founding member of the FRC board. Perkins released the following statement:
FRC has had no contact with Dr. Rekers or knowledge of his activities in over a decade, so I can't speak to what he may or may not have done. However, I can say that while it's extremely disappointing when any Christian leader engages in the very activities that they "preach" against, it's not surprising. The Scriptures clearly teach the fallen nature of all people. We each have a choice to act upon that nature or accept the forgiveness offered by grace through faith in Jesus Christ. As leaders, we should do our best to ensure our actions—both public and private—match our professed positions.
Odds and Ends
• Elizabeth Denlinger Reaves, deputy director of policy and organizing for Sojourners, lamented the oil spill in the Gulf of Mexico. Reaves said that while we may focus attention on oil companies and policy questions, our dependence on oil requires us to acknowledge our own responsibility for the ecological damage. "May we … begin now to create a new energy future together: one that consumes less, cares more, and expects the same from our industries and government," said Reaves.
• The AFA is selling "iVote: Remember in November" buttons and stickers that "the liberals in Congress are gonna hate." Previously this year, the AFA sold similar buttons for Christmas and Easter.
• Richard Cizik of the New Evangelical Partnership for the Common Good was a guest on Speaking of Faith, Krista Tippett's public radio show. The show featured a discussion on the topic, "Engaging Religious Communities Abroad."
• Concerned Women for America reviewed possible Supreme Court nominees rumored to be under consideration by the White House. CWA concluded that none of them fit their criteria: "an excellent record of judicial restraint, a commitment to following the Constitution as written, and an awareness of the fact that they are not supposed to substitute their own personal feelings or ideology for the law."
• In response to the attempted car bombing in Times Square, Bryan Fischer repeated his call to stop all immigration of Muslims into the United States. Fischer also accused Sojourners president Jim Wallis of breaking the Ten Commandments, particularly the eighth (by supporting taxation), ninth (by saying Arizona's immigration law will result in racial profiling), and tenth (by promoting socialism).
Related Elsewhere:
Earlier Political Advocacy Trackers are available on our site. Christianity Today also follows political developments on the politics blog.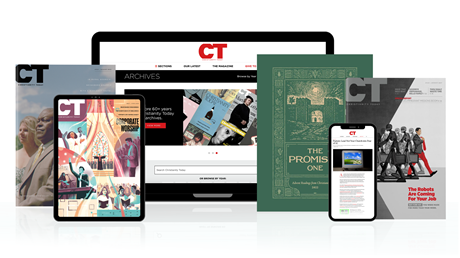 Annual & Monthly subscriptions available.
Print & Digital Issues of CT magazine
Complete access to every article on ChristianityToday.com
Unlimited access to 65+ years of CT's online archives
Member-only special issues
Subscribe
Dobson and Dobson
Dobson and Dobson