Political Advocacy Tracker is a roundup of what Christian activist organizations have been talking about over the past week.
Pray for All Leaders — Particularly Our Guy
The Republican Party nearly won control of the Senate. It picked up seven seats, including Alaska, but was four short of a 51-seat majority. One of the reasons that the GOP didn't pick up the additional seats, said some, was the dismal performance of candidates endorsed by Senator Jim DeMint (R-SC) and his Senate Conservatives Fund, which was often at odds with so-called establishment Republicans on the National Republican Senate Campaign Committee.
DeMint backed some winners, including Rand Paul (Kentucky), Mark Lee (Utah), Ron Johnson (Wisconsin), and Marco Rubio (Florida). But his critics have fumed over DeMint's support for candidates who won upsets in the primaries only to lose in the general election. They blame him for the GOP losses of Dino Rossi (Washington), Sharron Angle (Nevada), Ken Buck (Colorado), Christine O'Donnell (Delaware), and John Raese (West Virginia). If DeMint had stayed out of it, goes the argument, the Republicans could have won the Senate.
Family Research Council (FRC) is putting its weight behind DeMint. FRC president Tony Perkins said, "DeMint has been unfairly blamed for the Republicans' shortcomings in the Senate. Perhaps more than any other GOP member, Sen. DeMint is responsible for giving Americans hope that what's wrong in Washington can be fixed if we simply return to our nation's founding principles and work within — not around — the Constitution."
FRC has started a campaign to gather one million people to pray for DeMint. The campaign quotes Paul's instruction to Timothy to pray for leaders and then asks people to "pledge to pray for America's elected officials at least once per week." 
Pastors and politicians frequently remind Christians to pray for governmental leaders and "all those in authority" (1 Tim. 2:1-2). For example, Stuart Shepard ended this week's CitizenLink webcast, as he does every week, with a call for prayer that elected officials will "have wisdom and follow a wise course for our country." When Shepard mentions an official by name, it is often the sitting president — Republican or Democrat.
But FRC's campaign is a thinly veiled call to support DeMint. The website shows DeMint, fists clenched. It asks people to "stand with Americans across the nation as we pray for Senator Jim DeMint." Elsewhere, FRC stated that the purpose of the one million prayer project was to support DeMint because an attack on the senator is "an attack on all conservatives and people of faith."
Indeed, those who pledge to pray for "America's elected officials" give FRC their name, e-mail, and Zip Code. What is not mentioned on the website but is listed elsewhere is that while the FRC will control the list, it will be used to communicate DeMint's prayer requests to pledgers. The list will keep pledgers "updated with specific requests as he works with the new Congress [on] our family issues." 
Is it right for FRC to use Scripture to urge someone to pledge to pray for all elected officials, when the goal is to put that person on a DeMint e-mail list with prayer requests for his political battles?
For FRC, DeMint is an ideal senator, someone whose policy positions almost perfectly match the organization's. Last month, FRC Action's Tom McClusky said he was "honored to have the chance to work with a pro-life, pro-national defense, pro-family, pro-fiscal responsibility senator and his staff and I am proud of everything he has done representing the great state of South Carolina and a well rounded conservative philosophy in the U.S. Senate."  
Sojourners' Vision Thing
FRC is not alone in using Scripture to push for specific political changes. On the other side of the political spectrum, Sojourners used Scripture as part of its fundraising tactics.
Sojourners is starting a new campaign, "It Takes a Movement." The goal is to build a sustainable social movement outside the halls of power that will "inspire hope over fear." 
Sojourners president Jim Wallis said a new social movement is necessary because leaders "can sometimes forget the lessons and wisdom of the social movements they have come from."
"I feel a growing need to create a more independent and critical movement for social justice and change in America," said Wallis. "Advisers might not be as needed as prophets are. Biblically, there were always the prophets of the court, who often had supportive words for the king. But, the prophets of Yahweh were more often from the wilderness and often had strong words for the king."
This movement will, of course, require resources. Sojourners has a website for fundraising that states, "As the Proverbs say, 'Without a vision, people perish,' Sojourners is offering up that voice and vision to our nation."
The verse quoted is Proverbs 29:18: "Where there is no revelation, people cast off restraint;
but blessed is the one who heeds wisdom's instruction" (NIV).
The "vision" is a divine revelation. But does Sojourners believe it can provide God's vision for America, a vision without which the nation will perish? Sojourners stated, "… to make this vision happen in our lives, churches, and nations we need your involvement — your hope, your engaged citizenship, your commitment, and your support of our message."
Odds & Ends
• Should people be allowed to bring concealed weapons into church? Don't expect the National Association of Evangelicals (NAE) to make a statement on this issue. Its large board of directors was equally divided on the question, with half in favor of allowing churchgoers to pack heat when going to worship. President Leith Anderson said, "This is the first time that we've seen such an even split." The NAE board of directors includes the leaders of denominations and representatives of other evangelical organizations.
• Evangelicals for Social Action's Heidi Unruh said the end of the election season means it is time for governance. However, she said "governance" means more than "government." "Regardless of how we may view the electoral outcomes, we cannot rely on government alone to create a public square that is truly just, equitable, and conducive to human flourishing," said Unruh.
• CitizenLink's Tom Minnery added a new bill for conservatives to worry about during the lame duck session in Congress. In addition to issues of gays in the military and Internet gaming, Minnery said a "sleeper issue" is the solvency of the Pension Benefit Guaranty Corporation, which provides coverage when a pension defaults. Minnery opposes the corporation, saying it protects unions that mismanage their pensions. The corporation also protects plans that are either canceled by an employer or defaults because of bankruptcy. 
• Congress is entering a lame duck session. But why is it called a "lame duck"? A lame duck is a bird that cannot keep up with the flock and thus needs help to survive. The term was used in the 19th century for someone who was disabled and needed to be taken care of by others. It was used in the stock market for someone who defaults and thus has to waddle away, as in, "When the bull market became a bear, we had a lot of lame ducks." The connection to politicians developed as members of Congress who weren't reelected would use their final months passing laws for personal gain; they couldn't keep up with the others but expected government to take care of them. Today, the term refers to any official who is serving in a position that cannot be renewed. 
Related Elsewhere:
Earlier Political Advocacy Trackers are available on our site.
Christianity Today also follows political developments on the politics blog.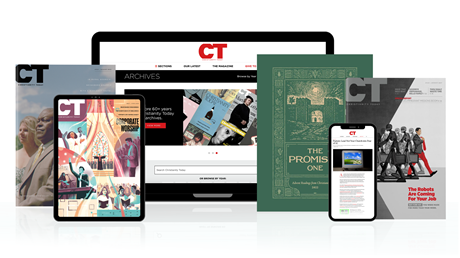 Annual & Monthly subscriptions available.
Print & Digital Issues of CT magazine
Complete access to every article on ChristianityToday.com
Unlimited access to 65+ years of CT's online archives
Member-only special issues
Subscribe
The Politics of Prayer
The Politics of Prayer