true
The opening scenes of the independent drama Like Dandelion Dust contrast the circumstances of two very different families. Jack and Molly Campbell enjoy the good life—hours spent sailing or enjoying the view from their Florida waterfront mansion, their adorable son Joey always in tow. Rip and Wendy Porter, on the other hand, are barely surviving life in their impoverished Ohio neighborhood. Rip has just served a seven-year-sentence for his alcohol-fueled abuse of Wendy, and now they are struggling to find a new existence together.
The lives of the Campbells and the Porters would never intersect were it not for one life-altering fact: The Porters are the birth parents of the Campbells' adopted son. When Rip finds out about the boy he didn't know he had, he wants him back. And because his signature was forged on the original adoption papers, he just might get what he wants.
Based on the novel by best-selling inspirational fiction writer Karen Kingsbury, Like Dandelion Dust mines all the emotion implicit in its dramatic premise through a surprisingly nuanced lens. Barry Pepper (Saving Private Ryan, Band of Brothers) gives recovering alcoholic Rip a humanity that refuses to settle into caricature—Rip is capable of both great goodness and tragic violence, and never becomes a simple cartoon villain. As Rip's wife Wendy, Academy Award winner Mira Sorvino (Mighty Aphrodite) is the film's heart and soul—her depiction of a woman both fragile and courageous is riveting. And although Maxwell Perry Cotton (TV's Brothers and Sisters) seems younger than his character's six years, he does a fine job portraying Joey's naïveté and confusion.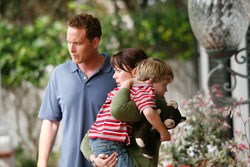 As the well-healed Campbells, Cole Hauser and Kate Levering also give their characters dimension and complexity. Under the stress of the increasingly harrowing battle to keep their son, their marriage begins to unravel, and the friction between them is entirely believable. The film's writers and its cast are to be commended for rendering each of the main characters in authentic and empathy-inducing ways. The story-telling is remarkably even-handed; even as the viewer can't help but hope Joey stays with the only family he's ever known, the love his birth parents have for him is undeniable and heart-breaking.
A story with this much pathos almost inevitably teeters into melodrama, and there are moments where the film's tone drifts dangerously close to "Movie of the Week" territory. But for the most part, Like Dandelion Dust stays effectively understated, right down to Nathan Larson's strikingly spare musical score. With the exception of a few overly languid sequences, the film's measured pacing actually helps to heighten the suspense and intensity of the story. The film sometimes feels a bit ponderous, but it definitely keeps the viewer engaged and anxious to see what happens next.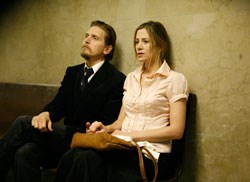 Like Dandelion Dust was produced by Downes Brothers Entertainment, a Christian production company who are turning heads with the caliber of their work. (The film has already collected numerous awards at a variety of festivals.) Viewers who are disappointed when a Christian-made film is overly preachy or puts its agenda ahead of its story will be happy to know that Dust does not remotely fall into those traps.
However, fans looking for novelist Kingsbury's evangelical themes may be surprised by how sparingly faith elements appear in the film. Viewers realize that Joey's Aunt Beth (his adoptive mother's sister) and her husband are Christians because of a scene in which Beth nags Molly about considering taking her son to church. Later, Beth talks about a mission trip to Haiti, which becomes important circumstantially to the story. There is a church scene, and a mention of a possible ally named "Father Logan" for the Porters, but for the most part the Christian aspects are used more logistically than thematically. Notably, the film's most overtly Christian character is arguably its most villainous, but here again we see the story's even-handedness, and there is something refreshing about a portrayal of a Christian who is a well-meaning but sometimes mistaken, thoroughly human, being.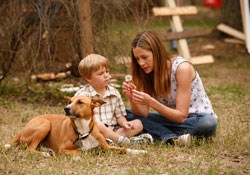 The lack of overtly Christian material does not mean Like Dandelion Dust is void of redemptive themes. The film champions the kind of courage it takes to keep finding hope in difficult circumstances, and it embodies the idea that mistakes can be redeemed when people are willing to keep trying against all odds. Most of all, Like Dandelion Dust explores, in a captivating and powerful way, the truth that love's ultimate expression is sacrifice—a Christian notion if ever there was one.
Talk About It
Discussion starters
The Campbells were willing to do anything to keep their son—even if it involved breaking the law. Do you think they were justified? Why or why not?
What do you think of Wendy's decision to stay after Rip hit her again? Was it responsible of the filmmakers to portray that decision? What would you advise a friend in Wendy's position?
Beth's husband tells her she can't decide what God's will is in someone else's life. How do we ever determine God's will? Is it possible?
Was Beth right to act the way she did? Why or why not?
Did the Porters have a legitimate claim to Joey? Why or why not? Did Wendy make the right decision in the end? Why or why not?
The Family Corner
For parents to consider
Like Dandelion Dust is rated PG-13 for mature thematic material including domestic violence and alcohol abuse. It deals with—and portrays—difficult subject matter, including alcohol abuse and domestic violence. It handles this material responsibly, and is remarkably successful at avoiding profanity without compromising the grittiness of the story. There is virtually no sexual content. However, the story itself makes this film unsuitable for younger children.
Copyright © 2010 Christianity Today. Click for reprint information.
Browse All Movie Reviews By: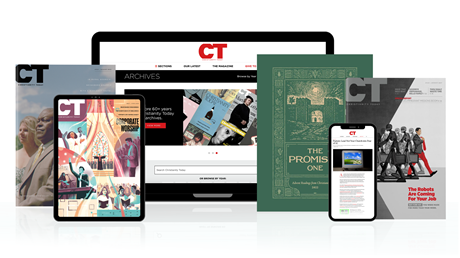 Subscribe to Christianity Today and get access to this article plus 65+ years of archives.
Home delivery of CT magazine
Complete access to articles on ChristianityToday.com
Over 120 years of magazine archives plus full access to all of CT's online archives
Subscribe Now
Like Dandelion Dust
Like Dandelion Dust