true
Some movies shouldn't be as good as they are. The Town, an adaptation of Chuck Hogan's novel Prince of Thieves, could be one such film. It is, at heart, a routine genre movie: the classic cops-and-robbers heist flick we've all seen before. It has a crook doing his last job, the relentless cop, the nasty neighborhood boss, the Robin Hood thief with a good heart, and the loose-cannon accomplice. And, of course, a big climatic final heist.
But merely listing the standard genre clichés and conventions would do an injustice to the depth and craftsmanship that makes this film rise above most of its kind—even to the point of putting it in a conversation with crime flicks like The Departed and Heat. Director Ben Affleck's visionary story-telling, top-shelf acting, deep characters, and emotional weight put some hefty meat on the tired bones of the genre. What could have been a lifeless actioner is instead a rich drama about complicated characters and their even more complex relationships.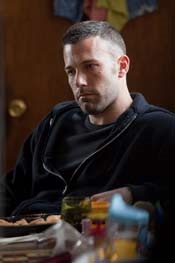 The titular town is Charlestown, a Boston neighborhood portrayed as a sort of bank robber spawning pool. Here, we're told, the nurturing of young thieves is so prevalent that the art is passed from father to son as the family business. That's the case for Doug MacRay (a worn, tattered Affleck), who tried escaping Charlestown but fell back in the footsteps of his criminal father (a smoldering, seething Chris Cooper in a brief but screen-stealing role).
Doug leads a small band of Halloween-masked thugs who commit a series of armored car and bank robberies—starting with a job where they take a hostage named Claire (Rebecca Hall), attracting the attention of FBI agent Adam Frawley (Mad Men's Jon Hamm). When Doug follows Claire to make sure she cannot finger his gang to the feds, an unlikely relationship sparks. This sets off the movie's three interweaved stories: Doug and Claire's courtship, the FBI manhunt, and the planning of the next heist.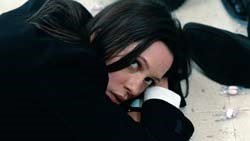 Beyond specific plot points, Doug's story includes a multitude of messy relationships. Obviously, dating your traumatized and unsuspecting former hostage is complicated. Also, Doug's family has strained and confusing relationships with both his jailbird father and absent mother. He lives with his childhood friend, James (The Hurt Locker's Jeremy Renner), and James' sister, Krista (Gossip Girl's Blake Lively in a break-out, against-type role). James' growing unpredictability and violence unsettles Doug, who nonetheless feels an obligation to loyalty. Meanwhile, Doug has a tangled romantic past with the cocaine-addicted Krista; James sees Doug as the default father for Krista's infant.
Underlying all these complicated relationships is the one Doug has with his town. The theme of being shaped and defined by where you come from is carried over from Affleck's excellent directorial debut Gone Baby Gone. That movie's opening narration explained that it's the things you don't choose that make you who you are: your family, nationality, and even neighborhood. The Town takes that base and drills down on one character for whom this is sadly true—but he longs for more, for a new start. Can there be a new start? Is he too far gone? Does the past have too tight of a grip? Is he predestined by a birth address in Charlestown to this life?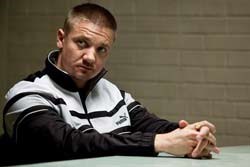 And even if Doug does change and does find a new start, what's the price for what he's done? Even if he leaves the town, can he leave the consequences?
The themes in The Town are not as well-developed or deep as in Gone Baby Gone, a superior film thanks to greater emotional subtext and layers of meaning. But both movies are strong character studies built on genre stories. And both show Affleck's talent for directing.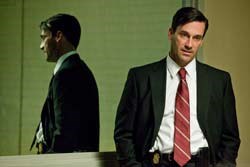 I love the way Affleck visions his films and tells stories. Here, he brings a hard-hitting, tough story to life by creating genuine tension and emotion with a stark, messy realism. His use of editing, voiceover, gradual reveal, and the oft-neglected cinematic device of silence add to the story. Whether a credit to the screenplay (which Affleck contributed to), the direction, or the acting, the scenes where characters tell stories to one another really stood out—powerful, captivating, revealing quiet scenes that are often lost in busy films that rush from plot point to plot point.
Affleck's concentration on character, dialogue, and relationships creates the perfect stage for an award-winning cast. He and Renner anchor the film with depth, grit, and swagger. Hall's relatable Claire, the film's emotional center, combines tender brokenness with gutsy perseverance. Cooper, Lively, Hamm, and F. Murray Abraham each steal scenes. Amy Ryan got an Oscar nod under Affleck's direction in Gone Baby Gone; could that be repeated in his second effort? Maybe. It's entirely possible that Oscar may find something in this bustling Town to like.
Talk About It
What happens next for Doug? For Claire?
One character says, "No matter how much you change, you still have to pay the price for the things you've done." How does that line up biblically? How have you seen that play out in your life?
How do feel about movies that ask you to care about the "bad guys"? How did you feel about rooting for Doug as he committed crimes and battled the police? Or did you root for Doug? Why or why not?
What defines a person? To what degree does their upbringing, origins and past create who they are?
The Family Corner
The Town is rated R for strong violence, pervasive language, some sexuality and drug use. Take the rating seriously. This is a gritty flick with a great deal of bloody gunplay and beatings. The pervasive language includes scores of f-bombs and repeated use of the Lord's name in vain. There is also a quick flash of a topless stripper. While the two sex scenes do not include nudity (except for a man's back), they are intense and fairly graphic.
Copyright © 2010 Christianity Today. Click for reprint information.
Browse All Movie Reviews By: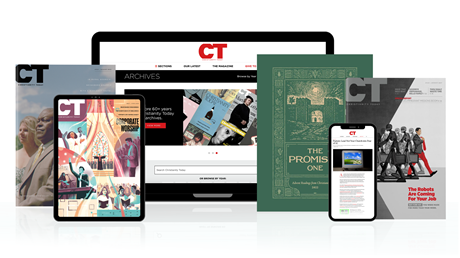 Subscribe to Christianity Today and get access to this article plus 65+ years of archives.
Home delivery of CT magazine
Complete access to articles on ChristianityToday.com
Over 120 years of magazine archives plus full access to all of CT's online archives
Subscribe Now
The Town
The Town