true
For the 22nd season of Survivor, CBS added a new twist to the granddaddy of reality TV shows: Redemption Island. This season, when contestants are voted off the island by their competitors, they don't go straight home. They're sent to the nearby Redemption Island to live in solitude and get a second chance to win their way back to the game on the main island.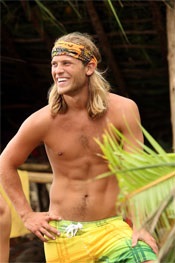 When Matt Elrod, a 22-year-old pre-med student from Nashville, auditioned for the show, none of the contestants knew anything about the "Redemption Island" concept. But Elrod, a Christian, thought it a fitting twist for a believer who wanted his faith to come through loud and clear.
As it turns out, Elrod is king of Redemption Island. He was voted off the main island in Week 2, then spent three weeks in isolation (the equivalent of six weeks on air) on the lone island. He won six head-to-head competitions against other contestants as they were voted off; the loser of each of those duels was then sent home. When Elrod finally earned his way back to the main island in Episode 8, his honesty resulted in a tactical blunder, and he was again voted off and sent back to Redemption Island.
Episode 11 airs this week (CBS, Wednesday 8/7c), with Elrod still on Redemption Island, still trying to work his way back into the game on the main island.
CBS usually disallows contestants to give interviews until after the series ends, but the network gave CT an exclusive interview with Elrod via e-mail. Since the show is still running (it was filmed in late 2010), he wasn't allowed to answer any questions about what happens beyond last week's episode.
For all we know, Elrod could've hung around and won the whole thing—and the $1 million first-place prize. Survivor fans will learn how he finished in the coming weeks; the final episode airs Sunday, May 15 (8/7c).
Why did you want to be on the show?
I wanted to try and proclaim the goodness, faithfulness, love, and mercy God lavishes on me every day. I wanted the world to see how having faith in Jesus isn't just about going to heaven when you die, but it's a better, fuller way of life. The adventure of it all was secondary, and winning the million dollars was third in my list of incentives.
Was there something about the "redemption" twist that attracted you?
We didn't know about Redemption Island till the game started, but its name is almost a testament to Christianity—Jesus redeeming the world by forgiving our sins and breathing new life into us.
You DO realize that the goal is to stay on the MAIN island, right?
Haha, yeah, yeah. But I sort of preferred staying on Redemption Island. The isolation was difficult, but I think it was a way for God to give me a platform to proclaim his glory. I also think he was protecting me from the chaos of the game and allowing me to move forward in the game at the same time.
You got burned twice—the word they kept using was "blindsided."Why was that?
I was pretty shocked. I made a decision at the beginning to play with my heart, not my mind. I knew it would likely burn me, but I almost felt God saying, "I put you on this show out of tens of thousands of people who auditioned, and you want to play for yourself and not for me?" When I thought of it that way, and it dictated how I navigated the game.
Last week's episode (April 20) began by showing you praying, "I want to show Your glory to everyone, Lord." Christians have been on reality shows before, but often the blatant faith angles are edited out. Are you surprised CBS is showing so much of your faith side?
I have been amazed that it has been aired the way it has; it's a testament of God's hand at work. If I was going to represent my Savior, I had to go all out. I couldn't sort of be a Christian and sort of play the game. It doesn't work like that. So I dove in head first and said, "Your will be done." I would love for Survivor to start a revival, but if God is planting seeds into non-believers and encouraging Christians, that's enough for me.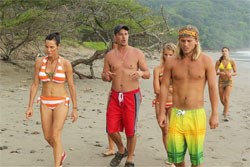 You also prayed last week, "You know how much I want out of this game. I want nothing to do with it, Lord." What's up with that?
I don't know if you have ever spent three weeks in isolation with essentially nothing but rice to eat. It's a hard place to be. Also it's impossible to sleep on bamboo. I got used to sleeping 2-4 hours a night. Between the starvation, anxiety, sleep deprivation, and homesickness, I guess I finally reached my breaking point.
How did you reconcile your faith with knowing that the only way to get ahead in Survivor is to play with dishonesty?
Here's the typical three-step plan to winning Survivor: 1. Get people to trust you. 2. Blindside them at your convenience. 3. Convince them you're still friends and you were only playing a game so they vote for you at the end. Brutal, right? But I have progressed through the game by being "friends" with everyone, without lying or backstabbing. I am thankful for God placing me on Redemption Island [isolated from other contestants] to get this far. It's like God knew I wouldn't last a week in any other season of Survivor. So I'm grateful.
Did you ever lie while on the show?
To my recollection, I never lied in the game. God allowed me a path that didn't require actually playing the game as it is meant to be played.
Is it possible to win the game by being honest and friendly? And do you think every winner of Survivor over the years has had to be dishonest to win?
I think there is a happy middle ground somewhere, but since I was trying to make a statement about Jesus' character, there was no room for anything but integrity. I think Ethan who won Survivor: Africa [in 2001] was completely straight-laced and won. You have to win a lot of immunity challenges. So it's possible.
At the end of this week's episode, in scenes from next week, the narrator says, "Matt plumbs the darkest depths of his soul." And then you, in tears, say, "I'm wasting away; God's literally carrying me."Please tell us what was going on there.
Physically, I had lost a ton of weight and struggled to stand without seeing stars and feeling like I would pass out. Mentally, my mind simply wouldn't slow down; it's like anxiety in real life multiplied five times. Emotionally, I missed my family and friends. But spiritually, I'd never felt more peace and joy in my entire life. My spiritual side allowed me to keep going. I can't explain how special it is to read and pray all day every day without distractions. It's funny how I could be so miserable and yet have a peace transcending all understanding.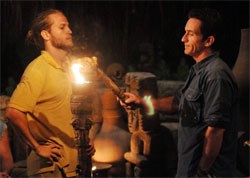 You stated several times on the show that you wanted God to get the glory. Do you think that was accomplished?
I think so. Multiple times they've shown me praying in brokenness and complete trust to God. I can't see the effects it has, but I tried to represent Jesus to the best of my ability, and I did my best to glorify God, and I think he sees that.
What was the best part of being on the show?
Reading the Bible and praying without the distractions of our fast paced-world, and trusting God entirely with my life. And friends I've taken away from it
Any regrets?
No regrets here. But I don't think I would do it again.
What's next for you?
I'm still in undergrad. I have to finish one more semester to graduate. Then hopefully I'll take some time off to travel before trying to go to med school.
***
4/29 UPDATE: Elrod's desire to affect others with his faith has already come to pass with a fellow contestant. See our blog update to read all about it.
Photos courtesy of CBS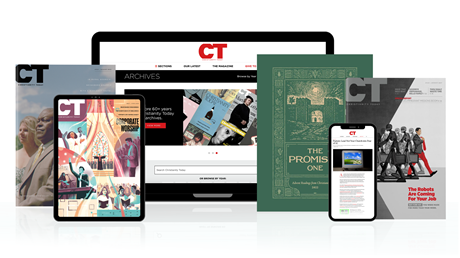 Annual & Monthly subscriptions available.
Print & Digital Issues of CT magazine
Complete access to every article on ChristianityToday.com
Unlimited access to 65+ years of CT's online archives
Member-only special issues
Subscribe
'It's a Hard Place to Be'
'It's a Hard Place to Be'