David was up late as usual at midnight watching the "Late Show" when he first asked the question: "What would happen, Lord, if I sold the TV set and spent that time—praying?" After David Wilkerson prayed that prayer in 1958, the world would soon find out.
"What would happen, Lord, if I … ?"
After his television was actually sold, Wilkerson began to devote his midnight to 2 a.m. hours to prayer. One night while trying to pray, he found himself unusually drawn to an issue of Life magazine sitting on his desk. At first he suspected his interest in reading to be merely a human diversion pulling him away from the discipline of prayer. Nonetheless he couldn't get away from it and finally asked, "God is there something you want me to see?"
Caught by the eyes
The trailblazing pastor-turned-street-evangelist and founder of Teen Challenge died tragically on Wednesday, April 27, at age 79 in a car accident in Texas. He leaves his wife, Gwen, who survived the accident, and several family members, but he also leaves a church in Times Square and a drug recovery ministry (Teen Challenge) that has resulted in lives changed around the world. His story was first told in the bestselling 1963 book The Cross and the Switchblade.
What Wilkerson saw in that issue of Life was destined to change his own life and that of so many others. He read the report of a gang on trial in New York. He recalls the story:
… my attention was caught by the eyes of one of the figures in the drawing. A boy. One of seven boys on trial for murder. The artist had caught such a look of bewilderment and hatred and despair in his features that I opened the magazine wide again to get a closer look. And as I did, I began to cry.
"What's the matter with me!" I said aloud, impatiently brushing away a tear. I looked at the picture more carefully. The boys were teen-agers. They were members of a gang called the Dragons. Beneath their picture was the story of how they had gone into Highbridge Park in New York and brutally attacked and killed a fifteen-year-old polio victim named Michael Farmer. The seven boys stabbed Michael in the back seven times with their knives, then beat him over the head with garrison belts. They went away wiping blood through their hair, saying, "We messed him good."
The story revolted me. It turned my stomach. In our little mountain town such things seemed mercifully unbelievable.
That's why I was dumbfounded by a thought that sprang suddenly into my head—full-blown, as though it had come into me from somewhere else: Go to New York City and help those boys.
The internal summons Wilkerson felt in that prayer time soon led the skinny 26-year-old Pennsylvania pastor from the mountains of Philipsburg to the streets of New York, from tending a local church to advocating for gang members and drug addicts in a courthouse. His ministry caught fire throughout the New York area and around the world. In the 1960s and '70s it took form as a Christian addiction recovery program called Teen Challenge, a network of social and evangelistic training and work centers.
The Jesus Factor
The success rate of the Teen Challenge program and its proven approach to Christian discipleship emerged amidst Wilkerson's evangelical and Pentecostal worldview and theology. Its effect has been repeatedly researched and documented, and its results proven to be quite astounding. It is, in fact, unparalleled as a recovery program in its efficacy.
In a 1975 survey by the National Institute of Drug Abuse, Teen Challenge was shown as having an 86 percent or higher success rate of recovery from drug addiction among its participants. When Teen Challenge became a political talking point in 2001, as President George W. Bush launched his Faith-Based Initiative, some questioned Teen Challenge's use of the number (for example, it doesn't count the 30 percent or so who start the program but do not finish). But even so, the remarkably low recidivism rate provided more credibility to the program, and the research ultimately isolated the most distinctive aspect of the program as "Jesus" or "God"; thus, it came to be known as the "Jesus Factor."
Teen Challenge has grown to become the oldest, largest, and most successful drug recovery program of its kind, with over 170 centers in the United States and 250 worldwide. A vital part of the program has been prayer for conversion and often the baptism in the Holy Spirit (emphasis on this experience subsequent to conversion is the chief characteristic of Pentecostalism).
Wilkerson's journey spawned his bestselling book, The Cross and the Switchblade, with 15 million copies now sold worldwide in 30 languages and a 1970 film starring Pat Boone, which a reported 50 million people have seen. Christianity Today included the book in its 2006 list of "The Top 50 Books That Have Shaped Evangelicals."
A Lasting Impact
But just how has Wilkerson, a Pentecostal pastor from a small town, actually "shaped evangelicals" and the world? In the church in which he served during his early years as a pastor (the Assemblies of God), in the Pentecostal movement, and in the evangelical movement, Wilkerson's life, message, and passion have revived the importance of:
Spirit-filled service to humanity. Wilkerson reminded us that "Spirit-empowerment" is about serving hopeless people boldly and compassionately, not about merely seeking a self-gratifying emotional religious experience. Long before "social action" or "compassionate ministry" were buzz words or en vogue in the church, Wilkerson was engaging in it not out of efforts to be "relevant" but out of a pure sense of divine call. Today's renewed emphasis on compassionate ministry among Pentecostals and evangelicals owes much to his example.
A renewed reverence for God. Holiness may seem to be an antiquated term by our standards, but not by God's. That's what Wilkerson would say, over and again. Followers of Christ are still called to be holy as God is holy (1 Pet. 1:16). Teen Challenge helped us see the connection between biblical holiness and personal wholeness. Healing took on new significance through this Pentecostal leader—the healing of mind and soul. Wilkerson has been known for his uncompromising preaching style and call to holiness for decades. While some have felt his preaching to be often prophetic in its emotional honesty and biblical ethic, others have branded him instead as irrelevant, behind the times, or old fashioned. While Wilkerson consistently preached hard against sin, that is arguably because he saw firsthand the toll sin could take on a life. Countless faces of helpless lives and the cries of hardened addicts perhaps kindled an anger of sorts within the late preacher's soul, anger toward sin and the enemy of our souls that sounded as a poignant cry within his preaching.
Acknowledging the signs of the times. Wilkerson consistently saw and believed that the judgment of God is inevitable and that Christians should be concerned, repentant, and prayerful. When dubbed a prophet by others, Wilkerson would often quote Amos, "I'm not a prophet, neither the son of a prophet." His writings, however, would beg to differ. In 1974, he published a small book filled with earth-shaking predictions and unapologetically titled The Vision. This book swept the charismatic and Pentecostal world with great interest in his descriptions of an ever-increasing darkness that would soon fill the culture. Many were challenged by the apocalyptic images, while many others thought it too much "gloom and doom." While reflecting on his life today, I gave this older book a fresh read. As I did so, it soon became clear that much of what he predicted at that time has in fact already come true (some even in the last two years), including:
There is a worldwide economic confusion just ahead. … It is not really a depression I see coming—but a recession of such magnitude that it will affect the lifestyle of nearly every wage earner in America and around the world. … A false economic boom will precede the recession—but it will be shortlived. … We are going to witness the bankruptcies of some of this nation's major and most popular corporations. … The auto industry is going to be hurt badly. … The world's greatest economists will be at a loss to explain the confusion.
As with most impassioned souls and preachers, there is a need to divide between divine insight and personal opinion, between wheat and chaff. Never, however, have Wilkerson's forecasts seemed to me to be either insincere or in any way self-serving. On the contrary, they have consistently come across more as warnings than as efforts at sensationalism. And, honestly, what concerns me at this point is not what Wilkerson predicted in his writings, but more so the predictions he made that have not yet come true. (For instance, The Vision predicts an unprecedentedly large earthquake in the United States that would be preceded by "another earthquake, possibly in Japan.") While some in the evangelical movement may take issue with these types of writings, Pentecostalism has carried a history of holding strongly to the inerrancy of the Bible as "THE Word of God" while also praying for and responding to "a word from God" for the moment, as long as it does not contradict Scripture. Wilkerson brought warnings and the hope of Christ not only to drug addicts, but also to the church. He implored us to read "the signs of the times."
Back to the pastorate
In 1986, by all signs Wilkerson was ready for retirement. But, while walking down 42nd Street in New York City, once again during his midnight hour of prayer, he said that he felt God calling him back to the city to plant a church there. He found the fresh sense of call irresistible. By October of the next year he made his second move to New York, this time into a rented auditorium. The preacher whom some said was "old school" or "behind the times" actually planted a church in Times Square itself! Within two years, Times Square Church purchased the historic Mark Hellinger Theater, and now counts some 8,000 regular worshippers.
Until his untimely death this week, Wilkerson's focus in more recent years has been investing in the lives of pastors and their families with the goal of "renewing their passion for Christ," challenging them to ask, as he did, "What would happen, Lord, if I … ?"
Robert Crosby is Professor of Practical Theology in the College of Christian Ministries and Religion at Southeastern University in Lakeland, Florida, an Assemblies of God school. He has also written several books, including More Than A Savior: When Jesus Calls You Friend (Multnomah) and Conversation Starters (Focus on the Family).
Related Elsewhere:
Christianity Today also posted an interview with a gang-leader-turned-evangelist. CT also posted about Wilkerson's death on Liveblog.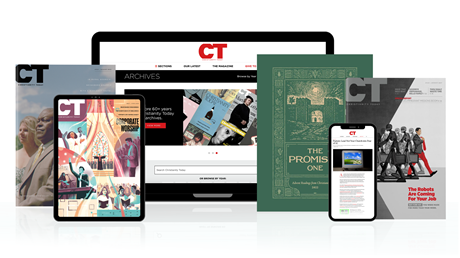 Annual & Monthly subscriptions available.
Print & Digital Issues of CT magazine
Complete access to every article on ChristianityToday.com
Unlimited access to 65+ years of CT's online archives
Member-only special issues
Subscribe
Remembering David Wilkerson
Remembering David Wilkerson