Nicky Cruz remembers the David Wilkerson he met on the streets of New York in the 1950s—the "skinny preacher" who walked a message of Jesus' love into gang-owned neighborhoods that police were afraid to enter and faced, without flinching, people most gangs didn't dare mess with; people like Cruz, who back then led the feared Mau Maus of Brooklyn.
He remembers the forceful pastor who led ministries with worldwide influence like Teen Challenge and Times Square Church, a "straight shooter" who "never danced around anything. He was very straight, and always you said, 'Wow, Dave, he's hard.'"
But over the last 15 years, the man who counted Wilkerson as a close friend and spiritual father for half a century says what he gradually came to understand: "All these years … Dave Wilkerson was a teddy bear."
"Always when I see him and I hug him … I say, 'I love you.' Even on the telephone, 'I love you.' And Dave is not expressive, [but] whenever we were alone, always he told me 'I love you, son,'" Cruz told Christianity Today in an interview Thursday.
The last time Cruz saw Wilkerson, some weeks ago, they spoke for three hours. Cruz told him about Thousand Pieces, a film in the works about Cruz's life, including the encounter with Wilkerson that led to his transformation. Wilkerson related his side of that story in the classic book The Cross and the Switchblade (which later became a film starring Pat Boone as Wilkerson and Erik Estrada as Cruz). The new film's name comes from something that Wilkerson said to Cruz after the gang leader threatened to kill him: "You could cut me in a thousand pieces and lay them out in the street and every piece would love you."
"New York in that time was bombarded by gangs, and we were the prime leaders of the gangs," Cruz said. "Even Frankenstein and Dracula were afraid to walk in that neighborhood. And he's a skinny preacher! Came from nowhere. There's no way that a type of guy like this can be so strong to stand [on] his own and to really really really take it."
"He can take a bullet, he can be killed, but he stood because [he was] obedient to Jesus. Jesus sent him there to bring the message to the gangs. … I almost killed him then because I really was totally full of hate. That was when he told me that Jesus loved me."
Wilkerson "never lost his heart" for the world's needy people, Cruz said. The two of them worked together to run Teen Challenge, a network of rehabilitation centers dedicated to healing drug and alcohol addiction and other "life-controlling problems." Later, Wilkerson moved back to New York to start Times Square Church, and Cruz set out on his own evangelistic ministry.
"I don't think Dave thought I would [become] the evangelist that I became," Cruz said. "I have reached over 45 million people just with the sound of my voice, in this journey. And he was so proud. One time he told me, 'You know, Nicky, being in the ministry's not that easy, being a pastor, sometimes I get discouraged. And sometimes, when I get discouraged, I think about you, about that first confrontation I had with you, and that lifted up my spirit, and I began to forget about all the hardship.'"
"David reminded me of Jesus," Cruz said. "Two precious things that fascinate me about Christ: That he had active eyes, and always was there, looking at the needs of the people. Dave had this heart of compassion just like Jesus."
Also like Jesus, Wilkerson "took a lot of detours," Cruz said. From a small rural church in Pennsylvania, Wilkerson came to New York in the 1950s. In the '70s, he moved to Texas and founded the evangelistic organization World Challenge. In 1986, he returned to New York to start Times Square Church. In the '90s, he started a ministry of preaching to pastors. "That's the only way he could be happy. He moved from one place to the other place to preach the gospel. And I'll tell you honestly, I learned that from him. Because if not, I would be boring with my life. But David Wilkerson never was boring."
In remembering Wilkerson, Cruz is drawn to Psalm 116:15: "'Precious in the sight of the Lord is the death of his saints.' I think that he was very precious," Cruz said. "From my heart of hearts … I miss him."
Related Elsewhere:
Christianity Today also posted a reflection from Robert Crosby on how Wilkerson shaped the Pentecostal and evangelical movements. CT also posted about Wilkerson's death on Liveblog.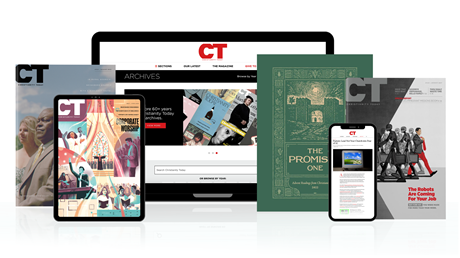 Annual & Monthly subscriptions available.
Print & Digital Issues of CT magazine
Complete access to every article on ChristianityToday.com
Unlimited access to 65+ years of CT's online archives
Member-only special issues
Subscribe
Nicky Cruz: David Wilkerson 'Never Lost His Heart'
Nicky Cruz: David Wilkerson 'Never Lost His Heart'