true
Bethany Hamilton wants her remarkable story to go to the ends of the earth, but she's not a big fan of interviews. She'd much rather be surfing, or hanging out with friends, and letting others tell her story. She'd certainly rather be anywhere but Chicago in frigid February—especially when home is Kauai, Hawaii—when she dropped by our offices for an interview to promote Soul Surfer, opening in theaters this week.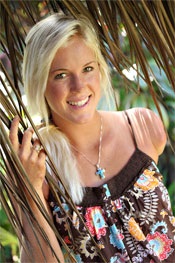 The 21-year-old Hamilton—who lost her left arm to a shark attack at the age of 13, but through courage, perseverance and a strong faith has nonetheless still become one of the world's greatest professional surfers—was pleasant and polite when we talked about the movie and her inspiring story. But it was obvious that her mind was elsewhere … and who can blame her? How many times can she tell her story? Yes, I was attacked by a shark. Yes, I lost my left arm. Yes, I got back in the water after three weeks. And yes, my family and my Christian faith were a huge part of my recovery and journey. And so on.
But something really cool happened at the end of our interview, when a colleague brought her tween daughter by to meet Hamilton. For the young girl, Hamilton was a hero, a role model, an example of overcoming tremendous odds, and a model Christian to boot. The girl was shy but clearly giddy about meeting Hamilton—and Hamilton was clearly thrilled to meet the girl. They chatted amiably for a few minutes, Bethany gladly gave the girl her autograph, and took a few pictures together. Hamilton was in her element—winsomely relating to another young person, encouraging, exhorting.
Here's a little more we learned about Hamilton during our conversation.
What did you think of the movie?
I thought it turned out really good. The story is true to my family and me. My family and I all took part in making the film from the very beginning till the very end. We had a lot of say in the script and day to day on the set. We're all very proud of it and excited to share it.
What parts did you feel like they got just perfect?
I thought the shark attack was really well done. It's exactly how it really was. It started off a very happy, fun day, perfect weather. And then it happened real quick.
In the movie, when you arrive at the hospital, your dad is going into the operating room for knee surgery at the exact same time. Did it really happen that way?
Yes, my dad was actually getting knee surgery that day. But they had to use that room for me—the same room he was about to start his knee surgery on. And they took him out of the room, and put me in there. When people see that in the movie, they might not believe it, but it's actually a true story, even though it totally sounds like Hollywood drama.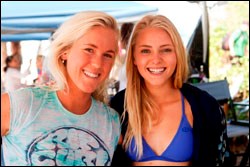 What do you want people to take away from watching this film?
If they're going through a hard time, it would be cool for them to be able to relate to our family and know that there is hope in life, especially if you have Jesus Christ in your life. You can overcome these horrible circumstances and turn it into something good. And I just hope they can just enjoy the surfing, because it's so fun to watch!
A lot of people are already familiar with your story. Is there something the movie brings to the table that maybe hasn't been presented before?
Mainly the surfing. You don't get to see that really in my book [also titled Soul Surfer]. You just see a couple of pictures, but you don't get to see what actually goes down in the water, watching the physical struggle of living with one arm. So the movie is more of a whole pie rather than just a piece of the pie.
How do you feel about flying to Chicago in the middle of winter to do interview?
I must admit that it's really hard to be away from the ocean and surfing, because that's my profession right now. As a pro surfer, I spend most of my day surfing and training and preparing for my next contest. So it's kind of a setback right now. But it's really exciting to be happy with how well the film turned out, being able to encourage people is a blessing. This is what God wants me to do right now. If it wasn't for him, none of this would happen. So I'm just taking it one day at a time and …
So you feel like doing these publicity things is just part of the deal.
Yeah. It can be hard, and I'm not perfect at it, for sure. But it's just a time in my life where I'm able to do it, and I'm excited to share everything that's going on.
I've heard that for several weeks before the attack, you and your mom were praying intensely for God to show you his will. Of course, nothing can prepare you for a shark attack, but …
I wouldn't say nothing can prepare you. God can prepare you for anything. And that's exactly what he did. But yes, my mom and I were praying for God to show me his will. I wanted to be a light for him in everything I was doing. And then a couple of weeks later, the shark attack happened, and I feel like God gave us a sense of peace about it, because he's not going to allow anything that he doesn't think you can handle. God will give us the strength to be able to handle things. I mean, you can try to do it on your own and sometimes you can pull off some stuff, but in the long run it's much easier with him by our side. So yeah, we just trusted in the Lord as everything just kind of fell apart, and then just focused on starting fresh.
Did you ever get discouraged and shake your fist at God?
Yeah. There were frustrating times and times of uncertainty. But it wasn't like shaking my fist; that's a bit much. But I just kept coming back to the basics: Lord, what do you want me to do? Like, with one arm I know I can surf, but competitive surfing can be really frustrating, and sometimes you don't do as well as you want to. It can be discouraging at times. But whenever I do get frustrated, I just focus on God.
What role did Sarah Hill, your youth leader, play in helping you get through?
Sarah has been one of my best friends since I was eight or nine. She's older, but young at heart and fun to be with. She would plan adventurous nights, and at the same time dig into God's Word and encourage us. Carrie Underwood plays her in the movie and cites one of my favorite lines, from Jeremiah 29:11: "'For I know the plans I have for you,' says the Lord, 'plans of peace and not of evil, to give you a future and a hope.'" Sarah shared that verse with me right after the attack. It was encouraging to know God does have a plan and a hope for me, and for anyone who puts their trust in him.
The film shows you as really thinking about giving up surfing. Was that accurate?
That was a pretty extreme scene. That was kind of Hollywood adding their little magic dust in there. I never came to a point of quitting. I had some hard times where I frustrated, but I never considered quitting.
Did you think that you'd lost your shot at being a world-class surfer?
I just slowly eased back into it and I didn't really know. I was taking my time, having fun with it, enjoying still being with my friends that compete, and I started doing pretty well. So, no, my dreams of becoming a pro did not diminish. I didn't give up on them.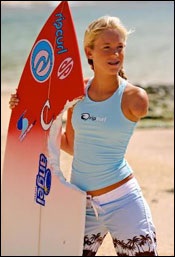 Even when you first got back in the water, three weeks after the attack?
I tried to have a positive outlook. I got up on my third wave. It was on a beginner board, and it took time because I slowly worked my way back to a smaller board. But you see that in the movie too. It was a team effort of my family helping me, and my determination. Surfing's just something I couldn't give up.
At what point did you feel like you could compete with the world's best again?
The following summer, I ended up placing fifth in the nationals. To me, that was huge. Right then I was like, okay, I'm going to take this seriously. It pushed me to work harder and like really try to do it. And now I am competing as a pro surfer, and I've had some good results and it's been pretty amazing.
Do you sometimes wish you could just be Bethany Hamilton and not the famous one-armed girl who survived a shark attack?
Yeah. I mean, I don't ever feel like I have to be anything, but it's nice when I'm back at home; it's just really low-key and laid back. I just go surfing, and everyone knows everyone. I can just be myself, and take a break from the people going so crazy over you.
Do you think of the surfing community as kind of a mission field for you?
I don't feel an obligation to talk about my faith, but it's a great opportunity to share God's love. It's what he calls us to do, and it's what I want to do. Sometimes that comes easily, sometimes not. It's not always easy to be that light that you want to be, but I'm definitely trying to be a good witness to people in the surfing world.
Hamilton photos by Noah Hamilton; others by Sony Pictures Worldwide Acquisitions.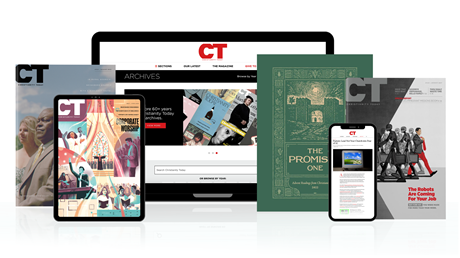 Annual & Monthly subscriptions available.
Print & Digital Issues of CT magazine
Complete access to every article on ChristianityToday.com
Unlimited access to 65+ years of CT's online archives
Member-only special issues
Subscribe
Read These Next
Trending

American Christians Should Stand with Israel under Attack

While we pray for peace, we need moral clarity about this war.

From the Magazine

God's Promises Are Clearest When We Turn Out the Lights

Christians have every reason to reduce light pollution.

Editor's Pick

Don't Miss These African Christmas Hits

Jam out this season to highlife, Afrobeats, jazz, a cappella, R & B, rap, dance, and hip-hop artists from Nigeria, South Africa, and more.
A Surfer with Soul
A Surfer with Soul