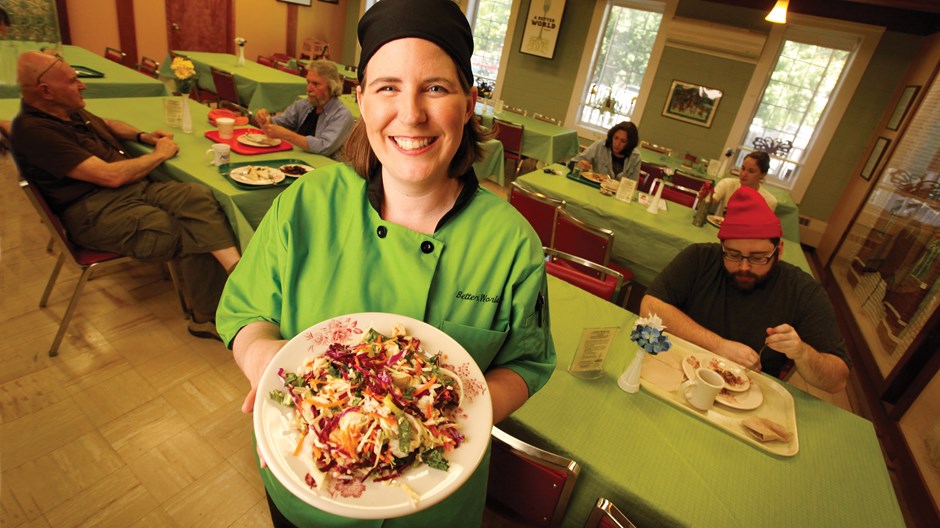 Image: Brad Guice
Kathy had been out of the job market for about 25 years—instead staying home with her three children—when everything fell apart. The 50-something resident of Edison, in north-central New Jersey, had worked part-time as a file clerk to help pay for her three daughters' college tuition. But she left that job after her father died and her husband suffered a heart attack. Then her husband left, leaving Kathy without an income to provide for her children.
"It's a little scary," says Kathy, who asked that her full name not be used. "The rug was pulled out from under my feet."
Kathy isn't alone. In some communities surrounding Edison, 27 percent of the population lives below the national poverty level.
For Kathy and many others, a church in nearby Highland Park offers a unique solution. A Better World Café, one of a handful of "pay-as-you-can" restaurants in the United States, provides clients with good meals and job training, among other things. Hosted at the Reformed Church of Highland Park, the idea for the restaurant was hatched in 2009 in a group working to meet local needs.
At one meeting, Lisanne Finston, executive director of Elijah's Promise, a faith-based nonprofit, discussed "food insecurity" just when the recession was pushing more people into food pantries. Someone mentioned hearing about restaurants where customers pay only what they can afford. Jean Stockdale, executive director of Who Is My Neighbor? Inc., another New Jersey faith-based nonprofit, Googled the concept. Then she e-mailed Denise Cerreta, founder of the One World Cafe in Salt Lake City, arguably the country's first pay-as-you-can restaurant.
"It seemed like a solution for a lot of problems in our town and for the low-income families in our area," Stockdale says.
Stockdale and Finston pursued the plan, and A Better World Café opened in October 2009 at the church.
Table Talk
When customers enter A Better World, a greeter explains that the café's posted prices are only suggestions, and that meals can be earned with volunteer work. One hour of volunteering earns a voucher for one meal. A whiteboard displays the daily menu—soups, breads, salads, sandwiches, and desserts. And there's always a free dish, such as pasta with vegetables or rice and beans.
Customers line up with trays and order from servers. A cashier totals the suggested price and asks, "Would you like to pay that amount or something different?" What they choose to pay is accepted; some give above the suggested price.
Eight tables seating six each foster dialogue. "People like it that conversation is encouraged," says chef Rachel Weston.
It's a diverse crowd. Nearly 30 percent of Highland Park's residents were born outside the United States, compared with 11 percent nationally, and there are pockets of poverty all around.
Every week, some 3,000 people visit the church—senior citizens taking classes; Jews, Buddhists, and Christians from ethnic congregations who use the facilities; members of clubs, exercise groups, and support groups for everything from debt to addiction. Many stop by the cafe, where on any given day, the homeless mingle with businesspeople, refugees, and students and professors from nearby Rutgers University.
Highland Park mayor Stephen Nolan likes what he sees: "When somebody sits at a table and breaks bread with another and learns about them as a person, that enriches the community."
A Better World is one of 16 pay-as-you-can restaurants in the U.S. (see "A Growing Model,"). Many such eateries provide food and opportunities to gain job skills to people of all income levels.
"One of the best ways to help people get back on their feet is by giving them a way to serve others," says Seth Kaper-Dale, pastor at the Reformed Church of Highland Park.
Volunteers prep and serve food, wash dishes, clear tables, and work the cash register—gaining marketable skills, the kind that helped Kathy get back on her feet. She now has a $7.50-an-hour part-time cashier position at a local grocery store.
"I don't know how I would have been able to adjust to a [paying] job right off the bat. I hadn't worked in so many years," she says, calling A Better World "God's handiwork."
Michael Shawe says the café sustained him after he graduated from Rutgers in May 2010. He volunteered a few times a week while looking for a job. "I was very vulnerable and could have really fallen on my face," he says. "But there was this safety net in the form of A Better World. They were very supportive." Shawe now works as a residential counselor.
Elijah's Promise also runs a traditional soup kitchen in nearby New Brunswick, but Finston believes that model is flawed, because it segregates low-income people from kitchen staff and volunteers. She prefers a model where low-income clients can dine and network with potential employers.
But can a restaurant that lets customers set prices sustain itself? At A Better World, first-year expenses ran 13 percent higher than income, resulting in a $13,000 loss, higher than the projected 10 percent deficit. The café will eventually need to break even to stay open.
Still, the concept mostly works. Weston estimates 1 to 2 percent of customers try to cheat the system, while 15 percent pay above the suggested price.
Once in a while, the café has to stop people from taking advantage of the system. Last year, high school students repeatedly took large servings of the complimentary dish while paying only 50 cents for the to-go box. Weston told them the café was running out of the dish and no longer offering it to go. The students said they understood and quit coming. In another incident, a customer refused to pay for his meal and became angry when told the café didn't operate like that. After Weston talked to him privately, he agreed to contribute or have the complimentary dish instead.
A Better World keeps costs low by using volunteers, buying in season, minimizing waste, and using donations of fresh produce from Farmers Against Hunger, Rutgers Against Hunger, and community gardens. Chefs use every scrap. Instead of throwing out the greens on top of beets, they sauté and add them to grilled cheese sandwiches and soups. Leftover food is frozen or canned.
Chefs avoid buying perishable foods and those that have limited use in recipes. "If you can't think of at least five different things to do with a product, you shouldn't buy it," Weston says.
Beyond the 'Charity Approach'
Finston says Christians have too long "focused on the charity approach versus the justice approach. At A Better World, instead of giving handouts, we ask how we can help people feed themselves."
Bread for the World president David Beckmann says Christians need to "share our bread with the hungry, not throw our crumbs to them." He visited a Christian pay-as-you-can café in Nebraska and noticed the sense of community among those who otherwise wouldn't have crossed paths.
"It's not just a matter of giving someone a bag of groceries," Beckmann says. "It's sitting down at a table and talking to them. It's dignity as well as assistance."
Beckmann doesn't think such cafés will replace soup kitchens any time soon, but says they can complement other ministries. He would like to see more such restaurants before rendering a verdict. "It's not big enough now to propose it as an alternative to any system we have in place. Let's get more of them. Maybe it could be something bigger."
Kaper-Dale says he'd like to see the movement grow, cautioning that churches should partner with an organization with food service experience rather than jumping into the project alone.
"The idea of a church providing an endless meal is so biblical," he says. "Coming together around food and making sure that food is prepared lovingly and served in a way that's accessible to everyone—that's a very special and theological thing."
Catherine Newhouse is a magazine journalism and international studies student at the University of Missouri.
Related Elsewhere:
For more on the Better Word Café, visit their website.
Additional Christianity Today articles on soup kitchens, poverty, and social justice include:
A Meal with Jesus | Discovering grace, community, and mission around the table. (June 17, 2011)
Let People Shop | Food pantries feed more, waste less with client choice. (November 23, 2010)
Feeding Hope Under a Rogue Regime | Christian outreach to North Koreans helps to keep millions from starving. (August 14, 2009)
Centering on Poverty | A coalition of the Right and left launches a new project to reduce poverty. (February 17, 2009)
How We Fight Poverty | U.N. Millennium Development Goals are good—as far as they go. (December 5, 2007)
CT also tracks justice news.
Have something to add about this? See something we missed? Share your feedback here.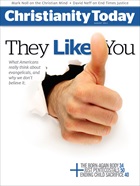 This article is from the August 2011 issue.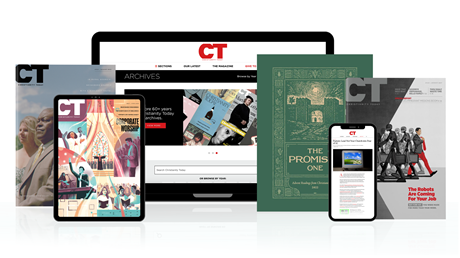 Annual & Monthly subscriptions available.
Print & Digital Issues of CT magazine
Complete access to every article on ChristianityToday.com
Unlimited access to 65+ years of CT's online archives
Member-only special issues
Subscribe
Feeding the Poor Through Pay-As-You-Can
Feeding the Poor Through Pay-As-You-Can