His name might not be prominent, but Eugene A. Nida's influence can be found in most Christian homes—more specifically, in their Bibles.
Nida, one of the leading advocates for dynamic equivalence translation, died August 25 at a hospital in Brussels, Belgium. He was 96.
Dynamic equivalence translation (a phrase which Nida coined) is a "meaning-based" approach to biblical translation; it focuses on translating "thought-for-thought" rather than "word-for-word." In a 2002 interview with Christianity Today, Nida said that this shift in translation was his most important contribution: "To help people be willing to say what the text means—not what the words are, but what the text means."
Nida's career in translation began in 1936, when he graduated summa cum laude from the University of California, Los Angeles with a B.A. in Greek and a minor in Latin. The summer after he graduated, Nida attended the Summer Institute of Linguistics (SIL), a faith-based nonprofit that serves language communities by using research, training, and development to "build capacity for sustainable language development." After his introduction to SIL, Nida returned every summer from 1937 to 1953 to teach there.
Nida continued his studies at the University of Southern California, where he earned a master's degree in New Testament Greek. He completed a doctorate in linguistics at the University of Michigan in 1943. That same year, he was hired by the American Bible Society as associate secretary of versions. He became the executive secretary for translations in 1946, a position that he held until his retirement in 1980. He was present at the founding conference of the United Bible Societies in 1946, and in 1949 he founded The Bible Translator, a journal featuring articles about the theory and practice of Bible translation.
By the late 1960s, Nida had published two books, Toward a Science of Translating (Brill, 1964), and The Theory and Practice of Translation (Brill, 1969, with C.R. Taber), advancing his new dynamic equivalence theory. He had also published a first edition of the Greek New Testament, which became a basis for other translators in their work.
Nida spent much of his career traveling around the globe. By 1952, he had traveled to more than 30 countries and encountered more than 80 languages. In his travels, he met and trained teams to help them in their translation work. In 1978, he was praised by the Christian Herald as a man who "has done more than any one person to provide people with Scripture they can read in their own language."  The popularity and positive reception of The Good News Bible (also called the Today's English Version) lent credence to Nida's work, as it was translated using dynamic equivalence theory. Other versions, such as the New Living Translation and Contemporary English Version, are also heavily influenced by Nida's approach.
In his work, Nida emphasized the importance of cultural context—both the cultural context of Bible and the cultural context of the language into which the Bible is being translated. One example he liked to use was the parable of the sheep and the goats in Matthew 25, where the sheep represent those who have done the Lord's will, and the goats are those who haven't. "Look out, because in most of Africa, sheep are regarded as very bad animals!" he said in his 2002 interview. "The translator, of course, cannot change all the sheep into goats and the goats into sheep. But you've got to have footnotes to explain the cultural difference. Otherwise, you're going to give an entirely wrong impression."
However, Nida also emphasized something over the need for multiple, relatable translations: a desire to understand and spread the meaning of the Bible. "What is really needed is for people to take the message seriously and share it with other people, focused primarily on what this message has meant to me," he said. "So many Christians love to argue about the Bible rather than take it seriously as a message that is important for their own lives."
Related Elsewhere:
CT interviewed Eugene Nida in 2002. CT has gathered more tributes.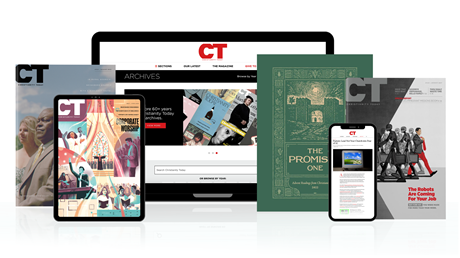 Annual & Monthly subscriptions available.
Print & Digital Issues of CT magazine
Complete access to every article on ChristianityToday.com
Unlimited access to 65+ years of CT's online archives
Member-only special issues
Subscribe
Eugene Nida, Who Revolutionized Bible Translations, Dead at 96
Eugene Nida, Who Revolutionized Bible Translations, Dead at 96