This article originally ran in January 2011.
Steve Jobs's medical leave of absence is the top story in today's newspapers. The Wall Street Journal says his brief and poignant memo raises "uncertainty over his health and the future of the world's most valuable technology company." These two questions—Jobs's health and Apple's health—are the focus of almost all the coverage today.
But I'm interested in the health of our culture, and what will happen to it when (not if) Steve Jobs departs the stage for the last time.
As remarkable as Steve Jobs is in countless ways—as a designer, an innovator, a (ruthless and demanding) leader—his most singular quality has been his ability to articulate a perfectly secular form of hope. Nothing exemplifies that ability more than Apple's early logo, which slapped a rainbow on the very archetype of human fallenness and failure—the bitten fruit—and made it a sign of promise and progress.
In the 2000s, when much about the wider world was causing Americans intense anxiety, the one thing that got inarguably better, much better, was our personal technology. In October 2001, with the World Trade Center still smoldering and the Internet financial bubble burst, Apple introduced the iPod. In January 2010, in the depths of the Great Recession, the very month where unemployment breached 10 percent for the first time in a generation, Apple introduced the iPad.
Politically, militarily, economically, the decade was defined by disappointment after disappointment—and technologically, it was defined by a series of elegantly produced events in which Steve Jobs, commanding more attention and publicity each time, strode on stage with a miracle in his pocket.
* * *
Technological progress is the fruit of countless scientists, inventors, engineers, and firms. But Apple has done one thing almost no one else does: put the fruits of insanely complex engineering into accessible form. Before the rise of Apple, advances in computing technology largely meant a daunting increase in complexity and the length of the manual accompanying the device. The 1990s were the age of Microsoft, when geeks ruled the world … because we were the only ones who knew how to get it to work.
Apple made technology safe for cool people—and ordinary people. It made products that worked, beautifully, without fuss and with a great deal of style. They improved markedly, unmistakably, from one generation to the next—not just in a long list of features and ever-spiraling complexity (I'm looking at you, Microsoft Word), but in simplicity. Press the single button on the face of the iPad and, whether you are five or 95, you can begin using it with almost no instruction. It has no manual. No geeks required.
Steve Jobs was the evangelist of this particular kind of progress—and he was the perfect evangelist because he had no competing source of hope. In his celebrated Stanford commencement address (which is itself an elegant, excellent model of the genre), he spoke frankly about his initial cancer diagnosis in 2003. It's worth pondering what Jobs did, and didn't, say:
No one wants to die. Even people who want to go to heaven don't want to die to get there. And yet death is the destination we all share. No one has ever escaped it. And that is as it should be, because death is very likely the single best invention of life. It's life's change agent; it clears out the old to make way for the new. Right now, the new is you. But someday, not too long from now, you will gradually become the old and be cleared away. Sorry to be so dramatic, but it's quite true. Your time is limited, so don't waste it living someone else's life. Don't be trapped by dogma, which is living with the results of other people's thinking. Don't let the noise of others' opinions drown out your own inner voice, heart and intuition. They somehow already know what you truly want to become.
This is the gospel of a secular age. It has the great virtue of being based only on what we can all perceive—it requires neither revelation nor dogma. And it promises nothing it cannot deliver—since all that is promised is the opportunity to live your own unique life, a hope that is manifestly realizable since it is offered by one who has so spectacularly succeeded by following his own "inner voice, heart and intuition."
Jobs was by no means the first person to articulate this vision of a meaningful life—Socrates, the Buddha, and Emerson come to mind. To be sure, fully embracing this secular gospel requires an austerity of spirit that few have been able to muster, even if it sounds quite fine on the lawn of Stanford University. Upon close inspection, this gospel offers no hope that you cannot generate yourself, and only the comfort of having been true to yourself. In the face of tragedy and evil it is strangely inert. Such a speech would have been hard to take at the funeral of Christina Taylor Greene, 9 years old, killed along with five others on a bright Saturday morning in Tucson, Arizona. It is no wonder that Barack Obama, who had to address these deeper forms of grief this past week, turned to a vision which only makes sense if there is more to the world than we can see. Anything less is cold comfort indeed.
But the genius of Steve Jobs has been to persuade us, at least for a little while, that cold comfort is enough. The world—at least the part of the world in our laptop bags and our pockets, the devices that display our unique lives to others and reflect them to ourselves—will get better. This is the sense in which the tired old cliché of "the Apple faithful" and the "cult of the Mac" is true. It is a religion of hope in a hopeless world, hope that your ordinary and mortal life can be elegant and meaningful, even if it will soon be dated, dusty, and discarded like a 2001 iPod.
A friend of mine says that human beings can live for forty days without food, four days without water, and four minutes without air. But we cannot live for four seconds without hope.
It's true for nations as well.
Jobs's leave of absence was announced on Martin Luther King Jr. Day, and in the entire twentieth century there was no one who conveyed more hope—genuine, biblical, and faith-breathed—to our culture than Dr. King. Then came Barack Obama, whose election ratified much of what King had dreamed of and fought for—a hope genuinely, if not completely, fulfilled.
But President Obama must lead in a world of trouble and terror. He has to venture outside the walled garden of technology presided over by a bitten apple (which in the latest design no longer bears a rainbow but simply glows with stainless perfection). On the very day that Steve Jobs introduced the iPad, President Obama had to address the State of the Union, and there was no "magical, revolutionary device" he could offer. In President Obama's world, our world, the bitter, bitten fruit is all too real.
Steve Jobs's gospel is, in the end, a set of beautifully polished empty promises. But I look on my secular neighbors, millions of them, like sheep without a shepherd, who no longer believe in anything they cannot see, and I cannot help feeling compassion for them, and something like fear. When, not if, Steve Jobs departs the stage, will there be anyone left who can convince them to hope?
This article was originally published at Culture Making.
Related Elsewhere:
Previous articles related to technology include:
The Face-to-Face Gospel and the Death of Distance | Al Erisman says we need to think about ministry in the digital culture the way missionaries think about the culture of the people they serve. (June 2010)
The Best and the Worst New Tech: What You Least Expect | Technology often brings a myriad of trade-offs. (November 17, 2009)
From the Printing Press to the iPhone | Shane Hipps urges Christians to discern the technology spirits. (May 6, 2009)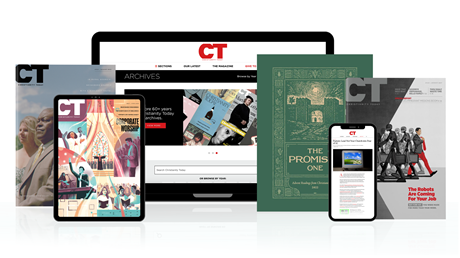 Subscribe to Christianity Today and get access to this article plus 65+ years of archives.
Home delivery of CT magazine
Complete access to articles on ChristianityToday.com
Over 120 years of magazine archives plus full access to all of CT's online archives
Subscribe Now
The Gospel of Steve Jobs
The Gospel of Steve Jobs