When Abby Johnson quit her Planned Parenthood career, she didn't expect to receive more criticism from people in the pro-life camp than from those who are pro-choice.
After watching an ultrasound abortion that left her deeply agitated, Johnson took an unexpected turn when she left her job as director of a Planned Parenthood clinic in Bryan, Texas, in October 2009. She immediately joined forces with Coalition for Life, whose members she had watch protest the clinic during the eight years she worked and volunteered there.
But crossing to the other side of the abortion divide was disappointing in some ways Johnson did not expect. The pro-life community does not focus on community, she says, at least not like the pro-choice community. There, everyone is united behind the common goal of keeping abortion legal, she says.
From Johnson's perspective, pro-life activists and policy groups spend too much time bickering over details like whether to protest using graphic signs depicting photos of aborted babies. She says she has been ridiculed for her opposition to engaging in any type of illegal activity or using violence.
The infighting has been her biggest surprise since joining the pro-life movement, she says.
"There are all these different facets of the movement [that] just argue constantly and that has been really disheartening for me," Johnson says. "People ask me if I've been hit hard by pro-choicers, and I say no, I've been hit hard by pro-lifers."
Despite her criticism of some pro-life groups and centers, Johnson offers praise for the 40 Days for Life campaign—an around-the-clock silent protest outside abortion clinics. She watched the first campaign take place at her own clinic in Bryan in 2007 and now holds up the silent protest as the ideal model.
Johnson, 30, chronicles her crossover from pro-choice to pro-life in the book Unplanned, a 152-page memoir published by Tyndale and Focus on the Family (there is also an edition from Catholic publisher Ignatius Press). Although Johnson grew up in a pro-life family, she accepted the invitation of a recruiter she met at college to volunteer for a Planned Parenthood clinic. After graduating, she accepted a full-time job and eventually became director.
At the time, Johnson enjoyed her job because she believed she was helping women—until one day when she was asked to assist with an ultrasound abortion due to a staff shortage. Earlier satisfaction was increasingly tarnished by a discomfort with abortion and her own feeling of alienation from God.
"For the briefest moment it looked as if the baby were being wrung like a dishcloth, twirled and squeezed," Johnson writes. "And then the little body crumpled and began disappearing into the cannula before my eyes. The last thing I saw was the tiny, perfectly formed backbone sucked into the tube, and then everything was gone. And the uterus was empty. Totally empty."
Shaken to the core, Johnson decided to quit her job. Still, her doubts about working for Planned Parenthood had been present for years. While she loved her job, she couldn't seem to overcome a feeling of alienation from God and fear that he would ask her to quit her job.
A search for the right church
While working for Planned Parenthood, Johnson and her now-husband applied for membership to a pro-life, Baptist church. When they were told she wouldn't be accepted for membership because of her job at Planned Parenthood, they moved on.
"I think too often in the Christian faith we miss out on opportunities to reach out to people that are walking down a very destructive path," she says. "There was no offer for ministry, there was no, 'We'd like to talk to you about what you're doing.'"
Eventually, they settled at a pro-choice Episcopal church so Johnson did not feel like she had to hide where she worked. There, she says she appreciated the liturgy.
But the acceptance, she said, turned into antagonism by some church members after she quit her job at Planned Parenthood, so they changed churches again—this time, to the Catholic Church. Many of her new friends at the Coalition for Life were Catholic and the familiar liturgy made her feel instantly comfortable, she says.
While Johnson says she feels called to the Catholic Church, her decision has also highlighted another division she feels exists in the pro-life movement: lack of cooperation between Catholics and Protestants. She says her scheduler tells her that some pro-life groups won't invite her to speak because she's Catholic.
"While we're worried about denominational infighting, babies are dying and women are getting hurt and that just breaks my heart," she says. "God didn't create denominations; we did."
That's a fair criticism of the pro-life movement, says 40 Days for Life co-founder Shawn Carney, who first met Johnson while protesting outside the clinic she directed. "The pro-life stance demands much more passion because we all naturally love children," Carney said.
Carney got to know Johnson during conversations through a fence where he and other Coalition for Life protesters would stand as women were ushered into the clinic. Eventually, the two became directors of their opposing organizations.
Despite the fact that Johnson had publicly criticized Coalition for Life when she was director of the clinic, Carney says he's never doubted her sincerity since she came over to the pro-life side. Even while directing the clinic, had always been nice to the protestors and listened to what they had to say, he said.
"She was passionately pro-choice, so it only made sense that she would be just as genuinely and passionately pro-life," Carney said.
Shortly after Johnson quit her job, Planned Parenthood initially tried to challenge her story in court, seeking a temporary injunction against her for allegedly disclosing confidential information, which a judge denied. While Planned Parenthood originally accused her of violating a confidentiality agreement, it later dropped the charges.
Using the past to focus on the future
Johnson now turns her years of experience at Planned Parenthood into advice for pro-life groups. Along with doing some consulting for Coalition for Life, she advises pregnancy centers on ways to look more like Planned Parenthood clinics.
Decorate with bright oranges and pinks. Banish the vines and pastel colors. And for goodness sake, get rid of the butterflies, she says.
"Every pregnancy center, I'm telling you, has a butterfly in its logo," Johnson says. "That's not something that's going to catch the eye of teenage girls."
Johnson brings knowledge to the prolife movement that few can offer. She knows secrets to Planned Parenthood's success—how the billion-dollar nonprofit draws millions of women and girls in through its doors each year.
Those well-researched techniques leave pregnancy centers with a lot to learn, Johnson says. Even though their funding is usually much smaller than their monolithic counterpart, they can take clients away from Planned Parenthood simply by playing copycat.
That's why Johnson wants to help pregnancy centers create a brand that appeals to the type of person likely to visit a Planned Parenthood clinic: a young woman who may not be familiar with Christianity. Before her Planned Parenthood position, she was a visitor to abortion clinics—once for a surgical abortion and again for a medication abortion.
Although she kept those abortions a secret for years, Johnson says the regret she felt about them pales in comparison to the regret she felt for working at Planned Parenthood.
"That was really a small part of the burden I carried, because I had coerced thousands of women into having abortions," she says.
She tells directors their centers should look more secular, since posting Bible verses on the walls could serve as a turnoff to girls fearful of being lectured. They should look like living rooms, not doctor's offices. Little details like updated décor are important, she says, as well as finding nicer buildings in locations more easily accessible to clients.
"Pregnancy centers sometimes aren't using their money in the best way," she says. "They're hanging onto this hand-me-down furniture and these falling-down, dilapidated buildings, instead of looking to [move to] a new location."
Overall, she says, pregnancy centers need to think of themselves as businesses competing with Planned Parenthood.
Related Elsewhere:
Unplanned is available from ChristianBook.com and other book retailers.
Her.meneutics previously covered Abby Johnson's resignation and her legal battle with Planned Parenthood.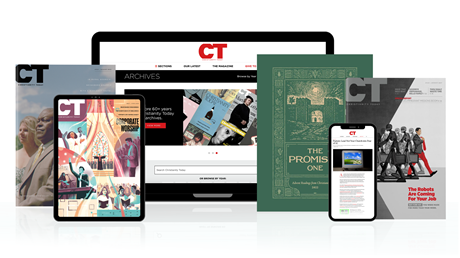 Subscribe to Christianity Today and get access to this article plus 65+ years of archives.
Home delivery of CT magazine
Complete access to articles on ChristianityToday.com
Over 120 years of magazine archives plus full access to all of CT's online archives
Subscribe Now
Pro-life Challenges, from a Former Planned Parenthood Director's View
Pro-life Challenges, from a Former Planned ...