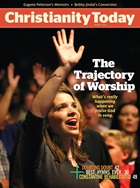 This article is from the March 2011 issue. Subscribers can read all of CT's digital archives.
Your Guide to Understanding and Living God's Word
George H. Guthrie
B&H Books, 2011
304 pp., $11.99

For many believers, the Bible itself appears intimidating, not to mention the hefty, seminary-level hermeneutics books teaching people how to read it. Union University professor George Guthrie seeks to make the Bible accessible by making hermeneutics accessible. Emulating Lee Strobel's approach in The Case for … series, Guthrie travels the country, interviewing biblical scholars and church leaders about how to understand the Bible. The result is an easy-to-read yet in-depth approach to hermeneutics that focuses on connecting the dots of the big storyline of the Bible.—Trevin Wax
Theological Reflections on Loneliness
Anette Ejsing
Cascade Books, 2011
103 pp., $14.00

Danish theologian Anette Ejsing uses her personal experiences of loneliness to understand the phenomenon as a Christian. Ejsing shows how Christian experience does and does not solve marital, spiritual, and social loneliness. She concludes by suggesting that loneliness is a form of suffering, and "if Christ is using it to accomplish redemption, then it is our privilege to rejoice in it."—Mark Galli
Robert Benne
Eerdmans, 2010
120 pp., $10.99

Stirred to "indignation" over misguided thinking about religion and politics, Lutheran scholar Robert Benne offers this firm corrective. Rejecting both a fastidious separation and a harmonious fusion between these oft-contested realms, Benne recommends the alternative model of "critical engagement." Blending insights from within and beyond the Lutheran "two kingdoms" tradition, he shepherds believers, voluntary ...
1
Books to Note