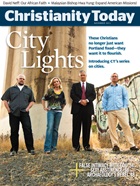 This article is from the November 2011 issue. Subscribers can read all of CT's digital archives.
Jared C. Wilson (Crossway)

Jared C. Wilson makes the case that Christians need not only to believe the gospel, but to so delight in it that sin loses its attractiveness and Christ becomes all the more glorious. This book seeks to "awaken" our affections to the beauty of the gospel, so that we will be satisfied in Christ alone. Aside from some rhetoric that could imply a dichotomy between "gospel wakefulness" and political activism, Wilson's work is substantive and inspiring.—Trevin Wax
Reframing Theology and Ministry for the Church


J. Todd Billings (Baker Academic)

Western Theological Seminary professor J. Todd Billings examines the doctrine of "union with Christ" in light of careful historical and exegetical reflection. Parting ways with recent Calvin scholars who seek to downplay the Reformer's forensic (or legal) view of justification, Billings shows how the truth of a believer's participation in Christ is grounded in Scripture and consistent with other Reformation insights. Union with Christ will start fresh conversations about this important New Testament doctrine.—Trevin Wax
God with Us


Matt Woodley (IVP)

The new law of Jesus, as outlined in the five great discourses of the first Gospel, is often said to be Matthew's unique contribution: He shows Jesus as the new Moses, the new lawgiver. Thankfully, Matt Woodley, a former pastor and now managing editor of PreachingToday.com, goes deeper. His theological and practical commentary shows a Jesus who is, more than anything, God with us. While calling for obedience, Jesus "never asks us to follow him with superheroic, overachieving, failure-free" obedience. Instead, the "poor in spirit" are the model disciples, ...
1
Books to Note