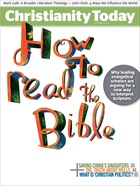 This article is from the October 2011 issue. Subscribers can read all of CT's digital archives.
Pushing Back Against Cultural and Religious Critics


Mark Coppenger (B&H Academic)

Mark Coppenger believes Christians should not shy away from our ethical heritage when defending Christian truth claims. Instead, we should consider the ways in which a Christian ethic intersects with Christian apologetics. If true ideas bring life to society, one should expect life and culture to flourish where Christianity is embraced. Coppenger's writing is feisty and persuasive as he argues for Christianity's moral superiority.—Trevin Wax
Experiencing the Playful, Disruptive, Extravagant Personality of Jesus


John Eldredge (FaithWords)

The newest book from John Eldredge seeks to surprise readers with the powerful per-sonality of Jesus. Eldredge is at his best when describing the awe-inspiring nature of Christ's incarnation and humility. Unfortunately, he tends to pit Christ's immanence against God's transcendence, as well as Jesus against the church. The end result is largely a "me and Jesus" Christianity.—Trevin Wax
George Whitefield and the Creation of America


Jerome Dean Mahaffey (Baylor University Press)

Jerome Dean Mahaffey's new biography is about a major Founding Father whose first name was George. No, not the man from the Mount Vernon, the one whose visage adorns the dollar bill, but George Whitefield, the British itinerant whose preaching propelled the First Great Awakening. Whitefield did not aim to rock the boat politically. Throughout his life, he pledged loyalty to the crown and the Church of England. But Mahaffey shows how Whitefield's bold challenge to settled religious doctrines and hierarchies helped coax the colonies in the ...
1
Books to Note