true
When Charlie Sheen had his drugs-and-alcohol-fueled meltdown earlier this year, his father could relate. Martin Sheen had battled his own demons as a younger man, as booze and anger issues nearly cost him his family—and his life. In 1976, at just 36 years old, he had a heart attack while filming Apocalypse Now; a priest even began delivering last rites before Sheen unexpectedly recovered.
The elder Sheen eventually overcame his alcoholism—but he still attends AA meetings—and returned to his Catholic roots. Sheen, who celebrates his 50th anniversary with wife Janet this year, tells CT that his faith, and his own life experience, enable him to extend grace and patience to his struggling son.
"Charlie is going through a very difficult period," the elder Sheen says. "People who are addicted to drugs or alcohol are generally seeking a transcendent experience. But it's like [AA's] 12-step program teaches: You have to surrender to a higher power—I happen to believe that's God—and ask for help, and then begin the reconstruction work on yourself. And that's a deeply spiritual work."
While Charlie walks his own difficult road, Martin has been literally walking another: El Camino de Santiago, otherwise known as The Way of Saint James, a 500-mile trail in northern Spain that serves as a spiritual pilgrimage of sorts for thousands of hikers annually. Tradition has it that the remains of the Apostle James are buried in the Cathedral of Santiago de Compostela, at the end of the trail.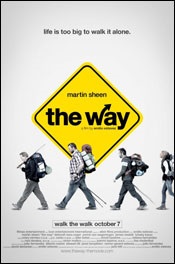 Sheen, 71, and his oldest son, Emilio Estevez, 49, have made a film about El Camino called, aptly enough, The Way (Relativity Media), opening in limited release on Friday. Estevez (who kept his given Spanish name while Martin and Charlie adopted stage names) wrote and directed the film, while his father plays the central role of Tom, an aging doctor trying to find his "way." After learning that his estranged son Daniel (played in flashbacks by Emilio) has died in a storm while walking El Camino, Tom flies to Spain, recovers his son's ashes, and spontaneously decides to walk the trail himself—carrying those ashes while wearing Daniel's hiking shoes and backpack. He meets other characters on the way, and it turns out to be a healing, cathartic pilgrimage indeed.
Sheen and Estevez told CT that the project felt like much more than just making another movie—that it was a powerful experience for both.
"I love the Camino," says Sheen, who had walked parts of the path during a brief visit in 2003. "It's a beautiful route and a deeply personal journey. People take the pilgrimage for many reasons, and each comes to grips with the inner journey, which is really a yearning for transcendence."
Estevez, who calls himself "secular," is less likely to talk in spiritual terms, but doesn't disagree with his father's assessment.
"I just wanted to make an honest film," he says. "If you're a person of faith, you'll find something in this movie that speaks to you. If you're not, you'll find something of interest too. But what I love about the Camino is that the road is a metaphor for our lives: Are we walking in truth? Are we walking with integrity? That's what speaks the loudest to me in this film."
In the film, father and son had grown apart—Tom as a hardworking, widowed doctor who "lives a very isolated existence," says Sheen, and Daniel as more of a free spirit who ignores his father's advice and skips grad school so he can see the world and experience more of life. They rarely see eye-to-eye; it's a part of the story that Emilio says is only semi-autobiographical.
"When I decided to get into the acting profession, my parents recommended that I go to college first in case things didn't pan out," he says. "I resisted that. I had a good GPA and probably could've gone to a fine university, but I wanted to work. Now, after 30 years of being in that mode, a part of me has that yearning, that wanderlust to put on that backpack, to break free of being responsible maybe for a year." Pause. "Well, at least a couple months."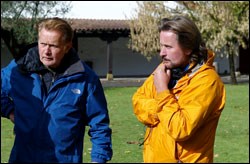 It's also biographical in that El Camino represents so much history for the Estevez family. Sheen's father grew up in the Galicia region in northwestern Spain—not far from where the trail ends—before emigrating to the U.S. And during that brief visit in 2003, Emilio's son Taylor—who was then 19 and serving as Martin's assistant—met a young Spanish woman whom he would soon marry; they now live in the area, prompting Emilio to say, "I kind of lost my son to the Camino as well."
The film was originally Sheen's idea. He wanted Emilio to write "about two old guys on the Camino," but his son had other ideas. Five years later, Emilio had a script they both liked, and they went with it.
Faith elements are clear throughout the film—prayer, conversations, several poignant moments in churches—but Emilio says his dad wanted it to be even more of a spiritual quest. "If he'd had his way, his character would have stopped at every church along the Camino and prayed and cried," Emilio says. "I said, 'That's a different movie, Pop. I think that would be overly sentimental.' You can't point a camera anywhere in Spain and not see a church. I told him, 'The church will be represented, but this movie is more about finding and creating community.' So we butted heads on that a little bit.
"I wanted more of a Wizard of Oz analogy in that Tom meets these other characters along the way—three younger people with whom he forms bonds, and through whom he ultimately reconnects with his son. He's able to be a father to these strangers in a way that he was never able to be a father to Daniel."
Sheen says he ultimately saw it from Emilio's perspective, and agrees that it was right. He notes that when Tom begins the journey, "he doesn't want anybody bothering him. He's Mr. Macho: Leave me alone. I can handle this. I've got my pain and my pride, and I have business to do here."
But when other sojourners begin to tag along , Sheen says "Tom begins to realize he cannot do it alone. On the Camino, you're part of a community with all of these other pilgrims. You can't do it alone, and yet you must do it alone. You might be with others, but you have to focus on your own interior journey. But then you all come together again at night, and share the things that happened during the day."
In the end, says Sheen, "It's a father-son story about loss and recovery. Father-son movies are generally about sons who become their fathers, but this one is the reverse. The father becomes the son, by taking this journey that his son wasn't able to take."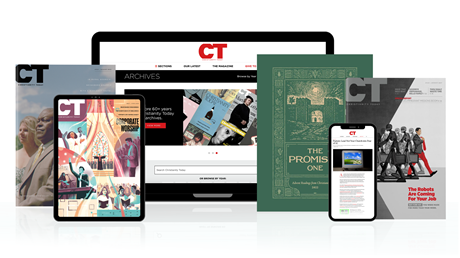 Subscribe to Christianity Today and get access to this article plus 65+ years of archives.
Home delivery of CT magazine
Complete access to articles on ChristianityToday.com
Over 120 years of magazine archives plus full access to all of CT's online archives
Subscribe Now
Interview: Martin Sheen Finds Transcendence
Interview: Martin Sheen Finds Transcendence