true
Snowmen is a family film that takes you to unexpected places. It starts out as standard kid comedy fare a la Diary of a Wimpy Kid or How to Eat Fried Worms, but then unexpectedly snowballs into a poignant drama with weightier themes of life and death.
It's also offbeat. The first five minutes alone include one of the grossest snot gags I've ever seen, followed by the discovery of a dead man in a front yard snow bank. Then the film's10-year-old narrator/protagonist Billy Kirkfield (Bobby Coleman) reveals to us that he will die before everything's over with.
That all seems a bit much for younger viewers, but this really is a film parents can enjoy with children ages 8 and up. Rather than being a dark drama preoccupied with death, Snowmen is primarily a charming comedy that affirms life through Billy's desire to find purpose and meaning.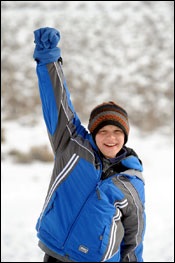 We learn early on through a clever reveal that Billy has cancer; shy about his baldness from chemotherapy, he always wears his wool beanie, even indoors. When Billy finds an old man frozen in his front yard, he starts to confront his own mortality, questioning how he'll be remembered in his hometown of Silver Lake, Colorado. With the help of his friends—wimpy Lucas (Christian Martyn) and Jamaican transplant Howard (Bobb'E J. Thompson)—Billy becomes determined to leave an unforgettable legacy0.
What can a 10-year-old do to be remembered? Brainstorming for a high-profile act, Billy discovers the Guinness Book of World Records and says, "If I could get my name in this book, I'd never be forgotten!" He comes up with some crazy stunts suited to Silver Lake's snowy landscape, but his initial ideas don't work out. But then he comes up with something that galvanizes friends and classmates into breaking a world record.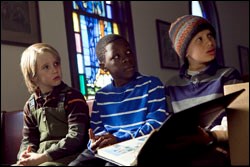 Snowmen ultimately reminds us that there's more to leaving a legacy than fame and notoriety. That's no spoiler, but how it gets to that place involves some unexpected moments of laughter, fear, sweetness, shame, courage, poignancy, and even hints of faith.
Its tone is akin to Simon Birch, the 1998 comedy-tearjerker about a diminutive boy who believes God made him small for a reason. It was funny, yet dramatic, while touching on Christian themes with its purpose-minded premise. Snowmen shares many of these qualities, and if Simon Birch was a little emotionally manipulative, this film arguably overcomes that in its clever storytelling.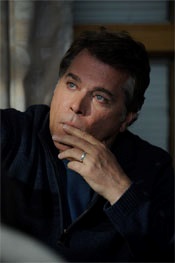 Snowmen also succeeds by depicting kids that feel real. Too many kids in this genre come across as stereotypes, but this film provides more depth and nuance. Lucas may seem the typical wimpy kid at first, but he's also very sweet and likable. Having a Jamaican kid adapt to snowy Colorado was probably meant as a recurring joke, but there's a toughness to Howard that makes him charming and noble—the rock of the trio. As for Billy, he's the heart of this film as we come to understand his dreams and fears.
And how often are kids shown as little more than mischief makers with catchphrases? Here the three boys are often seen talking about big topics. The best scene is a discussion about heaven that's certainly not theologically grounded—leaving the door wide open for parent-child discussion—but it's a humorous and believable depiction of how children would approach such a subject. Writer and director Robert Kirbyson has made a movie that is realistic to kids and a return to innocence for adults.
All the child actors are a joy to watch here, even tough-talking bully Jason (Josh Flitter), whom kids will regard as scary and relatable. Ray Liotta hams it up as Reggie, Billy's car salesman father who regularly appears in ridiculous commercials, and yet there's at least one scene in which Liotta's performance is also heartbreaking. Christopher Lloyd's welcome return to the big screen amounts to little more than a cameo, but it's a memorable scene as he delivers the film's main point.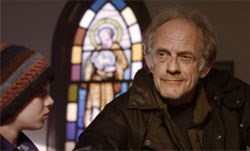 Snowmen is a production of Mpower Pictures, which has produced films with Christian themes and worldviews like Machine Gun Preacher, As We Forgive, and Bella. This small, independent production won awards at several film festivals in 2010, including Tribeca and Heartland, and is now finally getting a well-deserved limited run in theaters. It may not be perfect, but Snowmen is funny, engaging, thought-provoking, meaningful, and one of the best family movies I've seen in a long time.
Talk About It
Discussion starters
Discuss the conversation that the boys have about heaven. Is Lucas right that going to church is not an automatic pass? Is Billy right that all kids go to heaven? What determines our eternal destination (see John 3:16 and Mark 16:16)? Do you think the boys change their perspective by the end of the film? If so, why?
Billy tries to break a world record with snowballs and a death-defying sled run. Does the movie encourage reckless behavior? Why or why not?
Billy's father Reggie explains the difference between lying and "spinning" the truth. Do you agree that there's a difference? Or is spin just another form of lying?
Why do we feel it's important to leave a meaningful legacy? How does such a pursuit relate to our faith and God's calling? Why is it more important to focus on how we do something rather than what we do? And does why we do it play a role?
How does this movie illustrate "the power of one," that is, the ability for any one of us to make a transformational difference in the lives of others around us? What are some ways you can use this perspective in your community?
What is your perspective on miracles? Do they happen today? Are all miracles supernatural, or can they also be just circumstantial? Give examples of both in the movie.
The Family Corner
For parents to consider
Snowmen is rated PG for thematic material, some rough bullying and peril, language, and brief juvenile humor. It's not for very young kids, but probably best for ages 8 and up. There is some light profanity (e.g. "oh crap" and "screw you"). The juvenile humor includes a really gross snot gag and one of the boys making a curvy snowwoman. The thematic material may give parents more pause. The boys find the frozen dead body of an old man. School bully Jason makes violent threats, punches kids, and suffers a bloody nose of his own. And the scary peril involves falling through the ice of a frozen lake, along with the prospect of a boy dying from cancer. Still, it's a good film for parents to discuss matters of life and death with their kids.
Copyright © 2011 Christianity Today. Click for reprint information.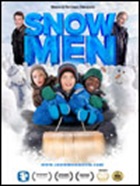 Browse All Movie Reviews By: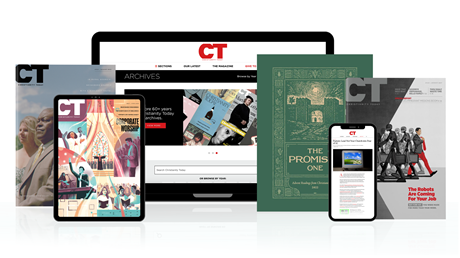 Annual & Monthly subscriptions available.
Print & Digital Issues of CT magazine
Complete access to every article on ChristianityToday.com
Unlimited access to 65+ years of CT's online archives
Member-only special issues
Subscribe
Snowmen
Snowmen