Facing criticism and boycotts from pro-life groups, breast cancer charity Susan G. Komen for the Cure has dropped its partnership and financial support of Planned Parenthood and its affiliates, the Associated Press reported today.
In its February issue, arriving in mailboxes now, Christianity Today examined the recent controversy over the partnership and LifeWay Christian Resources' decision to halt sales of its breast cancer awareness Bible. Some proceeds from the Bible sales were to be donated to Komen. (CT's earlier story is posted below.)
Komen spokeswoman Leslie Aun told the Associated Press that the recent controversy with Lifeway (the Southern Baptist Convention's publishing arm) was not the reason for the break with Planned Parenthood. Instead, she said, new organizational rules against grants to groups under governmental investigation came into play when U.S. Representative Cliff Stearns (R-Fla.) launched an inquiry.
Planned Parenthood, which conducts breast exams but not mammograms, received more than $600,000 from Komen last year. (One pro-life group put the number at $629,159. Planned Parenthood told the Associated Press that the grants were about $680,000.) Planned Parenthood president Cecile Richards said the organization is "alarmed and saddened that the Susan G. Komen for the Cure Foundation appears to have succumbed to political pressure."
Richards also indicated that "existing agreements or plans" between Komen and Planned Parenthood will continue, but that Komen Foundation officials have notified Planned Parenthood programs that they are ineligible for new grants.
While Komen officials have so far made no public statement about the decision, activists on both sides of the abortion fight are speculating on the involvement of Karen Handel, Komen's senior vice president of public policy, in the decision. Handel, the former secretary of state of Georgia, ran for governor in 2010. Part of her platform at the time was to eliminate state grants to Planned Parenthood. (LifeNews notes that Georgia Right to Life did not consider her sufficiently pro-life to win an endorsement.)
Pro-life groups praised the break between the organizations. "Obviously we applaud this move," said Melinda Delahoyde, president of Care Net. "Komen's mission is one that affects every woman, our mothers, our sisters, and our daughters, and it's a mission we fully endorse. It shouldn't be mixed with providing abortions."
Likewise, LifeWay Christian Resources president Thom Rainer said the publisher was grateful for the news. "As the husband of a breast cancer survivor, I am appreciative of Komen's legacy of fighting the ravages of breast cancer and am confident they will continue to do so," he said.
Rainer said the Here's Hope Breast Cancer Awareness Bible remains in the publisher's distribution center. "We are just beginning to discuss our next steps, including the possibility of re-engaging the partnership with Komen," he told Christianity Today. LifeWay's B&H arm had intitially planned for the Bible both to benefit Komen's breast cancer work (Komen would receive $1 for each Bible sold) while extending its Bibles into nontraditional outlets like Walmart. (The Bibles were not sold in LifeWay's stores.)
* * *
A campaign for pink faded after LifeWay Christian Resources halted sales of its breast cancer awareness Bible to major retailers. Proceeds were shared with Susan G. Komen for the Cure, which has donated funds to Planned Parenthood.
The Southern Baptist Convention's publishing arm pledged a minimum of $25,000 to Komen, including $1 from each pink Holman Christian Standard Bible sold. Komen, the nation's largest breast cancer organization, has sent funds to 19 Planned Parenthood programs for breast cancer screenings and health education.
LifeWay's proceeds were set up to support cancer programs with no dollars going to Planned Parenthood, said Andrea Rader, a spokesperson for Komen. The organization has more than 200 corporate partners, but LifeWay was the only one affiliated with a religious organization, she said.
"We made a mistake," LifeWay president Thom S. Rainer said in a statement. LifeWay will fulfill the agreement with Komen, said Marty King, a spokesperson for LifeWay, but it is asking retailers to take the Bibles off of shelves.
"There's nothing wrong with the Bibles," he said. "We just have no business being in even a perceived relationship with Planned Parenthood."
The Bibles sold from October to the middle of December before some pro-life websites highlighted the ties—ones pro-life leaders found too close for comfort.
Even if money from Komen only went to breast cancer screenings, pro-life leaders say any money going to Planned Parenthood helps fuel the organization.
"I am hopeful that [LifeWay's decision] will not squelch our hope to see breast cancer eradicated," said Melinda Delahoyde, president of Care Net. "At the same time, it's a good sign of awareness of where we don't want our money and support to go: the largest abortion provider in the country."
Komen's pink-ribbon campaign dominates breast cancer activism. But Dallas-based ministry leader June Hunt, who was diagnosed with cancer 10 years ago, believes Komen doesn't hold a monopoly on awareness. "Before I heard the 'C' word [cancer], I had no idea there were so many ways to reach out," said Hunt, author of Caring for a Loved One with Cancer. "There is so much help apart from Komen: ministries, books, resources."
"I'm afraid people will have a knee-jerk reaction and say, 'If I buy that pink bracelet, a child dies,'" said Sarah Thebarge, who has written for Christian publications about her breast cancer diagnosis at 27. "Instead of channeling [support] to a different place, people could use it as an excuse to not support research."
Publishers like Tyndale, Zondervan, and HarperOne have produced earlier variations on a pink Bible with a portion of proceeds going to groups that focus on patients. Donors tend to support either groups like Komen that focus on the big picture of eradicating breast cancer, or groups that provide counseling or financial support to patients, said Lynn Eib, author of When God and Cancer Meet.
"It's a question of where you want to put your money: in the forest or in the trees," she said. "They're both viable."
Have something to add about this? See something we missed? Share your feedback here.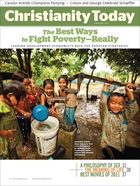 This article is from the February 2012 issue.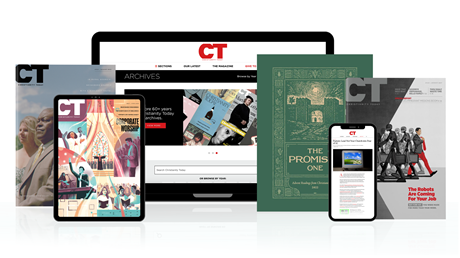 Annual & Monthly subscriptions available.
Print & Digital Issues of CT magazine
Complete access to every article on ChristianityToday.com
Unlimited access to 65+ years of CT's online archives
Member-only special issues
Subscribe
Pink Stink: Komen Drops Planned Parenthood Support
Pink Stink: Komen Drops Planned Parenthood Support