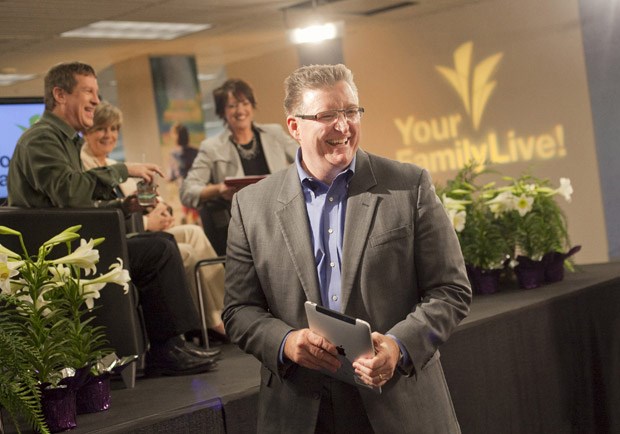 Image: Courtesy of Focus on the Family
One of the most eyebrow-raising names to join a group of evangelical leaders to release an "Evangelical Statement of Principles for Immigration Reform" was Jim Daly, president of Focus on the Family. The group has usually shied away from the issue publicly, saying the organization is not an expert in the area. Last year, Christianity Today published a cover story on how the organization has taken a distinctly different tone and emphasis under Daly than it did under its founder, James Dobson. Previously, we have noted how evangelical groups were hesitant to take a stance on immigration, including Focus on the Family. For instance, the Family Research Council, which was founded by Dobson, does not have a representative on today's list.
However, several changes among leadership and priorities have paved the way for other leaders connected with evangelical institutions to take a stance. Other names included Max Lucado, Russell Moore, Margaret Feinberg, J.D. Greear, and Timothy George. Organizations included World Relief, Bread for the World, the Southern Baptist Covention's Ethics & Public Policy Center, Esperanza, the National Hispanic Christian Leadership Conference, and the National Association of Evangelicals. Daly could not attend the gathering of several evangelical organizations on Tuesday, but longtime Focus staffer Tom Minnery will join the release. On Monday, Daly spoke with CT about why he signed the statement and what it means for the organization.
The statement you agreed to sign signals something new for Focus, is that right?
We've had a statement in the past but it's been for internal purposes mostly, and for people that have written us asking about our position. But it really said that we're not experts in immigration, we're concerned about families, but we don't really take much of a position on it.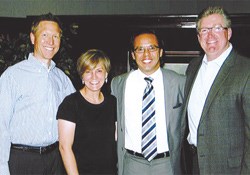 I just felt—along with the board of directors here at Focus, who just met this week so the timing was perfect—that fundamentally all of us were concerned about the family issues related to this issue now. When you look at it, the immigration issue is not just a legal issue. We respect what needs to be done there and hopefully we can strengthen laws, enforce laws and do all the things that we need to do in that way, because it's important for a country to establish its borders and maintain its borders. But when you look at the family impact now and the stories we've received over the past year or two, it's pretty tragic what's occurring.
I was aware of stories here in Colorado of people who have been waiting in line for green cards and once they get their green card they're waiting seven, eight years for their immediate family members to be able to get into the country. And I put that in the context of my two boys, Trent and Troy, 11 and 9, and I think, if I were in their shoes, stood in line, got the card, worked here in the United States and it would take me seven years to get my kids with me? They would be going off to college and I would have missed their entire teen years. It just seems immoral that we don't come up with a better system to fast-track immediate family members who have gone through the process properly.
Specifically, are there any policy recommendations that either you or the policy side of Focus through CitizenLink might think about in light of signing this statement?
I think the best thing we can do—because in many ways we are not experts in this area—is provide principles, hopefully biblical principles, on what we see as appropriate behavior when it comes to immigration issues, for the Christian community in particular. We want to do what we can to help families come together. Obviously we want to be fair to the taxpayers and make sure that taxpayers aren't burdened with those costs. But we don't have specific policies. We're signing the NAE document because we think it's a good start for the Christian community to recognize the issue and join 100 or so cosigners from a broad spectrum of theological and political persuasions.
Do you anticipate any backlash?
I would hope there wouldn't be, but that's part of leadership. I think we've got to recognize the difficulty with the immigration issue and we've got to do what we can to lead from our position. The biggest thing I'm concerned about is that we ratchet up the polarization on so many issues in this country. The Christian community has got to find the right footing to be able to express truth and express those things that are lawful, and at the same time express the heart of God. I just don't think the heart of God is against somebody trying to do better. People need to abide by laws. But we don't want to dehumanize people or stigmatize people simply because they're trying to better their lives and help their own families. We've got to be careful that we do not do that as a Christian community.
As we looked at who joined the statement, we also noticed who isn't on the list, people like Tony Perkins of the Family Research Council or maybe those from the American Family Association. Do you expect a coming discussion with these groups that are not on the list?
Do you want an on-the-record response? [Laughed] I don't know. I haven't really talked to those folks.
Do you expect more polarization to come?
Did you see the headline news [story] feature about the little boy singing in church about Romans 1:27, "Ain't no homo gonna make it into heaven?" I think in some ways that's a litmus test. I had two reactions: the heavy-hearted one. My heart broke for that little boy, for that congregation, to see that pastor smiling from ear to ear. And about that person's soul, that grieved me. I think the other response is this competitive jubilation of we're winning or we're keeping them down. I think we're at a fork in the road in the culture now where God's heart for humanity needs to show through us. With the core sense of the culture—this 24/7 news cycle and the polarization—we cannot take the bait as the Christian community. We've got to be more mindful of God's character and how he expresses himself through us.
You suggested in a statement that Christians need to work together "for the public agenda and the common good." How do you apply common good ideas or any other theological ideas to immigration policy?
What can the church do to encourage these people in a reformation of morals to get them on the right pathway in terms of immigration? We need to be a country of law. That's how things work and that's how we have order, so we need to respect that and honor that. The question is, what can the Christian community do to engage this community of workers coming from other countries without proper documentation and what can we do to encourage them to do the right thing?
Are you partnering with organizations and churches that are helping with engagement? With the statement, where does it go from here for Focus?
We wanted to sign the statement to show that we're in agreement on this with the Southern Baptist Convention and others; we really need to simply demonstrate our willingness to say that immigration laws aren't working, that we've got to get the lines moving for people. We've got to find guest worker approaches. We've got to do many things at the tactical level.
We just signed it this week. We just had the discussion on Friday. Today's Monday. I think we are generally in agreement with the principles. We talked about the NAE statement, strengthening the laws, recognizing the dignity of human beings and what these people face and try to bring some order to it, seeing if we can get the idea of legal residency started for some of these people. You can go to the back of the line, the middle of the line, the front of the line [for citizenship],things that can be worked out. I think we need to stop arguing about those things and find solutions. What are the solutions to help get these families together, get them in a lawful state, one that can be recognized, and then move forward? I think that is a healthy situation for the country. Let's get behind this, not play politics with it left or right and not fearmonger with it. These are people that need dignity. Even though in some cases they've broken the law, there's always that heartfelt story out there where you just tear up looking at what they're facing now. We need to do what's humane.
Was there any resistance from the board? Or is Focus on the Family's board a representation of how evangelicals have warmed up in this area?
There was really a great discussion about it. The key thing that I recognized was the Christ-centeredness of the discussion, and I was very proud of the board and how we talked it through. It wasn't a tough discussion at all. It was, "What would the Lord want us to do?" And we all came to the conclusion that it would be worthy to sign this NAE document.
Did you vote? Was it unanimous or just a consensus?
I can't go into details, but I would say it was heartily supported by the board.
One thing we noticed recently was that several Christian groups lined up on opposite sides on something called the Violence Against Women Act. At what point would Focus weigh in on something like that? Is it too politically specific, or are you still getting your footing on policies related to immigration?
I think specifically in that situation I do not know all the details. I have not consulted with anybody in that regard. I'm not familiar with all the details. Given the title of the effort I don't know how anybody would be against it if it was a protection for women, but nonetheless I don't know the details.
The questions raised by groups opposed were whether there was "a feminist agenda" and "domestic violence ideology."
I was not deep in that one. With Focus we look for opportunities to strengthen families and hopefully model the Lord's heart in all of this. Getting back to the original point, I think the polarization of the country is making it more difficult for groups that may have a difference of opinion on a variety of things to actually come together on something that is good for human beings and do it in a space where we can actually resolve some of the problems. We're allowing our inability to work together to override the principles of finding an answer. I want to turn it around and say, I know we have differences of opinion on principle, but where can we actually solve some problems?
On the statement, is there anything else you wanted to add?
I guess I'm a little surprised by some of the coverage already.
What's surprising to you?
The interest? I guess we all want to say listen, in terms of immigration, our system, our process is not working well. It's broken. We need to find new answers to this. We've got families that are hurt in the process. We have to strengthen the borders. We have to work with those who are here in a way that's fair and hopefully humane. I guess I'm surprised that that idea is such a huge deal.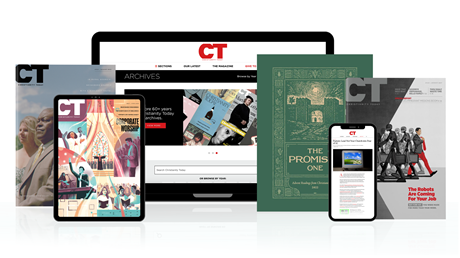 Annual & Monthly subscriptions available.
Print & Digital Issues of CT magazine
Complete access to every article on ChristianityToday.com
Unlimited access to 65+ years of CT's online archives
Member-only special issues
Subscribe
Exclusive: Focus on the Family's Jim Daly on a New Stance on Immigration Reform
Exclusive: Focus on the Family's Jim Daly on a New ...