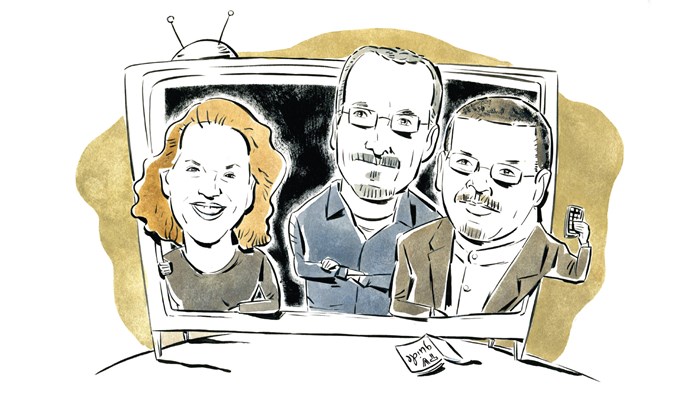 Image: Illustration by Amanda Duffy
They're Neutral
Carla Barnhill is former editor of Christian Parenting Today and author of The Myth of the Perfect Mother (Baker, 2004).
Before I rail about morality on television, let me be completely clear: I love television, always have, always will. But when I watch most television shows with my mommy goggles on, well, it's quite a horrific view.
I am an easygoing parent, but media is the one place I tend to skew toward the restrictive end of the permissiveness spectrum. There's something about a visual image that sticks with us in a more lasting way than a conversation or even words on a page. You can't unsee something, so my husband and I tend to be very protective about what our kids watch.
But here's where I tend to differ from many Christian parents I know: I'm not protective because I fear the moral damage television might do to my children. I'm protective because I want my children to stay children and not have to watch people being killed or hurt or harassed. I don't want them to see how awful people can be to each other—not yet. I'm protecting their outlook on humanity.
For us, the deal breakers are things like violence and sexual overtones. I have put the kibosh on Glee unless my teenager watches it with me so we can talk through the more suggestive storylines. But Wizards of Waverly Place? Dinosaur Train? The kids love them, they're sweet, and someone always learns a good life lesson—and that's enough for me. I'm not all that concerned about my kids finding an overtly Christian worldview on a TV show.
I find that so many evangelical parents tend to treat things like tv—and music and the Internet—as though the people creating ...
1