I watched Butterfield 8 with my husband last weekend. Elizabeth Taylor won an Oscar for her role as the sexually abused and sexually addicted call girl that falls in love. Her story is precisely what I've heard on the road from girls as young as 12. Sexual abuse found them early and turned them into women who seem to be all "sex and devil-may-care" (Butterfield 8).
But sexually abused women are not the only ones who end up interested in sex.
A long-time playboy and artist of Laguna Beach once calmly told me, "Women are just as sexually dominant as men," he paused, "Maybe even more."
His opinion is not an anomaly, though it may strike you as odd. Five hundred years ago, these words could have been uttered by a priest.
In the Middle Ages, priests informed the laity that women were naturally more lustful, insatiable, and visually stimulated. Can you imagine that? Women were the horny ones. Men, the celibate priests taught, were the naturally spiritual and rational ones.
How times have changed. In our Christian subculture men are the visually stimulated, carnal ones. "Women give sex to get love" (Every Woman's Battle). Shaunti and Jeff Feldhahn explain in For Men Only, "Your Body (no matter how much of a stud you are) does not by itself turn on her body" (P. 133).
Personally, I beg to disagree.
A man's body can turn a woman on … ask any woman about how she feels in Abercrombie and Fitch stores. Or ask the bride in Song of Solomon:
Like an apple tree among the trees of the forest,
So is my beloved among the young men.
In his shade I took great delight and sat down,
And his fruit was sweet to my taste (1:3).
Okay, you might say, but once the honeymoon is over and you've got kids and sleep deprivation? No woman sustains this kind of attraction to sex, not longterm. That's why Playboy sells more than Playgirl. That's why men talk about struggles with porn and women don't.
Well, I have news for you.
The internet filter review from ChristianityToday.com documents 70 percent of women keep their cyber activities secret. But, 1 of 3 visitors to all adult websites are women.
Women's attraction to the male body is a widely experienced but little publicized reality. Crystal Renaud, founder of Dirty Girls Ministries (DGM) shared in a New York Times interview last May on her own porn addiction, at age 10. She founded DGM to help women like her. Still skeptical? Just notice the posters on tween's bedroom walls or the way they gush over Justin Bieber or the Jonas Brothers, not simply their music, but their bodies.
Several years ago, when I read "The Naked Truth about Women's Lust," I felt, for the first time, like someone was finally talking about what I have experienced.
Lust, according to Jesus, is not merely noticing or feeling attracted to another man (or woman's) body. Feeling that magnetic pull of interest and amazement is not the same as imaginatively stripping someone naked and wanting them in bed.
Lust is the desire to have sex with someone you have not married (Matthew 5:27-29, looking on another human with a desire to commit adultery with them in your mind).
I am one of those women who have found myself struggling with lust. I am not addicted to pornography, but I am distracted to lust after handsome (can't I say "hot"?) men.
When a beautiful man or woman passes me and my husband on the street or monopolizes our time after a speaking event we both code awareness to each other. We use our eyes to say, "Yes, this is a beautiful body in front of me, but no worries. My appetite has been cultivated for you."
This discipline didn't start so easily.
I've learned to want my husband's frame, his uniqueness. I've learned to seek that look, to develop a taste for his body and soul.
But I still notice beauty, in men.
Talking about the beautiful people around us allows my husband and I to both safely confess and grow into desiring each other. It also means our temptations are never faced alone.
Marnie C. Ferree, a pioneering missionary for women's sexual addiction recovery, licensed family and marriage therapist and former sexual addict explains: "The most important thing you can do if you're struggling with sexual addiction is tell someone."
Years ago, after harboring fear and deeply buried shame for myself I finally realized I needed help, too. I confessed to my husband. Perhaps it seems small, but what I shared I knew was a growing fire; I was struggling with lust over a close friend of ours.
My husband responded, "Would you like to pursue counseling about it? Would you like us to stop communication with him? What can I do to help?"
This is a perfect response, but then, I've married a good man.
But even this good, handsome man doesn't mean lust is a non-issue for me.
Want more? Female sexual addiction begins with lust. I found help from applying the cry of the tax collector: "Lord, have mercy on me, a sinner" (Luke 18:13). Read how to work through this spiritual practice of inviting Jesus' mercy into lust here Lust Alive and Well Among Women.
Jonalyn Fincher is cofounder of Soulation, where she works as a speaker, writer, and philosopher. Married to an old soul living in the woods of Colorado, they have one son, two corgis, and a Siamese cat. A graduate from Talbot School of Theology and the University of Virginia, Jonalyn loves writing about women and sexuality at RubySlippers.org. For fun, she watches The Office and makes French omelets.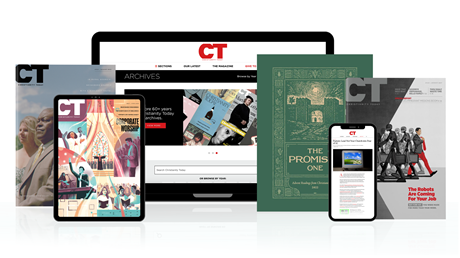 Annual & Monthly subscriptions available.
Print & Digital Issues of CT magazine
Complete access to every article on ChristianityToday.com
Unlimited access to 65+ years of CT's online archives
Member-only special issues
Subscribe
Confessions of a Lustful Christian Woman
Confessions of a Lustful Christian Woman