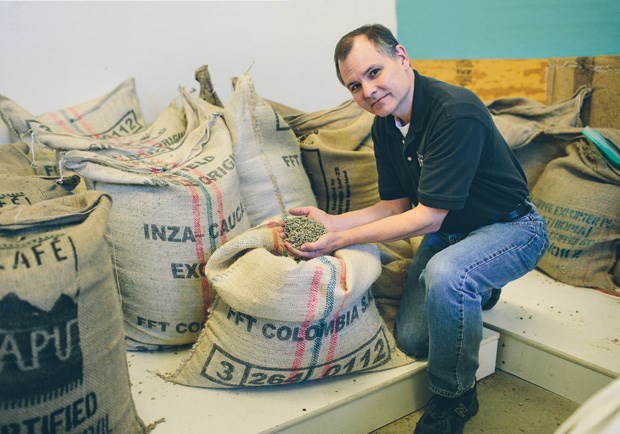 Image: Kate Miller Photography
There's a one-story building just off Liberty Drive in downtown Wheaton, Illinois, that seems similar to its neighbors—unless you happen to walk by and overhear the high-pitched whirring of a coffee roaster.
On a cold winter morning, the founder and roast master of Second Chance Coffee Company sits at a plastic fold-up table, a three-foot metal tube resting at his feet. It's a spare heater for the coffee roaster. Pete Leonard expects the current one to give out sometime during the Christmas season, when orders will begin pouring in.
"We're always in transition," Leonard says, handing me a mug of coffee brewed from beans roasted just hours before. Eyes lit up, he explains the delicate roasting process that highlights the one-of-a-kind flavor compounds in the coffee.
But Leonard, a Christian, isn't just a coffee connoisseur. He spends just as much time thinking about the people who roast it. The story of Second Chance, which markets coffee under the brand I Have a Bean, begins at a plantation in Brazil, where Leonard first encountered coffee roasting on a mission trip eight years ago. It was the best coffee he'd ever tasted.
"It had never occurred to me that a human being roasted coffee beans," he says, smiling. "As far as I was concerned, coffee came from Starbucks."
After he returned and drank all the coffee he'd brought home, he took matters into his own hands. Leonard, then part-owner of a local software company, began researching the science of coffee roasting: the process of using heat to bring out the color, taste, and smell of green coffee beans. Inspired, he designed and built a coffee roaster in a gas grill in his garage. Neighbors began coming to his driveway every Saturday to get his coffee—and they offered to pay.
Around the same time, Leonard watched as a family member fruitlessly searched for work after serving time in prison.
"He'd always get interviews, but the instant he had to check the box 'I'm a convicted felon,' that was the end of the story," Leonard says.
In 2007, Leonard and friends Dave Scavotto and Ron deVries began connecting the dots: The United States has the largest prison population in the world, with 2.2 million adults in custody. It also consumes 45 million pounds of coffee each year, more than any other nation.
At the time, Scavotto was volunteering for Koinonia House National Ministries, which helps Christians who have served time in prison reintegrate into church and society. Leonard realized that his relative's story was typical of a much larger problem: Many ex-convicts can't find work, which drives them into chronic unemployment or back to crime.
Over breakfast one morning, the three men took a napkin and sketched out their idea of starting a business that employed ex-offenders.
Leonard knew of nonprofits in this vein, and he had seen many charity coffee companies, but the for-profit model fit best.
"I wanted everybody here to produce the best possible product that people would want to buy, and not work so much on guilting people into buying our coffee because of our mission," he says. "If the coffee is bad, you're not going to buy it again."
Leonard and his wife, Debbie, invested thousands of dollars to launch the business, and Leonard eventually left his job to pursue it full time.
Today, seven out of Second Chance's ten employees are postprison, including John Quinn, who worked as a corporate headhunter for over 20 years before being convicted of forgery. About a year after being released from prison, he joined Second Chance in 2010.
"I came here when I had nothing," Quinn says. "I was willing by that point to be honest about who I was, what I had done, and what my prospects were, which weren't very good." Quinn now interviews postprison applicants who come from similar circumstances.
About 35,000 people are released from prison every year in Illinois, according to the Illinois Department of Corrections, and 47 percent are incarcerated again within three years—a recidivism rate that can, in part, be traced back to few employment opportunities.
It's even more difficult for people with criminal histories to find jobs when an economy shifts away from manufacturing. The 2008 recession exacerbated that scarcity, taking a toll on service industries and slowing the expansion of restaurant franchises and big box retail stores.
"Businesses that are organized toward purposefully hiring people with criminal histories or people coming out of prison [are] very rare," says Malcolm Young, director of a prisoner reentry program at Northwestern University Law School's Bluhm Legal Clinic. Companies that hire ex-offenders can apply for federal and state tax credits, but it's often not enough of an incentive for businesses to choose ex-offenders from a pool of qualified applicants.
According to Young, a business won't intentionally hire postprison employees unless it's owned by someone committed to that mission—someone like Leonard, who allows his social mission to shape each aspect of his business.
"We don't want people to be preemptively judged because of their time behind bars," Leonard says. "They've already paid their debt to society."
It's normal for employees to take time off for court dates, counseling, and parole officer meetings. But they're also "easily the most dedicated, most enthusiastic, most dependable set of employees I have come across," says Leonard.
Igniting Fires
Second Chance is not yet profitable, but business has been growing fast. Ryan Chada, who stocks I Have a Bean coffee in Whole Foods Market in Wheaton, says it's the top-selling coffee, and also one of the most expensive, at $16.99 per 12-ounce bag.
"[Customers] see the bag and automatically connect that with quality and what they do as a company," Chada says. "It's got a great base, and they're going to take off."
Like most startups, the company requires significant personal faith for Leonard and his family. Sometimes it's hard to meet payroll. Leonard, who normally works 12- to 14-hour days, didn't take a salary for the first two years.
"Running a small business is nothing but putting out fires and avoiding catastrophes. If you aren't up for that, you shouldn't be in business, because that's all it is," he says. He means it literally: At any coffee roasting plant, it's not unusual for coffee beans to catch fire, and the local fire department has gotten used to receiving calls from concerned neighbors.
'I want us to produce the best possible product, and not work on guilting people into buying our coffee because of our mission. If the coffee is bad, you're not going to buy it again.'—Pete Leonard, founder, Second Chance Coffee Company
"It gets to the point where your security is in God and not in your bank account," says Debbie Leonard, who handles the company's bookkeeping. The work comes home, too. Their family's Thanksgiving plans last year, for example, included applying 13,000 labels to coffee bags by hand.
"The thing that solidified it for me was realizing how everything my husband had done in the first 25 years of our marriage prepared him to do what he's doing now," she says.
Providing employment for an ex-offender has a sizeable effect beyond the job, according to Jim Liske, CEO of Prison Fellowship. "For a mom or dad returning from prison, it means being able to be a provider. For a husband or a wife, it means serving his or her family and being able to pull the family out of the spiral of poverty and social assistance," Liske says. "It is a sign of redemption."
"It's unlike anything I've ever been involved with," says Rob Larson, a Second Chance roaster. "Everybody knows they're not getting paid a whole lot, yet we still push. If you don't, we're going to go under, so everybody gives it their all and then some."
Larson has a family history of mental illness, which resulted in chronic depression and drug abuse. In 2006, he was charged and convicted of lewd and lascivious behavior and sentenced to two years of probation and a treatment program. He will remain on the sex offender registry for the next several years.
"When you have a label like mine, it's really hard to do much of anything. People lump you into a category," Larson says. "As soon as somebody learns of my title, it's over."
A neighbor told him about I Have a Bean. "It was the first nonseasonal job I've ever been able to lock down. It's been a blessing," Larson says. "Compared to all the other jobs I've lost, then just acceptance—it's incredible." He helps to write the flavor profiles that are attached to each bag of I Have a Bean coffee. The profile for Peru Norte, the company's most popular roast: "Aromas of fig, raisin, spice and a hint of chocolate create an anticipation of what's to come." Some day, he hopes to use the skills gained at Second Chance to start his own business.
Scaling Up
Every step required to make I Have a Bean coffee is driven by the company's mission—including the machine that roasts the coffee.
Starting out, Leonard knew he couldn't operate the business out of his cramped garage. But he faced another obstacle to sustainable growth: It takes about two years to master the roasting of coffee on a typical commercial machine, because the operator must constantly adjust the temperature throughout the sensitive process.
Leonard wanted a roaster that would allow an employee to roast good coffee from day one. That machine didn't exist—so Leonard's company invented it. The working prototype looks like a gadget out of a Dr. Seuss book. "It looks like it's held together with baling wire and bubble gum, and because it was all handmade, there are slide gates and things hanging off it that don't do anything anymore," he says.
But the "Bean Master 5000" works. The employees manually roast each type of coffee about 20 times to find the best roast, and then the roaster's software can repeat the process, adjusting the temperature of the beans 10 times per second to produce consistent results.
Leonard wants to manufacture the machine and build microroasting plants across the United States—starting in Denver and Milwaukee—wherever he finds enough demand to sustain a plant.
"We'll employ locally in every community that we're in," says Leonard, who anticipates becoming "the largest postprison employer in the world." If they can reach their goal of having 150 U.S. microroasting plants, he says, they will also be the fourth-largest coffee roaster in the world.
"I can't imagine doing anything else," Leonard says. "I've done plenty of things in my lifetime. This one is the hardest, the most fulfilling, and the most fun—all at the same time."
April Burbank will graduate from Wheaton College in Wheaton, Illinois, in May. Go to ChristianBibleStudies.com for "Called to a Life of Mercy and Justice," a Bible study based on this article.
Have something to add about this? See something we missed? Share your feedback here.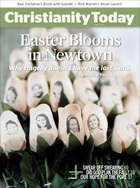 This article is from the April 2013 issue.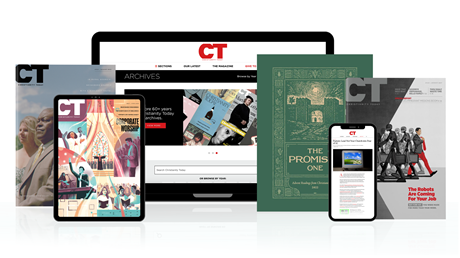 Annual & Monthly subscriptions available.
Print & Digital Issues of CT magazine
Complete access to every article on ChristianityToday.com
Unlimited access to 65+ years of CT's online archives
Member-only special issues
Subscribe
The Hope Roaster
The Hope Roaster