true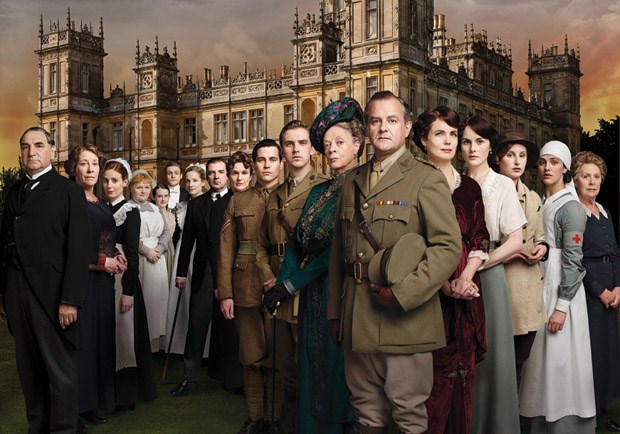 Let's start with the basics:
The record-breaking Downton Abbey spans a deliciously long stretch of time. The show includes the wreck of the Titanic, in which the Crawley family loses its heir, the lead-up to World War I, the War itself, its aftermath, and now, in Season 3 (or "soon in Season 3," depending on where in the world you live and/or how good you are at locating British Broadcasting Corporation web feeds) the advent of the roaring 20's.
The show's writer and primary creative force, Julian Fellowes, is a practicing Catholic.
The show is set in an old abbey. The family who own Downton, especially the older generations who have the most to lose by losing the house, are obsessed not only with the house itself, but also with its history.
Also they employ a vicar.
So how is it that God is a peripheral presence at best?
To be fair, there have been a few mentions of God. During Season One there was a perfunctory scene set in a church, but it was basically about architecture. At the beginning of Season Two, the evil footman Thomas asked God's forgiveness for sticking his hand out of the trenches to be properly shot so he could return home with a medical discharge.
To be fairer still, Season Two included two moments of devout prayer: Lady Mary praying at her bedside when her beloved Matthew goes missing at the front, and two servants interceding for Matthew and another missing footman during the same period.
By some measures, this would be a watershed on a hit show—two scenes in which people sincerely pray! But in Downton, these events were so late in coming that they did more to point out a missed opportunity than to fill it.
There are a lot of characters in this show. The central "upstairs" cast includes a large family, various cousins and friends, and the local doctor. The central "downstairs" cast includes a similar host, from the cook's assistant to the chauffer.
During all these years of heartbreak, illness, transition, and death, the doctor was a regular fixture. But the vicar did not appear until halfway through Season 2. He had one set of lines, and if you went to pour your tea at the wrong moment, you probably missed him. During his brief appearance, we learned that the vicar lives on the family's land, and is beholden to Lord Grantham for both his livelihood and the flowers on his altar. Yet up to season 3 he seems to play less of a role in the household than the servants' new Ouija board.
Of course, any writer must choose which parts of his characters' lives to show and which to omit. We don't see Crawleys meeting with accountants, getting haircuts, or buying shoes—presumably because such events aren't very interesting (though I would be interested to see Maggie Smith's supremely witty Dowager Countess doing any of the three). Watching people go to church may not be much of a thrill either.
But what about the time- and genre-tested possibilities of a wily local vicar? In the poor man's one speaking scene (with Maggie Smith), he barely got a word in edgewise. How much deeper and more fun the show might be with a vicar—or some person of visible faith—who could match the Countess' wit and gravitas.
When he was appointed vice president of the Catholic Association of Performing Arts last year, Fellowes hinted that faith would enter Downton's central storyline in the near future.
Last year he also revealed that Downton Abbey's history is, in his conceit, similar to that of Highclere Castle, the house in which the show is filmed. This would mean that Downton was a convent or monastery before King Henry VIII appropriated it from the Catholic Church and either sold it or gave it to the Crawleys during the Reformation—or else the king let it pass to another family into which the Crawleys later married.
Surely this history looms large in the imaginations of the Crawley family, particularly its senior members, who would be deeply aware of the reasons their home was built and transferred into their family's hands in the first place—and the reasons it might be transferred out again.
Season 3 begins on Sunday night here in the US, though record numbers in the United Kingdom have already seen it, along with many Downton-obsessed, tech-savvy Americans (and their parents).
Full disclosure: I haven't yet. But I've been unable to avoid spoilers—especially about cast members leaving the show (and their characters' inevitable and commensurate deaths). Funerals will doubtless ensue. A dim glance into the Downton future, via such spoilers, reveals a return of the vicar for two or three episodes—and also a brief kerfuffle about whether or not a Crawley child should be baptized Catholic. Alas, major plot points seem to center around money and Shirley MacLaine.
It's been well reported that Downton Abbey is the most successful British period piece since Brideshead Revisited, the series based on the Evelyn Waugh novel. Both are set in roughly the same geographic and economic regions—and as of Season 3, with some time overlap as well. Both stories mark long and descending trajectories for once-great English families. But the plot of Brideshead is driven by and steeped in its characters' passionate and complex relationships with God. Waugh's story turns on a crisis of faith that both sums up the sea changes of aristocratic life at the end of the nineteenth century and transcends earthly questions with spiritual ones.
Of course Fellowes has no obligation to repeat this accomplishment, and presumably has little interest trying. Yet it remains striking how much divine trapping there is in Downton Abbey, for what little role explicit faith plays in its characters' lives. There are numerous fascinating blog posts, including this one, that search for implicit Catholic and Christian themes in the show—good and evil, suffering for cause, various types and grades of love and devotion. At some point, though, especially with a vicar in the family's employ, it seems odd for such connections to remain unnamed, unspoken, and, for all we can see, unperceived.
In September, the BBC reported that Fellowes had begun development of a Downton prequel that will center on the courtship between the Earl and the Countess. That show was recently picked up by ITV. Fellowes said it wouldn't air until after Downton Abbey proper has concluded; Downton was also just renewed for a fourth season.
Perhaps Fellowes intends to write more explicitly about faith in the prequel; perhaps one of the Crawleys, or their servants, will wrestle with their faith in some future storyline of Downton Abbey. Perhaps Fellowes will revisit Brideshead between seasons and see what he can steal.
We can hope.
Todd Dorman has an MFA in fiction at Columbia University, and has written for The Paris Review, Image, and other publications.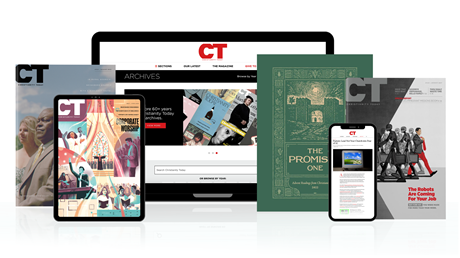 Annual & Monthly subscriptions available.
Print & Digital Issues of CT magazine
Complete access to every article on ChristianityToday.com
Unlimited access to 65+ years of CT's online archives
Member-only special issues
Subscribe
Why Is God Still Absent from Downton Abbey?
Why Is God Still Absent from Downton Abbey?