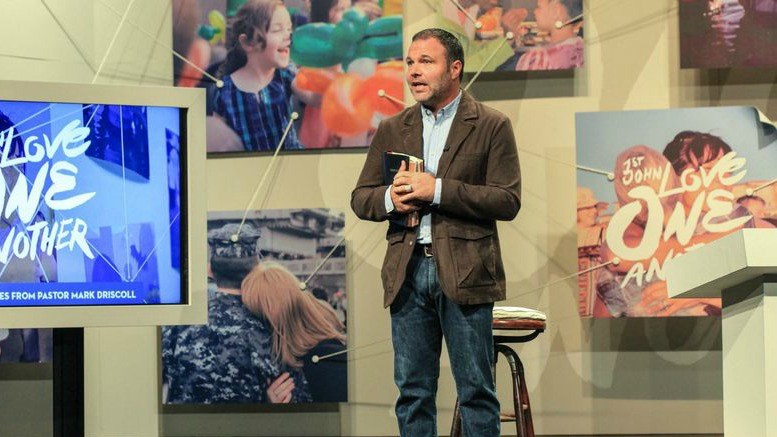 Image: Mars Hill Church
For years, Mars Hill has been known as a church that cares deeply about right thinking and strong theology, but rarely do people associate it with love or grace. It harkens Revelation 2:4, where Jesus tells the church in Ephesus that although it endured well and walked righteously, it had abandoned love.
The leaders at Mars Hill are taking that accusation as their own. On Sunday, Pastor Mark Driscoll—my pastor—unrolled a statement announcing his plans to step down while he sorts through years of unresolved conflicts. He dreamed about gradually being known more and more for his love, and not his accomplishments, having planned a sermon series from 1 John on love. He apologized.
The Mars Hill family—my congregation and church family—responded to Pastor Mark's statement with a standing ovation.
His vulnerability and the occasional tear demonstrated to us he no longer needed to be the fist-pounding, brash preacher that founded the church. The body was ready to forgive him. His statement also came with a dramatic restructuring of internal leadership. An internal elder board was formed with its first goal of resetting the church culture to one known for its love. The already existing Board of Advisors and Accountability will be staffed with more locals, instead of big-name preachers.
The world watched as God stripped Mars Hill of its reputation, many star leaders, its connections, and its own church-planting network. Now the global church has the chance to watch as God rebuilds.
The remake will undoubtedly test the limits of the web. The Internet creates an unprecedented opportunity for sermons to reach the world with the gospel. Those same channels have likewise been used to send discouragement and create division. As life moves on, there is an opportunity to see what God's plan has been through the drama. While hindsight always seems to find clarity, what if we looked for evidences of God's work now?
I allowed myself to hold on to unforgiveness toward Pastor Mark as a way of proving to myself that I didn't idolize him. During a campus gathering about four years ago, he lost his temper and accused the whole body of being unfaithful. His meltdown during this misunderstanding was both shocking and crushing. Yet, holding onto unforgiveness didn't protect me. Meditating on the failures of our leaders doesn't give us a healthy perspective. It merely prevents us from humbly receiving the lessons God teaches us through their weaknesses. The best way to avoid glorifying a leader is to glorify Jesus first.
Pastor Mark's weaknesses are often similar to mine. We both at times lack gentleness, patience, and grace. As he learns these qualities, I get to feast on another example of how God tempers the blunt prophet-types.
Several months ago Pastor Mark said that he once viewed himself like a big brother to the other elders, and that big brothers are tough, sometimes a little mean. He now sees that while he may have behaved that way, his staff always viewed him as a father. A strong word from a brother may sting, but the same word from a father can crush. With a shift in perspective, Pastor Mark recognizes the necessity of instead acting as a loving father. As a straightforward, "here's the truth, deal with it," kind of person, I can't emphasize how deeply this change struck me.
Pastor Mark adapted how he interacts with staff over the past few years. In addition to cutting away his responsibilities at parachurch ministries, he spent more hands-on time with the leaders by teaching weekly staff chapels. While I don't spend time with him myself, the new gentleness his elders speak of has been evident in the temperament of the leadership as a whole.
When Pastor Mark rose to apologize Sunday, I was moved by his openness and humility. In those minutes, the Holy Spirit rose my unforgiveness to the surface of my heart and held it there, showing me that I hadn't loved Pastor Mark well. I was ashamed, because it wasn't until he told us directly —"I'm sorry for the times I have been angry, short, or insensitive. I'm sorry for anything I've done to distract from our mission by inviting criticism, controversy, or negative media attention."—that I let it go.
Jesus makes it possible to forgive without an apology, but I was too proud, too eager to prove that I too had a grudge. While I felt the shame of realizing I hadn't grown quite as tall as I thought, I was stirred by the realization that my forgiveness was a response to Pastor Mark's own vulnerability.
People don't like to admit it, but we emulate our leaders. I found myself sharing in the vulnerability he demonstrated that morning. It was a taste of what God can accomplish through a preacher that doesn't just give his flock truth but also love.
Albeit less publicized, John Piper once also found himself stepping down from ministry to focus on similar character flaws of pride. He healed and returned to minister to his church until retirement. When Pastor Mark presented his statement, Piper responded with an encouraging word that points to the belief that God works through all things for the benefit of those who love him. He wrote, "I hope Mark Driscoll feels a tidal wave of hope-filled prayer for a new day and a new man in this season."
In the wake of the many raw emotions that painted Christian blogs for the past year, let's find another. Let's take hope that God is at work at Mars Hill in spite of us. Let's look for evidences of God's grace and grow from the lessons its leaders are learning today.
Celeste Gracey is a freelance writer and award-winning journalist in the Seattle area. She holds a B.A. in communications from the University of Washington's journalism program.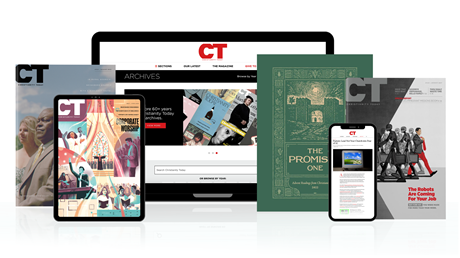 Subscribe to Christianity Today and get access to this article plus 65+ years of archives.
Home delivery of CT magazine
Complete access to articles on ChristianityToday.com
Over 120 years of magazine archives plus full access to all of CT's online archives
Subscribe Now
Forgiving My Pastor, Mark Driscoll
Forgiving My Pastor, Mark Driscoll