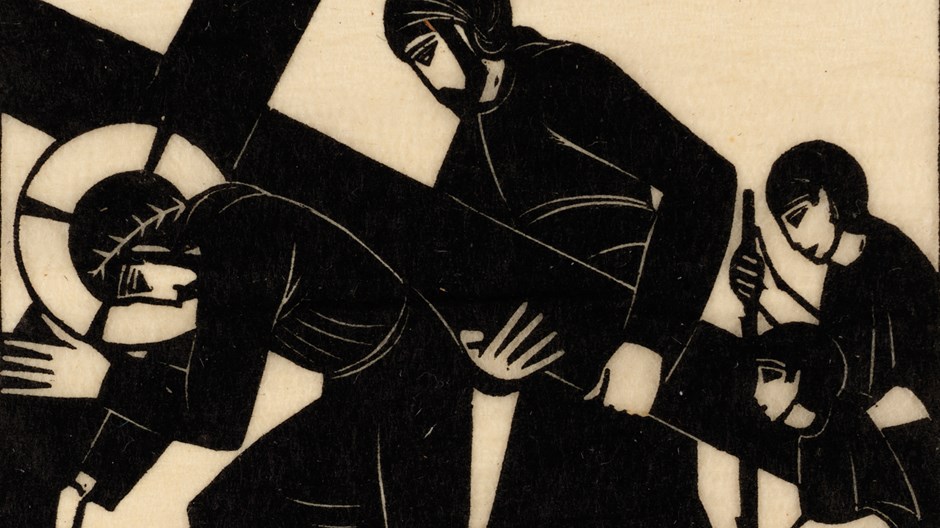 Image: Eric Gill / Tate
It's difficult to prove that 2014 has been worse than other years, but it sure feels that way. The Syrian Civil War claimed another 30,000 victims this year, bringing the total dead since 2011 to more than a quarter million. Closer to home, Mexico's drug war took another 1,400 lives, bringing the total dead to 150,000 since 2006. The numbers are equally gruesome in Iraq, South Sudan, and the Democratic Republic of Congo, to name just a few.
Add to that the people displaced by such conflicts. In 2013, the world refugee population exceeded 50 million, and it only went up in 2014. That doesn't include internally displaced people, which the United Nations estimates to be about another 33 million.
Terrorism seems to have gained the upper hand as well. One appalling example: In April, Boko Haram kidnapped 276 girls in Borno State, Nigeria, with the intent of selling them into slavery. And then there's ISIS, whose atrocities against civilians have become legendary, as they mass murder and behead those who don't share their beliefs.
And in the last few months, the name Ferguson has become a resounding symbol of continuing racial confusion, injustice, and grief.
The temptation to despair or deny is always with us. Yet at just such times, we might recall why we choose, sometimes joyfully, to let ourselves feel the weight of the world's sufferings.
Completed by Suffering
Our times are not unlike the time when the Savior of the world was born. At the siege and battle of Alesia in 52 B.C., Julius Caesar's army suffered some 13,000 casualties, and the Gauls, somewhere between 50,000 and 90,000. In A.D. 79, some 16,000 died from the eruption of Mount Vesuvius. Then there were the diseases without cure, which resulted in an average lifespan of about 30 years.
One mistake we understandably make is to think that Jesus came to relieve suffering. To be sure, in the end, "He will wipe every tear from their eyes. There will be no more death or mourning or crying or pain" (Rev. 21:4). In the meantime, however, a large part of the Christian life is about learning to bear the pain of the world.
But why? To share in another's sufferings indeed brings a measure of comfort to them. Yet it doesn't take away the suffering. Paul says it's more about fulfilling the law of Christ. Elsewhere he says something even more startling: we are called to complete the sufferings of Christ (Col. 1:24).
Paul didn't mean that Christ's death failed to win redemption. That "is finished," after all (John 19:30). But we are not yet finished with participating in his suffering, "becoming like him in his death" (Phil. 3:10).
We often say that to become like Christ means living holy lives and loving our neighbor. Yes and yes. It means to know the joy of salvation and intimacy with the Father. Yes and yes. But it also means to do what God did in Christ: to enter the suffering of the world. Christ bears the suffering of the world to redeem it. We bear the suffering of the world as an act of love that completes our redemption. That is, bearing others' burdens is the means by which God sanctifies us. We "complete" these sufferings when the suffering conforms us to the image of Christ. Suffering finds its goal when we become like Christ in his willingness to bear burdens.
When Jesus stood at the grave of Lazarus, he wept (John 11:35). Today, we can stand with Jesus as we behold the tomb that is the world. To be like Christ at such times means to weep. We do not weep without hope, for we know that Jesus, as he did with Lazarus, will bring new life. Yet part of growing into the full stature of Christ is to face suffering and learn how to weep.
This Christmas season, then, we might meditate on the very suffering world for which Christ died. We don't have to deny it or despair because of it. Yes, taking moments to contemplate it—to bear this burden—is painful, but a yoke that is light and easy when we are tethered to Christ (Matt. 11:30). Then our bearing is joined to his bearing, and when so joined, shapes us into the image of Christ. That in turn does something marvelous for the world: the more we are so conformed, the more we will move mountains and tombstones to bring Christ's healing balm to a world of open wounds.
Mark Galli is editor of Christianity Today.
Have something to add about this? See something we missed? Share your feedback here.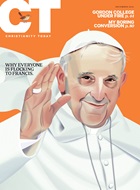 This article is from the December 2014 issue.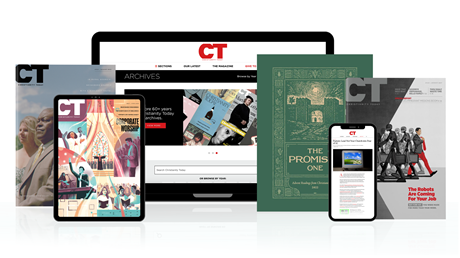 Annual & Monthly subscriptions available.
Print & Digital Issues of CT magazine
Complete access to every article on ChristianityToday.com
Unlimited access to 65+ years of CT's online archives
Member-only special issues
Subscribe
The Weight of Ferguson, ISIS, and Boko Haram
The Weight of Ferguson, ISIS, and Boko Haram