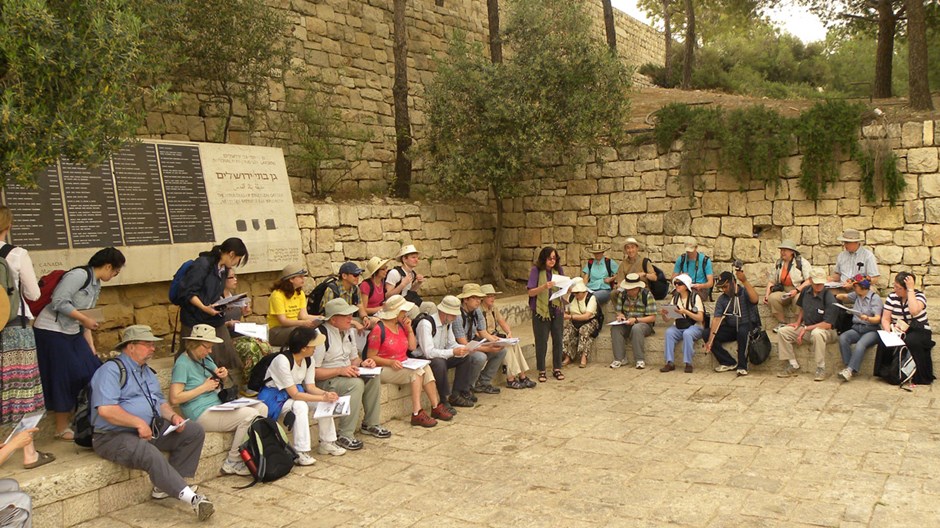 Image: Ian Scott / Flickr
If you do an internet search for "Pilgrimage to Israel," one of the first sites to appear is sponsored by the government of Israel. Follow the link "The Pilgrimage Experience" and you are greeted with a verse in large, red font.
"And the Word became flesh and dwelt among us, full of grace and truth; we have beheld his glory, glory as of the only Son from the Father." (Jn. 1:14)
Just below this, the Ministry of Tourism describes what a pilgrim is likely to experience.
Pilgrims frequently describe their pilgrimage to the Holy Land as a life-changing experience. They find it difficult to express the absolute bliss they feel during this unique spiritual adventure.

As they literally follow the footsteps of Jesus, some find the journey a way to get closer to Jesus or to discover the roots of their Christian faith. Others recount passionate feelings of being human bridges for peace and reconciliation or of feeling part of the rich tapestry of religious history that inspires every corner of this Holy Land.

Despite the deeply personal nature of the Holy Land experience, the pilgrimage itself unites all believers as one. It unites them in Christ, in Faith and in their contribution to preserve the precious Christian heritage in this magnificent land.

"And he said to them, "Follow me…" (Matt. 4:19)
It's a beautiful image, one that inspires millions of travelers to book tours—carried by luxury air-conditioned coaches, led by skilled tour guides—through the sites of Israel/Palestine each year.
Yet this sense of commodification, or what some scholars have called the "Disneyfication" or "McDonaldization" of the Holy Land, that has left some dismissive of the experience. How do travelers find something true, something spiritual, from such carefully planned itineraries?
This is the sort of question Hillary Kaell, assistant professor of religion at Concordia University in Montreal, set out to answer in her beautifully wrought ethnography of Holy Land travel, Walking Where Jesus Walked: American Christians and Holy Land Pilgrimage. She poses a number of questions: How do tour guides minimize the intrusion of commercial activity into what is billed as a transformative spiritual encounter? How do travelers sort through the politics, change, and contestation taking place in this part of the world to find something "real?" Most basically, Kaell asks: What does it mean to return to the source, to "walk where Jesus walked," in the context of 21st-century American Christianity?
Pilgrim Stories
To answer the questions, Kaell spent several years following travelers from across the United States—Catholics, mainline Protestants, and evangelicals—in order to understand how the trips are framed before, during, and after the experience. This perspective allowed her to see these trips in terms of a narrative process by which people sort out the complexities, contradictions, and surprises inherent in these travels. From interviews and observations taking place in kitchens in South Carolina, coffee shops in Boston, busses outside Haifa, and boats on the Sea of Galilee, Kaell provides an outstanding contribution to the understanding of American Christianity, pilgrimage, and religious travel.
The book itself is structured like the trips. Kaell begins by exploring the ways images of the Holy Land and pilgrimage tours are made available to potential pilgrims through official marketing, word of mouth, and culturally available ideas present among various U.S. Christian groups. She notes that travelers have a wide variety of motives for making the trip: to renew their faith, to find calm amidst a life of troubles, to be alone, to achieve a lifelong dream. What was common, however, were the ways travelers framed their decisions in terms of their spiritual lives. She gives an example from Dave, a 55-year-old police officer and evangelical, who was initially reluctant to go. But in talking to Kaell, he testifies:
Here's a little bit of witness. I was reluctant to write that [trip deposit] check [but] I had money in the bank. I had this checking account that I never balanced….I opened the statement and looked and guess what my balance was? It was a dollar more than amount in the check I wrote. My initial check was $3,016 and my account balance was $3,017…to me [that says] "Your interest in this trip is being looked out for." People could call it a coincidence, but I don't believe it.
Kaell follows the preparation phase by giving us examples of how travelers experienced the trip itself. One of the great strengths of this book is the inclusion of both Protestant/Evangelical and Catholic perspectives. Unsurprisingly, this is most relevant during the trip itself, where Catholics attend to the life of Mary, and often interact differently with shrines and icons. However, from a shared context of U.S. Christianity, there are struggles for all the pilgrims in encountering the commodification of holy sites. For example, Kaell accounts the visceral reactions of both Catholics and Protestants when encountering the Church of the Holy Sepulchre. This site, reportedly built on the place where Jesus rose from the grave, is now managed by several Orthodox groups. Located in the heart of Old Jerusalem, it is usually crowded with visitors and supplicants. For American pilgrims imagining the serenity of holiness in such sites, it can be a disconcerting encounter. "Ever been to a more unholy place in your entire life?" exclaimed Esther, a 67-year-old Catholic. "I was shocked."
In the final chapters, we hear the stories of return, where travelers re-narrate their trips for themselves and others, "reconstructing and reordering events according to subjective interpretations and cultural expectations." Here the pilgrims sort out the various feelings, ideas, and impressions gained from the trip, using the experience to interpret their spiritual lives at home. The relationships they formed, the feelings they had, and the spiritual moments of encounter all must be re-imagined in order to fit with their daily lives.
Other Journeys
Kaell draws on anthropological and sociological theory throughout her work to analyze her findings, but never to the point of losing focus on the argument. Any interested reader would find her account accessible and interesting. Some may find themselves interested to pursue the research on other forms of Christian travel, such as short-term missions or trips to other historical sites. There are many points of overlap between these sorts of trips and the pilgrimages studied by Kaell, some of which she explores while leaving others undeveloped. For the curious reader, there's a great deal more to know, stimulated by Kaell's excellent work here.
Travel, in the form of short term missions, "visioning trips," Holy Land pilgrimages, and international church partnerships, has only grown in recent years, and there's no reason to think these trips won't continue to be an important part of U.S. Christianity. As a Canadian Jew and skillful academic observer, Kaell has brought a particular perspective to an important and relevant project. This book deserves to find a place on the shelves of Christians looking to understand what it means to attempt a spiritual journey such as this, to walk where Jesus walked.
Brian M. Howell is professor of anthropology at Wheaton College and the author of Short-Term Mission: An Ethnography of Christian Travel Narrative and Experience (IVP Academic).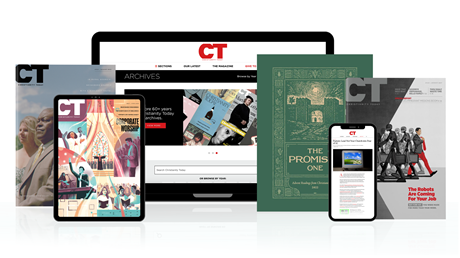 Annual & Monthly subscriptions available.
Print & Digital Issues of CT magazine
Complete access to every article on ChristianityToday.com
Unlimited access to 65+ years of CT's online archives
Member-only special issues
Subscribe
The Holy Land's Hold on the Christian Imagination
The Holy Land's Hold on the Christian Imagination